YouTubers are notorious for creating unthinkable content and this latest video by a popular YouTuber proves just that.
In a bid to provide entertaining content to the viewers, a famous YouTuber decided to stick 20000 mirrors on his Honda City to give it a diamond finish. Now, that might sound like an impossible task, but the team of the creators managed to achieve this. They have posted the step by step process of how they went about it. You have to admit, it takes a lot of effort to create such content which is also why the YouTuber has become so popular.
You may also like: Honda City (4-star NCAP) Turns Turtle at High Speed, Keeps All SAFE
You may also like: VW Virtus Road Presence Compared to Skoda Rapid and Honda City
Honda City with Diamond Finish
The Honda City used for this is the 2nd generation model. They decided to wrap the entire body of the sedan with small mirrors to create a reflecting and blingy surface. This was done to give the car a diamond-like look. For this, they took out all the large mirrors in their gym and cut them out into small square dimensions. They carried around 20000 pieces to the open field where they had parked the Honda City. Then began the process of sticking these pieces to the body. For this, it looks like they used strong double-sided tape. That is what is generally used to glue anything on the dashboard of a car.
You may also like: Nitin Gadkari Checks Out New Honda City e:HEV Hybrid
After covering the entire body of the City with a double tape, they began sticking the tiny mirrors onto it. The video has been shot in time-lapse format for quick viewing. But the entire process, obviously, took a lot of time which is evident from the fact that it got darker by the end of the video and they had been doing this since daytime. That is why they shot the next phase of the video the next day where they take the car out on the highway for a spin.
You may also like: TOP 5 Supercar Replicas Based on Honda City, Accord & Others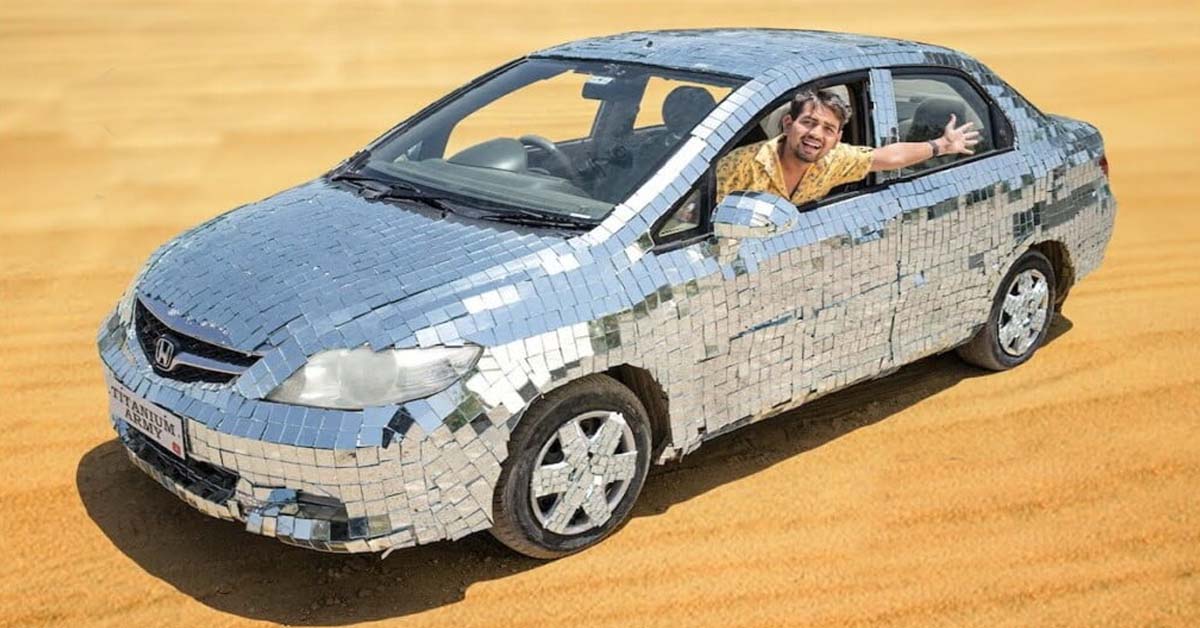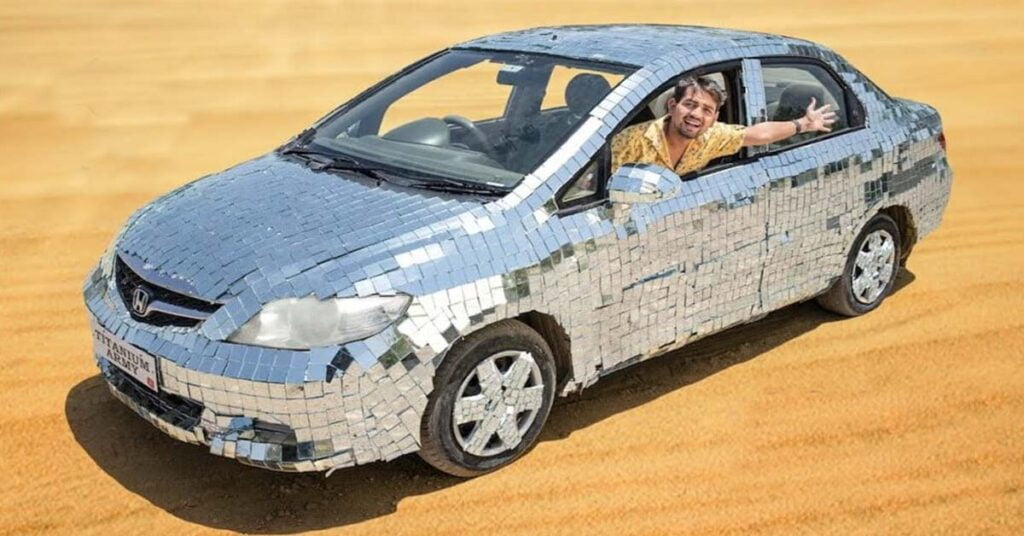 Needless to say, once they were in the city, almost everyone on the road noticed the blingy Honda City and shared feedback. Some of them even stopped the YouTuber to take pictures with him as he was in his neighbourhood. After taking it for a spin, they refuelled the vehicle and took it back to their garage. There, they performed some drifts with the car because of which, the mirrors began to fall off. Nevertheless, this was one fun exercise but we would urge our readers to not try such activities on your own.
Join us for FREE NEWS Updates on our Whatsapp Community or our official telegram channel.