Honda has already launched Honda Civic 2012 in the USA few months back and has not got very enthusiastic response there. As per some reports, the new Civic is not as futuristic and refined as is the old one, but it depends to a large extent more on the point of view of the reviewer. We haven't got our hands on to the new Civic 2012 to be launched in India as yet. As per the recent reports, Honda SIEL is focusing on the Honda Brio launch to be conducted in September this year and is not focusing its energies on the Honda Civic and Honda CRV new variants at least in Indian market. So its not even confirmed whether Honda SIEL will or will not display these cars at the Auto Expo 2012. Below is the picture of the Honda Civic recently launched in Malaysia, Asia which is also very highly likely to be launched in India.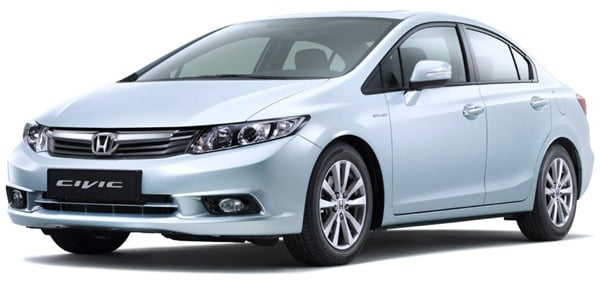 image- Honda Civic 2012 New Model Front View
In terms of looks, I would say I like the design better on front, but rear does not look as appealing as was there in the older variant (which sells in India as of now in August 2011). Appreciating design is although an individual perception, but considering the fact that it now resembles more with the Honda City i-VTEC which we see in India, it somehow reduces the overall status image which Civic has because of its distinct looks.

image- Honda Civic 2012 New Model side top view
The elements which look attractive is the front fascia, which gives a sharper aerodynamic look with wraparound headlamps and chrome grille at front. The side profile is somewhat similar and does not look strikingly different, but the rear tail-lamps look better from sides as they nicely wrap around the sides and are very pronounced on the sides.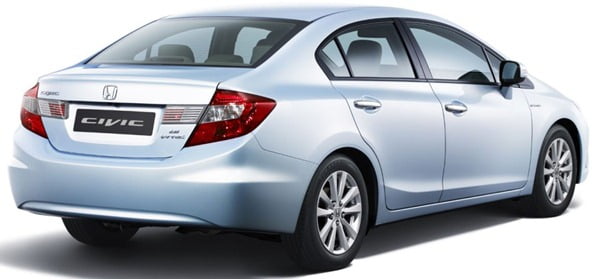 image- Honda Civic 2012 New Model Rear View
Looking at the rear, it looks slightly less appealing than the existing oval LED tail lamps of the Civic which we can spot on India roads easily. also the rear bumper profile, curves and shape has changed quite considerably and gives it a much different look. The overall design is good, but we won't say its much better. For some it will be a slight improvement, while some other may find it slight downgrade in terms of looks.
As per a report by Automotive News, USA, the NVH levels of the new American Civic are not as good as the previous version. Also the stopping distance and steering feedback is reported to be not so impressive in the new Civic. Since the US and India (Asian) variants of Civic are quite different in many aspects, so the same may or may not be the case with Indian Honda Civic 2012 new model. We need to wait till we get our hands on to the new Civic and share the test drive review with you. For more updates, stay tuned to us by liking our Facebook Page and sign up for our free email newsletter.
check out more-
Join us for FREE NEWS Updates on our Whatsapp Community or our official telegram channel.