Unfortunate natural calamities including earthquake in Japan and Flood in Thailand has disrupted normal operations of Honda plants at these locations in the past one year. The Thailand plant of Honda, Honda Automobile (Thailand) Co., Ltd. (HATC) suspended production since October 4, 2011 due to damaged sustained from the flooding in Thailand. Since then there has been lots of disruption to even the Indian manufacturing facilities because of some critical components sourced by Indian Honda SIEL plant from Honda Thailand plant. On 26th March 2012, after about 6 months of suspension of production, Honda Thailand plant resumes production which is a very good news for Honda Thailand and also Honda SIEL India.
One of the worst affected cars from this disruption was Honda Brio which almost went out of production in India for a couple of months, the bookings were halted and production was stopped since February 2012 when Honda SEIL started sourcing Brio components from other supplier locations. The effect was immediately visible after the production resumed with Honda Brio seen more often on Indian roads now.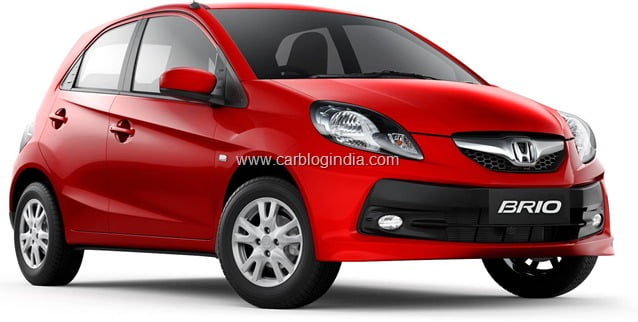 image – Honda Brio Small car India
At present, Honda Jazz small car is also on long waiting and as per reliable sources Honda is not taking fresh bookings as of now until the backlogs are cleared fro pending bookings of Honda Jazz. Jazz is one of the most spacious and well performing petrol cars in its price segment, thus is on huge demand especially after the facelift was launched and prices were revised in August 2012 in India.
Coming back to Thailand Plant, since completing the drainage of the flood water at the end of November 2011, HATC had been exerting company-wide efforts to clean, inspect, repair and replace plant facilities and manufacturing equipment, which were damaged by the flood. After approximately four months of such restoration efforts, HATC is now ready to resume automobile productions at its plant. HATC is planning to hold a ceremony on March 31, 2012 to commemorate the resumption of production.
Honda has been supplying automobiles alternatively fromJapanto some countries in the Asia Oceania Region includingThailand, which were impacted by the disruption of production due to the flooding. However, as of today, all production plants have resumed production and are expected to normalize in April.
Positioning HATC as one of the most important production operations in the Asia/Oceania Region, Honda was totally committed to realizing the earliest possible recovery. Honda will maintain the same positioning of HATC in the future and further promote business operations inThailand.
check out more-
More Related News