Hyundai India has officially launched the Hyundai i10 LPG in India today. There were expectations of the launch of LPG variants of Hyundai i10 and Hyundai Eon for past sometime. The LPG variant is priced Rs. 27,630 more than the existing petrol model. The new LPG version of i10, christened i10 'blue drive' (blue drive is Hyundai's eco-friendly and fuel efficient range) comes with a factory-fitted LPG kit and boasts of features that meet global standards in performance and safety.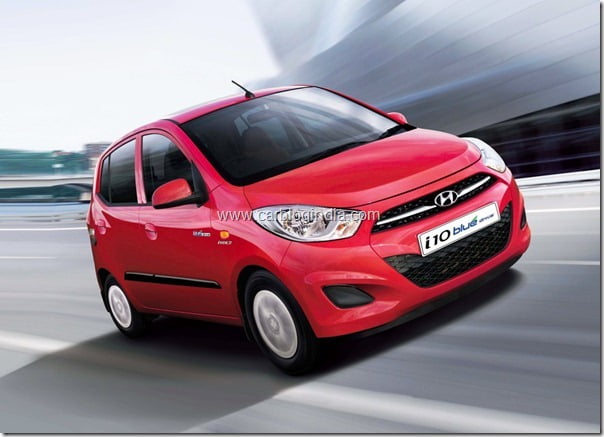 image – Hyundai i10 LPG
Hyundai i10 LPG Features, Specifications and Variants in India
The i10 LPG is powered by the 1.1 litre iRDE2 engine, it comes with an easy petrol to LPG shift that offers customers a unique combination of reliable performance and unmatched fuel economy. With separate Petrol (35 litre) and LPG (34 litre) tanks, the customers have an option to choose from LPG and petrol modes. The LPG tank in the i10 blue drive has a special 'Toroidal'  LPG tank that allows intelligent use of space and makes for larger boot space than conventional LPG-fitted models.
The Alternator Management System (AMS) is yet another innovative technology from Hyundai which controls delivery of power to the battery. While decelerating, the power supply to the battery is normal and during acceleration it limits the power – this gives extended battery life and better mileage. The Manual Shift Indicator which is a first-in-class feature available in the i10 helps to achieve  maximum fuel efficiency by optimum gear usage.
Announcing the launch, Mr H W Park, MD and CEO, HMIL said, "The LPG version of our Next Gen i10 is a viable alternative for customers looking at low running cost. With the launch of the i10 Blue Drive, Hyundai is broadening its eco-friendly  initiative. Hyundai  believes in preserving the environment by making eco-friendly cars that run on low emission fuels."
The LPG kit in i10 blue drive is impact resistant and is approved by DOE (Department of Explosives). It is tested and certified by ARAI (Automotive Research Association of India) — the country's premier automobile testing and certifying authority. The factory-fitted LPG system in i10 enjoys full 2 year manufacturer warranty benefits — ensuring enhanced safety and peace of mind for its  customers.
Hyundai i10 LPG Price In India
Hyundai has introduced the eco-efficient 'blue drive' technology in the Next Gen i10 in its 1.1 Era and 1.1 Magna variants. The ex-showroom Delhi prices for the i10 Era (1.1 ltr) is Rs 416,144 and i10 Magna (1.1 ltr) is priced at Rs 430,659.
check out more-
Join our official telegram channel for free latest updates and follow us on Google News here.