Month of March 2012 has been quite an eventful month for Indian car makers, part of he reason for this was a feat among people that car prices will get increased after budget, which actually happened, so many people bought cars in March 2012. Also since the financial year closes on 31 March in India, many people make purchases in March to claim the depreciation benefits for filing their taxes in India. In the month of March 2012, Hyundai Motors India Limited, which is the second largest domestic passenger car maker in India and number one car car exporter from India reported an overall increase in sales of 6.6% at a total sales of 59,229 car units sold against 55,552 cars sold in March 2011.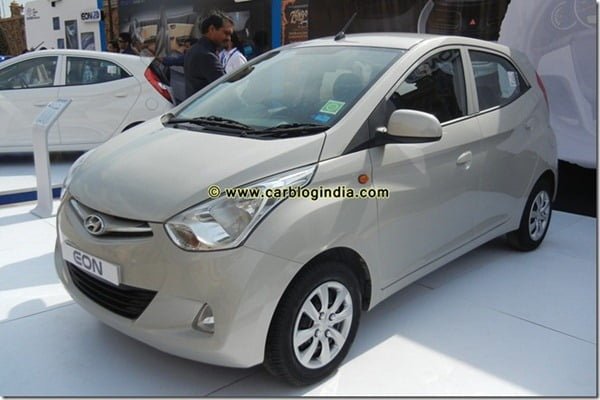 image – Hyundai Eon Small Car India
In terms of sales numbers, the domestic sales in March 2012 stood at 31,882 which is 22.9% higher than the previous year's March 2011 sales of 31,822 cars. The exports however, were on a small decline in March 2012 with a total of 20,107 cars exported compared to 23,730 cars exported in March 2011. The cumulative sales number of Hyundai in March 2011 stood at 59,229 cars which is a strong sales number in the sluggish auto market of India. With new excise rates applicable after Indian Union Budget 2012, the car sales are expected to be negatively impacted in coming few months, however, the overall economic growth will also be a huge deciding factor in this growth.
In terms of different segments of cars, the small cars, including Hyundai 800 CC car Hyundai Eon, Hyundai i10, Hyundai i20 and Hyundai Santro sold 51,336 units which is about 87 % of the total sales in March 2012. Larger cars Hyundai Accent and Hyundai Verna Fluidic sold a total of 7679 units. The recently launched Hyundai Sonata sedan sold 92 units while the Hyundai Santa Fe SUV Managed a decent sales number of 122 units in the month of March 2012.
Check out more-
More Related News