Check out this drag race between Hyundai Kona EV and MG ZS EV. The latter is towards the more powerful side and also offers more range.
Are EVs fast enough to get your adrenaline pumping? Yes. Because there's no lag and you have power right from the 1% of accelerator pressed. We have driven all the electric SUVs launched last year and they are really fun to drive. Check out this drag race between Hyundai Kona EV and MG ZS EV. See who's the winner.
There are two rounds done over here. All electricals including headlamps and air-con have been switched off for better performance. In the first round itself, the ZS EV takes a quick lead and continues building up its speed swiftly. On the other hand, Hyundai Kona EV is very fast but towards the end, loses by half-car length.
Also Read: MG ZS EV Vs Hyundai Kona EV – Specification Comparison
The second round had the drivers switched. Again, MG ZS EV took an early lead to defeat Hyundai Kona EV by a huge margin. In the first round, ZS EV completed 0-100 in 8.04 seconds while Kona took 8.64 seconds for the same. In the second round, ZS EV took 7.96 seconds while Kona completed the sprint in 8.34 seconds.
Talking about the engine specifications, MG ZS EV gets a 44.2 kWh electric motor that produces 143 PS and 353 Nm of peak torque. Kona, gets a comparatively smaller 39.2 kWh motor that is good for 136 PS and 394 Nm of peak torque. Both get a single-speed transmission along with drive modes and regenerative braking.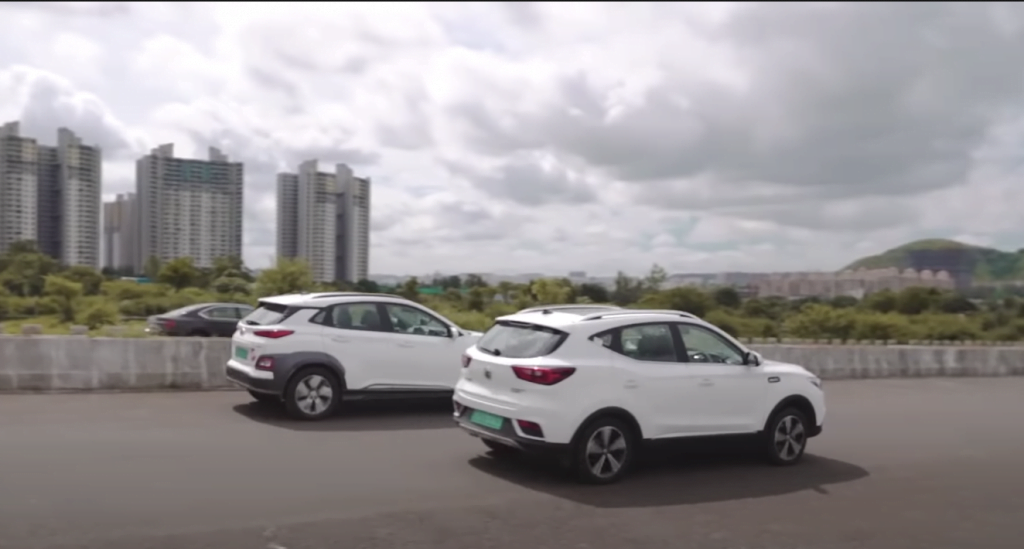 Kona claims to offer a range of 452 kilometres which is a lot more than MG's claim of 340 kilometres. Both of them can be charged with a portable three-pin plug, fast charger and wall AC charger. By a fast charger, ZS EV takes 50 minutes while Kona takes 60 mins for the 0-80% charge.
Also Read: New Upcoming Variant Of MG ZS EV To Offer 500 Kms Range – Report
MG ZS EV is priced from Rs 20.88 Lakhs up to Rs 23.58 Lakhs, while the Kona EV is priced at Rs 23.70 Lakhs (ex-showroom). The third electric SUV in India is the Tata Nexon EV which comes in the range of Rs 14 to 16 Lakhs (Ex-showroom).
Join our official telegram channel for free latest updates and follow us on Google News here.