In a case of unusual circumstances, a Hyundai Venue was seen testing the build quality of a Maruti Alto. We understand that this is not a fair competition, but the incidents leading up to this event are unfortunate and unusual, to say the least. Now, the Venue has secured a 4-start safety rating at the Australian NCAP testing whereas the Alto has a 0-star safety rating (without airbags). Also, the Venue falls under the category of a compact SUV whereas the Alto is the entry-level hatchback. The incident is reported from Himachal Pradesh and the images give us an idea of the intensity of impact. Let us discuss this in-depth.
Also read: Here is The Craziest Wide Body Modified Maruti Alto You'll Ever See!
Venue Tests Build Quality of Alto
According to some reports, the driver of the Venue pressed the accelerator instead of the brakes. The Venue has an automatic transmission. Both these vehicles were travelling in the same direction. The Venue was behind the Alto. When the driver of the Alto applied brakes, the driver of the Venue hit the accelerator pedal by mistake. As a result, the SUV banged into the Alto and cause a severe collision. The cars hit a pole and then collapsed on the side of the road. The images show the Venue on top of the Alto. Now, it is not easy to see the condition of both these cars clearly, but the passengers escaped unharmed apart from some minor injuries. This is fortunate considering how severe the impact looks.
Also read: ONLY Maruti Alto In India With Electric Sunroof – VIDEO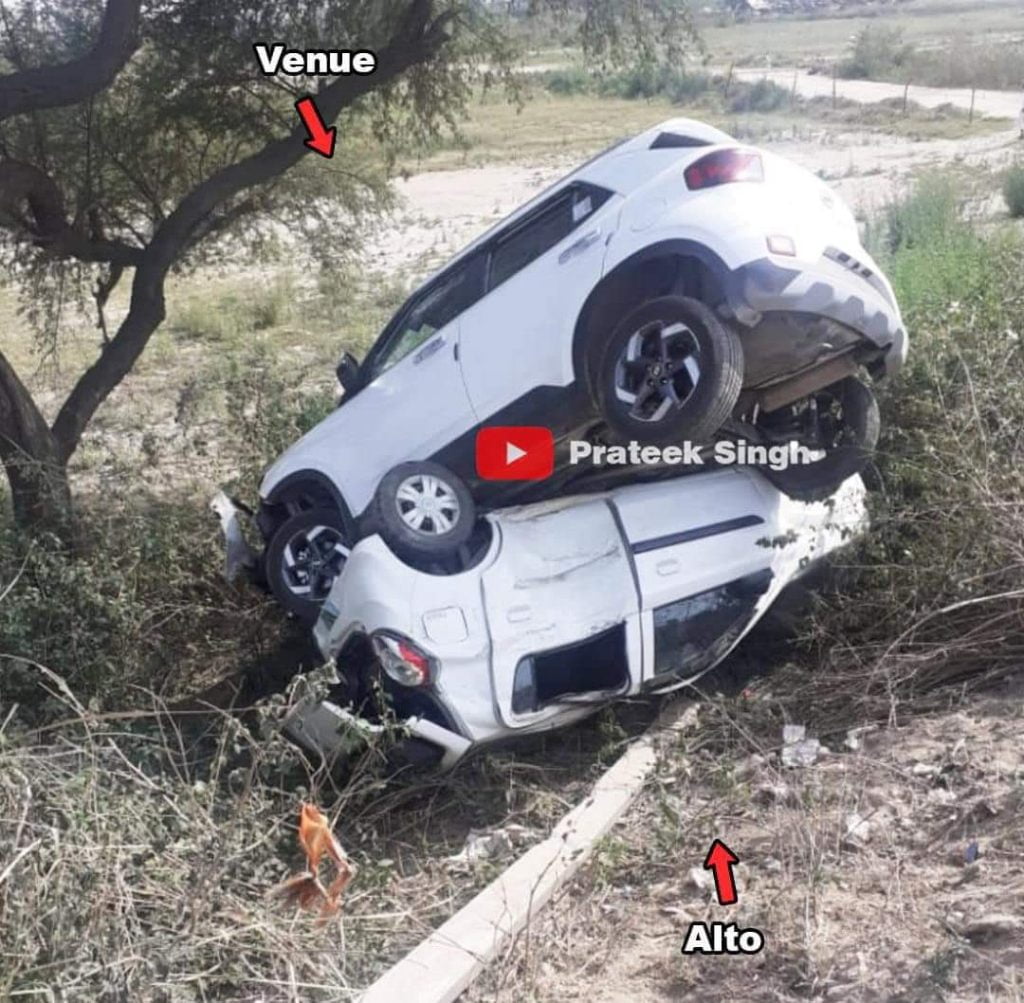 The images show that the Alto seems to be damaged from almost all sides. The side doors are damaged severely. The front and the back of the hatchback have received significant damage too. The rear windshield along with the boot lid are all gone. The Venue, on the other hand, looks fine from every angle. The only point of impact for the SUV was its front. That, however, is not visible in the photos. The pole is also seen lying broken nearby as a result of the collision. But the thing that needs a mention here is the fact that you should drive carefully on the roads. Because a lot of times, you can get caught up in an uncomfortable situation because of no fault of yours.
Also read: WATCH- Hyundai Venue with 360-degree Camera & Google Support