Updated on 16th August 2014
Jaguar has announced the price of the limited edition Jaguar F-Type Project 7 for the American market. The car will be showcased at the 2014 Pebble Beach Concours d'Elegance to create some interest among the car enthusiasts who visit this prestigious event.
Price
The Jaguar F-Type Project 7 will be priced from USD 165,925, which translates to about Rs. 1.01 Crore. 
Updated on 27th June 2014
Jaguar has officially launched their new flagship sportscar the Jaguar F-Type Project 7 in production guise. The car was unveiled a few days ahead of its Goodwood 2014 showcase. Jaguar is celebrating the D-Type's 60th anniversary this year and had earlier showcased a concept version of the F-Type Project 7 at the 2014 Indian Auto Expo and other shows around the world. The 'Seven' in the Project 7 signifies Jaguar's pride at having won Le Mans seven times since the early 1950s in cars like the C-Type and D-Type. Up to 250 units of the Jaguar F-Type Project 7 will be hand built at the JLR sub-division called Special Vehicle Operations (SVO) and is claimed by Jaguar to be the fastest, most powerful production model yet.
Price:
These ambitious limited edition Jaguars would cost you about Rs. 1.38 Crore (i.e before Taxes, Shipping, Registration of course).
Jaguar Land Rover Special Vehicle Operations:
Jaguar Land Rover's existing Engineered To Order division, the British automaker's personalization department and maker of extreme models such as the 2014 XKR-S GT, has undergone an expansion and been rechristened as the Jaguar Land Rover Special Vehicle Operations.
The new unit is led by Jaguar Land Rover executive John Edwards and based in a state-of-the-art technical center being created at the automaker's main facility in West Midlands, England. In addition to working on the high-performance R-S range of vehicles, the SVO also works on bespoke commissions, collector editions and branded goods. The unit will also have a new heritage vehicle workshop located at Browns Lane in Coventry, the spiritual home of Jaguar. Here, work on vehicle recreations, servicing and restorations, and the creation and provision of heritage vehicle parts will be done.
About 150 staff will make up Jaguar Land Rover Special Operations. One of them is Paul Newsome, who previously worked for an advanced engineering unit at the Williams Formula One team. Newsome and the rest of the team will create the fleet of vehicles ranging from high luxury to extreme performance.
The Project 7 CONCEPT:
As we've seen with most rivals in the luxury segment, demand for personalized cars has never been higher, so it makes sense for Jaguar Land Rover to also focus on meeting the increasing expectations of today's most discerning and enthusiastic car customers. Going up against the likes of Mercedes-Benz AMG, BMW M and Audi Quattro the Jaguar is not only banking on their exquisitely designed powerful vehicles, but in a typical British manner has also ingrained in their proud heritage.
Jaguar F-Type Project 7:
The Jaguar F-Type Project 7 pays tribute the Jaguar D-Type with styling touches and inspiration in its design both on the exterior and on the interior. The styling has been toned down slightly from the concept. Its defining feature is still the fin-like speedster fairing behind the driver's seat, which is inspired by the Jaguar D-Type. Though it was a single-seater in concept form, a passenger seat has been added on the production version complete with its own roll hoop and also the F-type roadster has been relieved of its heavy hood mechanism and has been fitted with lightweight seats that take about 80 kg off the kerb weight, and leaves the Project 7 weighing in at about 1585 kg.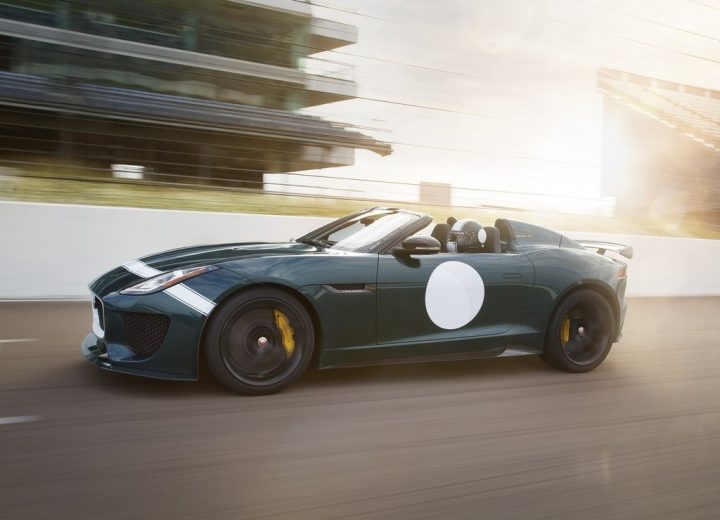 DESIGNING:
Key design elements include the D-Type-inspired fairing behind the driver, a new front bumper, and downforce-increasing aerodynamic modifications—including:
A carbon fiber front air splitter
Side skirts
Rear diffuser
Adjustable rear spoiler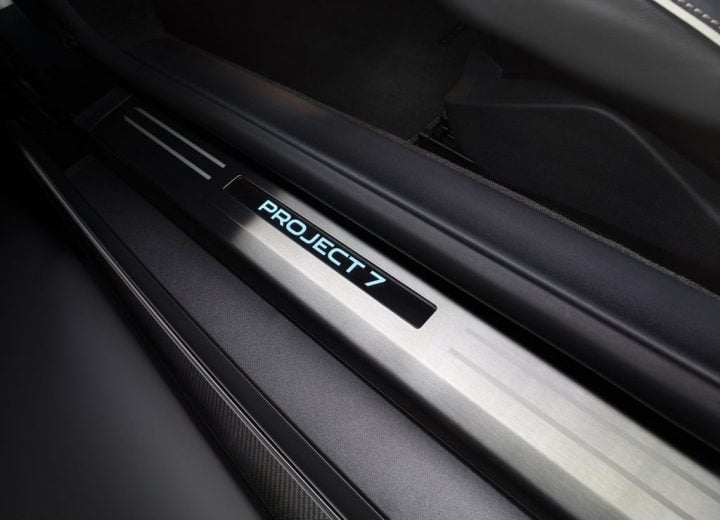 A shortened windscreen is also featured, but Jaguar tells us that a full height version will be fitted to cars delivered to the U.S. because of local regulations. All F-Type Project 7s will also come with a removable roof, which clips onto the convertible header rail and can be conveniently folded and stowed in the trunk when not in use.
ENGINE & TRANSMISSION:
The engine is an improved version of Jaguar's familiar supercharged 5.0-litre V8, that is capable of making peak power is 567bhp, available at 6500rpm, and peak torque is 677 Nm from 2500-5500rpm. Power flows to the 20-inch rear wheels first through a specially modified version of ZF's eight-speed automatic gearbox and then to a rear-mounted electronic limited-slip differential. Project 7's switchable exhaust (silenced or straight-through) has four matt-painted tailpipes, ceramic-coated so that they don't set fire to the nearby diffuser.
BRAKES & SUSPENSION:
The chassis gets special, SVO-manufactured front suspension uprights, modifications to the front top mounts and fatter anti-roll bars front and rear. The height of the entire system, back and front can be adjusted, and Project 7 now has spring and damper rates tailored to its special duties. The brakes consist of carbon-ceramic rotors – 398mm in diameter at the front and 380mm behind – with six-piston and four-piston calipers respectively. These are usually offered as an option on regular F-Type V8s, but Project 7 gets them as standard.
The F-Type Project 7 will be available in five metallic colors, including:
Ultra Blue
Caldera Red
British Racing Green
Ultimate Black
Glacier White
Blue, red, and green Project 7 roadsters will be offered with white decal options, while black and white cars will get gray decals. Inside, a numbered plaque signed by Jaguar design director Ian Callum sits between the seats.
Compared with a standard F-type V8, drivers should expect firmer damping, more steering weight, faster gear changes, and quicker throttle response. Expected deliveries of the F-type Project 7 will commence in mid 2015.