India's 75th Independence Day brought with it various shades of patriotism and this incident is the perfect example of it.
Recently, a Jaguar owner from Gujarat wrapped his car in Tiranga theme to show his support for the 'Har Ghar Tiranga' trend. The occasion of Independence Day brings out the patriotism in people who are willing to do some incredible things. Our Prime Minister Narendra Modi had started the practice of asking the citizens to put the national flag in their homes. As a result, people took it one step ahead and applied the tri-colour theme to their cars too. Read the details of one such case here.
You may also like: Ranveer Singh's Jaguar XJ L on Sale for the Price of Top-end Kia Seltos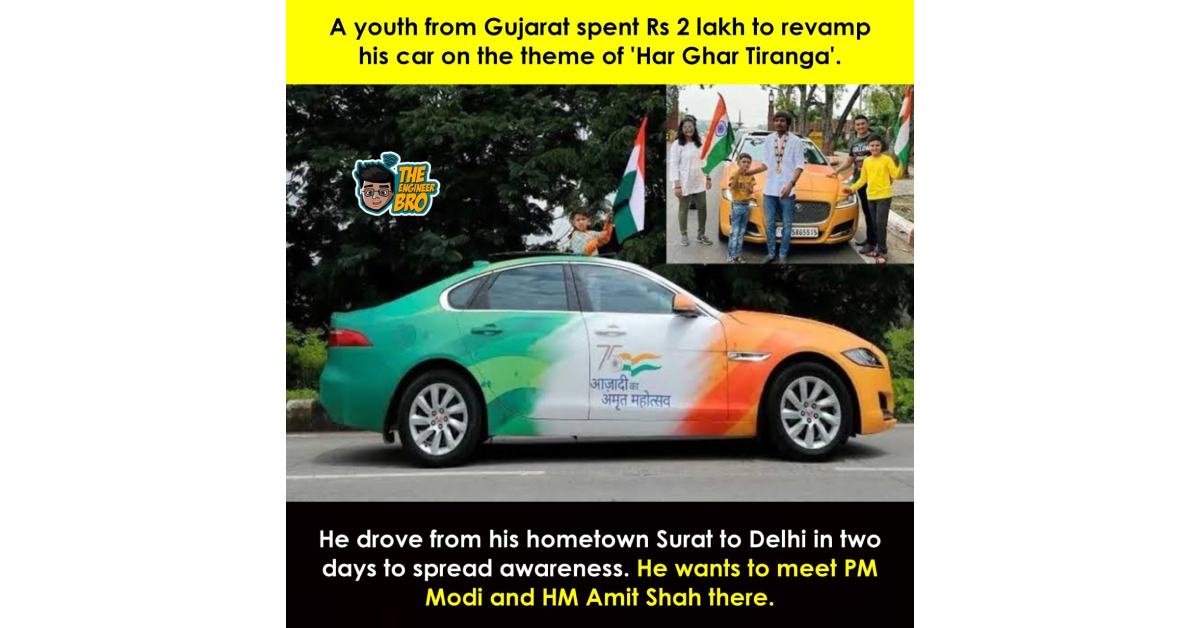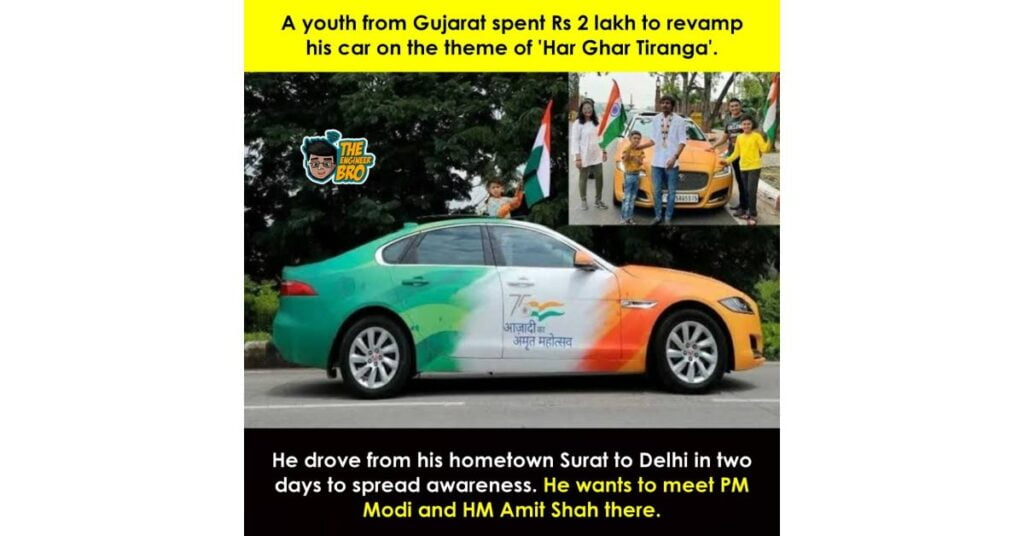 You may also like: India-Bound 5-door Maruti Jimny Makes Fresh Appearance in These Pics
Jaguar Owner Wraps His Car In Tiranga Theme
As per the information on this post, a youth from Gujarat spent a whopping Rs 2 lakh to make his luxury sedan look like this. One can clearly see that the front end of the car including the bumper, bonnet and side fenders have been turned Orange, the A-pillars and front door panels have been turned white and the remaining rear body of the vehicle has been wrapped in green colour. This symbolises the national flag and looks quite unique and cool. The owner drove the vehicle from Surat, his hometown, to New Delhi, the national capital.
You may also like: Pratap Bose Jokes He's Glad He Doesn't Compete with Designers of Mahindra XUV and BE EVs
His aim was to spread awareness about the Tiranga theme. The target was achieved since it was almost impossible to not notice a tri-coloured vehicle travelling on a highway. Furthermore, he wishes to meet PM Modi and Home Minister Amit Shah on this important day. This reflects people's dedication and love for the nation. It is only with gestures like these that one gets to constantly remember the importance of celebrating Independence Day. Also, spending Rs 2 lakh from his own pocket indicates how serious he is about this whole endeavour.
You may also like: Don't Make These Mistakes When Buying Car in Canada
With such devoted people in our country, there is a sense of positivity and enthusiasm among others as well. On the day, a lot of houses with flags were seen. Additionally, people were seen sporting tiny flags on their vehicles or outside their shops and stores. All this represents a sense of solidarity and camaraderie among the citizens which is a great emotion for the nation going forward. What do you think about this unique gesture by the Jaguar owner?
Join us for FREE NEWS Updates on our Whatsapp Community or our official telegram channel.