Arguably the most prominent and popular off-roading SUVs in the U.S., Jeep Wrangler and Ford Bronco go head-to-head in this crash test. The results might be a bit more shocking for one carmaker than the other.
Jeep Wrangler and Ford Bronco are two popular choices for the off-roading community in the U.S. While the Wrangler is a world-famous SUV and has been around for decades, the Bronco is has joined the rivals' camp only recently. However, Ford, as a brand has a rich heritage of building rugged pickup trucks for decades as well which is what propelled it to even attempt to introduce a product to compete against the iconic Wrangler. This video has been uploaded on the YOUCAR YouTube channel and captures the frontal offset crash test at 40 mph.
Also read: Ford Bronco vs Jeep Wrangler Drag Race: One Of Them Gets Annihilated
Jeep Wrangler vs Ford Bronco – Crash Test
The SUVs were driven into a barrier with a driver-side overlap (25%) at 40 mph (64 km/h) and the results were recorded. While both the SUVs passed the test, the Ford Bronco was much more stable in terms of tipping over. The build of the Bronco ensured that the SUV didn't flip around after the impact. On the other hand, the Wrangler got turned over in both attempts which is not desirable in this test. The body shell sustained severe damage on both vehicles. The tyres on both the cars were retracted into the floor of the cabin. But in Ford Bronco, it was more dangerous for the occupants compared to Wrangler. All in all, Ford Bronco scored 'Good' in this frontal impact test, while the Wrangler managed to score a 'Marginal' safety rating.
Also read: Here's a Ford Endeavour to Raptor Conversion Worth Rs 25 Lakh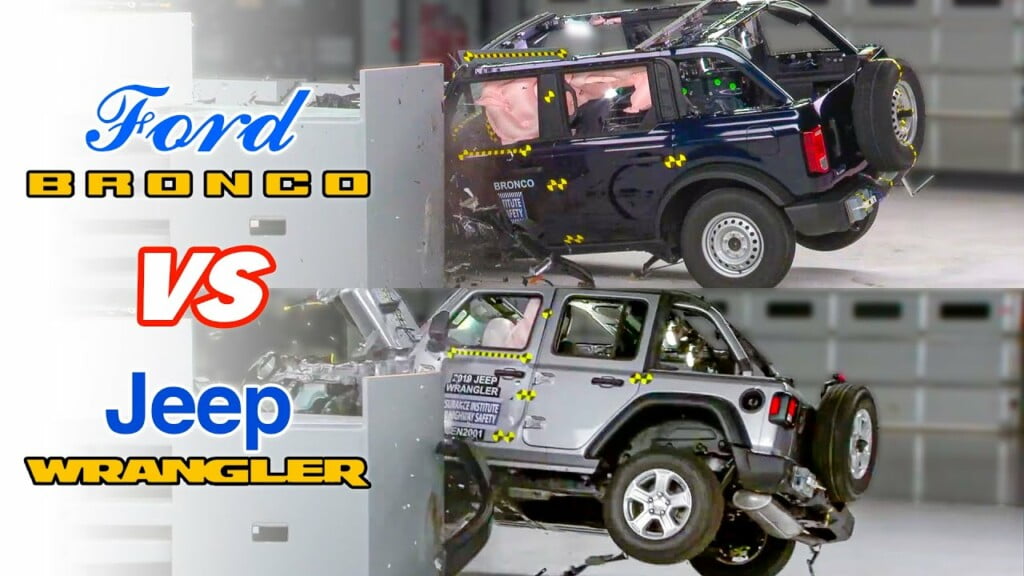 We have experienced this lately that the modern customers are more inclined towards considering safer cars while making a decision compared to just a couple of years ago. Brands like Tata and Mahindra have brought product after product with full 5-star safety ratings at GNCAP. This created awareness among buyers to check the safety rating of a car before buying. The government is also coming up with regulations to make the new cars safer. Having a car with more safety features could turn out to be the differentiating factor in unfortunate situations. We urge our readers to invest in safer cars for you and your family.
Also read: Upcoming 7-seater Jeep SUV Should Match Road Presence of Toyota Fortuner
Join us for FREE NEWS Updates on our Whatsapp Community or our official telegram channel.