It is not every day that we witness an imported truck roaming around on our highways but we have found one.
This video clip shares glimpses of a Kenworth truck imported from America plying on Indian roads. Now, you might have seen the elite and influential people paying big bucks to import their favourite sportscar to India. However, what you won't find all that often is someone paying to import an American truck. Reasons could be as simple as exorbitant prices and a sheer lack of servicing outlets which is a great issue if you are operational in the transport business. But that doesn't stop some people from doing so.
You may also like: 7 Best Electric Cars in USA Under $60,000 – Tesla Model 3 to VW ID.4
You may also like: Here's The Multi-Million Car Collection of Tom Cruise
Kenworth Truck Imported to India from America
The video clip has been shared as YouTube Shorts. The person who recorded this video found this unique sighting near a toll plaza. The visuals showcase a massive truck with different proportions coming through the toll gate. Looking closely, it is a Kenworth which is a popular product in North America. It is one of the most commonly seen machineries used for heavy transportation. Many of you might have actually seen it in a ton of Hollywood movies. That is what made this sighting so exciting.
You may also like: Here's a Look at the Exquisite Car Collection of Adele
Now, digging a bit deeper, we had reported such an incident previously as well where a man from Gujarat was a fan of American trucks. He owns a big transportation firm and has a ton of other trucks in his fleet. According to the reports about that, the truck costs a whopping Rs 3 Crores including purchase price, import duty and road tax. He was featured on various news channels. He mentioned that he had kept a dedicated driver for this truck because it has the steering on the left side as opposed to Indian automobiles which have the steering wheel on the right side.
You may also like: Here's a Look at Insane Car Collection of Cardi B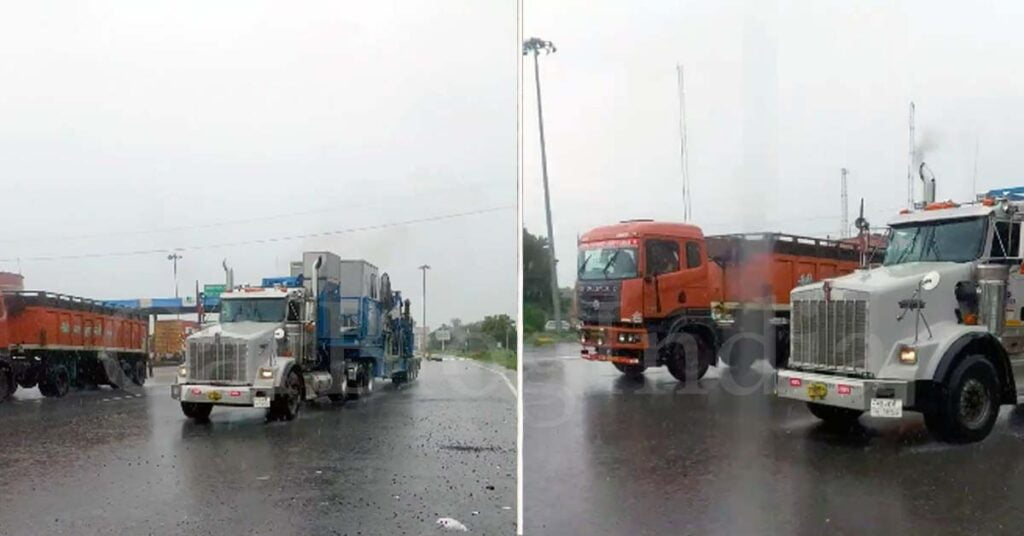 Before you ask, it is not illegal to drive a vehicle with steering on the left side in India. However, you must take prior permission from the authorities like the RTO and inform them about the vehicle. Only after that, you can drive such a vehicle on the road. Needless to say, you need to be professional in order to drive optimally. What are your thoughts about this imported truck?
Disclaimer- The embedded videos/ external content is/are being used as a convenience and for informational purposes only; they do not constitute an endorsement or approval by Car Blog India of any of the products, services, and /or opinions of the corporation or organization or individual. Car Blog India bears no responsibility for the accuracy, legality, and/or content of the external site or for that of subsequent external videos/ external content. Contact the external publisher for answers to questions regarding its content.
Join our official telegram channel for free latest updates and follow us on Google News here.