Most employees are always looking forward to special bonuses. Now, an IT company has gone on and gifted 6 Kia Seltos SUVs.
Big companies are known for offering special bonuses and gifts on special occasions. While not all bonuses live up to the hype, some bosses go beyond and do the unexpected. In many instances, the employees have received larger-than-life gifts like houses, cars, motorcycles, and more. The high monetary value ends up grabbing headlines and might be part of the intention as well. Now, IT employees at a company in Kerala were the lucky ones. The company rewarded selected employees with Kia Seltos SUVs and Royal Enfield motorcycles.
You May Also Like: Anand Mahindra Gifts A House To Idli Amma On Mothers' Day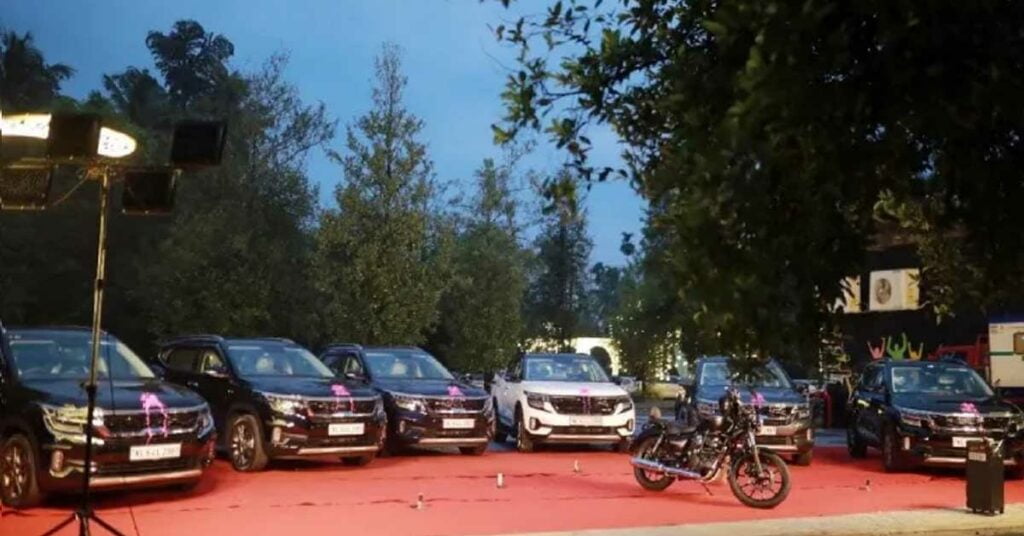 You May Also Like: Billionaire Gifts Maruti S-Presso To Ragpicker-Turned-Journalist Maya Mukti
Jobin and Jizmi IT services is an IT company, based in Chalakudy, Kerala. It has offered big bonuses on the occasion of its 10-year anniversary. This included six Kia Seltos SUVs. The founders (Jobin Jos and Jizmi) personally gifted the bonuses. "The role of these six people, who were rewarded with the SUVs, cannot be described in words, since they have stood with the company since its initial days," they said. While the company has 200 employees now, it started with only two people.
In total, the IT company ended up offering rewards worth Rs 1.20 crore. While it is not clear which Kia Seltos variants were gifted, it is likely to be the top-spec HTX+ or GTX+ variants of the SUV. The Kia Seltos comes in three engine options – a 1.5-liter 115 PS petrol engine, a 1.4-litre 140 PS turbocharged petrol engine, and a 1.5-liter 115 PS diesel engine. Additionally, the company also gifted a Royal Enfield Meteor 350 to the best-performing employee in the previous year.
You May Also Like: IT Company Gifts Employees New Maruti Baleno, Swift, Brezza & More
Another IT Company Gifted 100 Maruti cars in March
Previously, many employees have been lucky to get amazing cars as bonuses or loyalty gifts. This includes a Chennai-based IT company Ideas2IT gifting 100 Maruti Suzuki cars in March 2022. In contrast, another Chennai-based IT company Kisflow Inc gifted five BMW 5-Series cars to its employees. The Harikrishna Group (led by Saavji Dholakia) has also gifted 500 cars in 2014, 1260 cars in 2016, and three Mercedes-Benz cars in 2018. This is a continuous streak of huge rewards for loyal employees.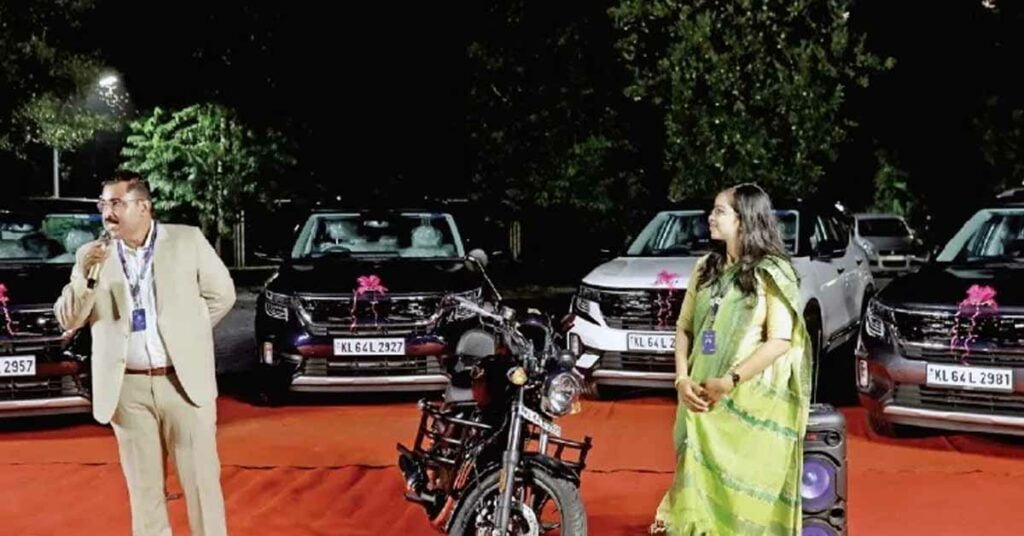 Savji Dholakia is a reputed diamond merchant and philanthropist from Surat. He is known for gifting cars and houses to his employees. The diamond merchant gifted 600 units of Maruti Suzuki Alto and Celerio to his employees in 2018. And those who did not want cars as gifts were rewarded with flats or fixed deposits. Mr. Dholakia even gifted his employees 1,200 units of Datsun Redi-GO hatchback on the occasion of the new year. However, the philanthropist announced that he is cutting down on the bonus later. The diamond merchant claims that he is on an austerity drive.
Join our official telegram channel for free latest updates and follow us on Google News here.