Well, we have to bow down to the generosity and benevolence of Anand Mahindra for what he did for the famous, Idli Amma of Tamil Nadu.
The recent magnanimous gesture of Anand Mahindra gifting a brand new home to Tamil Nadu's internet sensation, Idli Amma is widely applauded on social media. This is a display of sheer compassion and greatness by the Mahindra Chairman. Boasting over 9.2 million Twitter followers, Anand Mahindra is one of the most followed entrepreneurs in India. People thoroughly enjoy his social media persona and his philanthropic work. But this time around, he has taken things to the next level.
You may also like: Anand Mahindra Compares Tesla to Bullock Cart- Tweets to Elon Musk
Immense gratitude to our team for completing the construction of the house in time to gift it to Idli Amma on #MothersDay She's the embodiment of a Mother's virtues: nurturing, caring & selfless. A privilege to be able to support her & her work. Happy Mother's Day to you all! pic.twitter.com/LgfR2UIfnm

— anand mahindra (@anandmahindra) May 8, 2022
You may also like: Anand Mahindra Offers R&D Job To A Rickshawala For His Innovation
Anand Mahindra Gifts A Home To Idli Amma
Colloquially known as Idli Amma, M Kamalathal is a resident of Vadivelampalayam, Tamil Nadu. She became an internet sensation when her video of making idlis for labour workers for Re 1 went viral. She begins cooking idlis before sunrise and feeds hundreds of workers every day. Back in 2019, Mahindra has seen it and tweeted that he would be happy to 'invest' to buy a new stove for Idli Amma. She used to cook idlis in a beaten-down old fireplace. After people told him who she was and what she does, Ananda Mahindra decided to visit her home and talk to her.
You may also like: Anand Mahindra Gifts Bolero To Man Who Built Jeep From Scrap For Son
Looking at her home and conversing with her, she asked for better working conditions or a home where she could cook idlis for workers without any worry. Mahindra promised to do something about it and the process began. The Twitter video clip shows the land acquisition and process of building the house. Finally, she received the brand new house on this Mothers' Day which is only befitting. She is an inspiration for everyone. At this age, she is selflessly giving away food to the needy without caring about her health. That is what she got famous for on the internet.
You may also like: Farmer Modifies His Tractor to Look Like Jeep, Anand Mahindra Impressed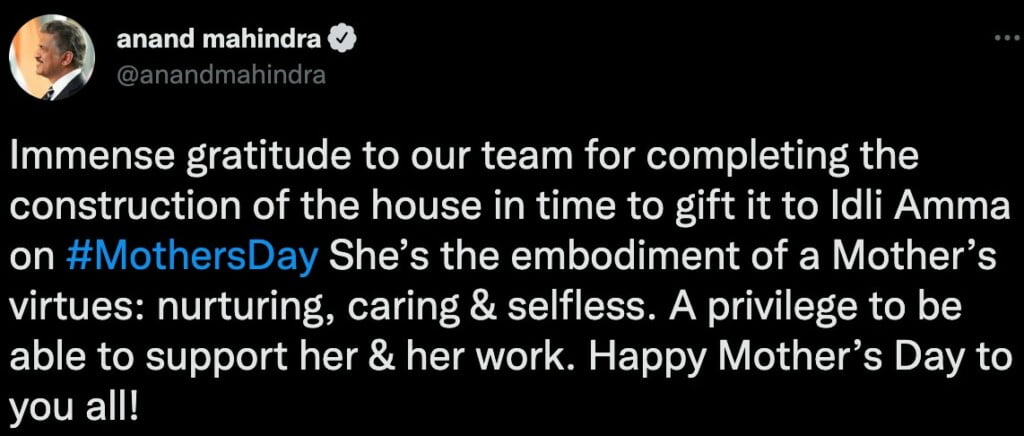 Finally, Anand Mahindra showed why is he one of the most loved personalities on Twitter. The billionaire industrialist has been praised for his sweet gestures in the past as well. He is always candid about his opinions on things and keeps seeking opportunities to contribute in any way to society. We wish more businessmen and other prominent personalities were like him and like the Idli Amma.