An overspeeding Kia Seltos recently met with a major accident in Jabalpur
Rumours abound that the SUV split into two in the terrible mishap
The #SaferCarsforIndia initiative by Global NCAP has definitely set the right tone – Today, we have car buyers who have started prioritising safety. But as is the case with almost everything in this day of internet, there is just enough misinformation available even on this aspect. There has been an alarming trend of car buyers judging a car's safety simply by looking at the 'star rating' and completely ignoring the detailed crash test analysis that NCAP provides. And this is exactly where things go wrong. To make matters worse, the cyber space is crowded with several self-proclaimed experts who are quick to sensationalise just about everything to gain traction and make a quick buck. The case in the point here is a recent accident of a Kia Seltos in Jabalpur, Madhya Pradesh.
You may also like: Giant Snake Attacks Van in South Africa – Real or Fake?
You may also like: 5 Accidents of Mahindra Scorpio N That Reaffirm the 5-star Safety Rating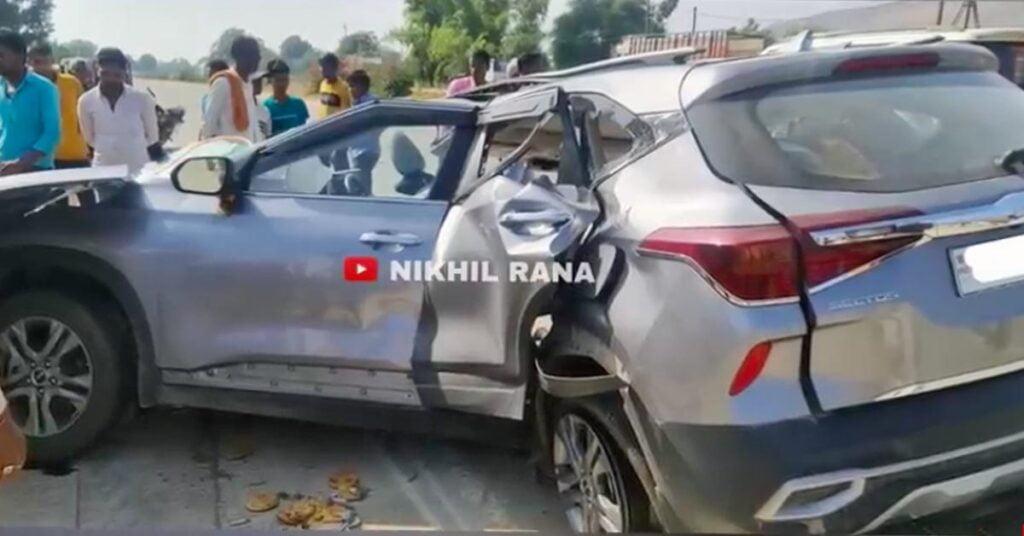 You may also like: Toyota Fortuner Driver Takes U-Turn Over Road Divider, Gets Royally Stuck
You may also like: Skipping COVID Vaccine Can Cause Major Road Accidents – USA Study
Kia Seltos 'Breaks' into Two?
Soon after the visuals emerged online, many Youtube channels and several pages on social media blamed Kia India for selling a car that's low on safety. The first set of images show a vehicle that has its entire RHS front three quarters missing. As per various videos (like the one we have here), this SUV was travelling at a very high speed when it met with an accident. Unfortunately, one of the occupants is said to have lost his life in this mishap. Meanwhile, the many self proclaimed experts who seem to thrive on passing judgement on a vehicle's safety standards criticised the carmaker for using the cheaper SP2i platform instead of the SP2 version sold abroad. It may be noted here that the former is an Indianised version of the latter developed to keep costs under check.
Firstly, this is a very common practice that many adopt for our overtly price-sensitive market. In fact, the latest to join the fray is VW India, which came up with an Indianized version of the excellent MQB architecture in the form of the MQB-A0-IN. That the Skoda Kushaq manages to score really well in NCAP even with the low-cost platform is commendable. Also, it doesn't take a genius to guess that the SP2 platform, which employs UHSS in some percentage, is more robust than India-spec SP2i that uses only HSS. However, here are some questions that have been left unanswered in the recent crash involving the Kia Seltos.
Incomplete details of the accident – While the accident happened two days ago, so far, details have been scarce. In spite of the lack of information, though, many social media and Youtube accounts have been critical of the Kia Seltos. As of now, no one knows what exactly transpired with the ill-fated SUV. The speed at which the accident took place is unknown. In fact, there's no clue of the vehicle with which the crash took place.
You may also like: Tata Tiago Rolls Over Thrice in Latest Accident – Father-Daughter Duo Inside Escapes Without Injury
Torn Apart Using Gas Metal Cutter? – The terrifying images of the mangled remains of the Seltos show its front RHS neatly cut apart. Now, irrespective of how safe or unsafe a vehicle is, the sheetmetal crumples to varying degrees. But in this case, a huge chunk of the side profile is neatly cut open. Again, there is no concrete data available but some opine that the same was done by gas metal cutters to rescue the occupants. In fact, one of the occupants can be seen sitting on the road near the car. Interestingly, she doesn't seem badly hurt.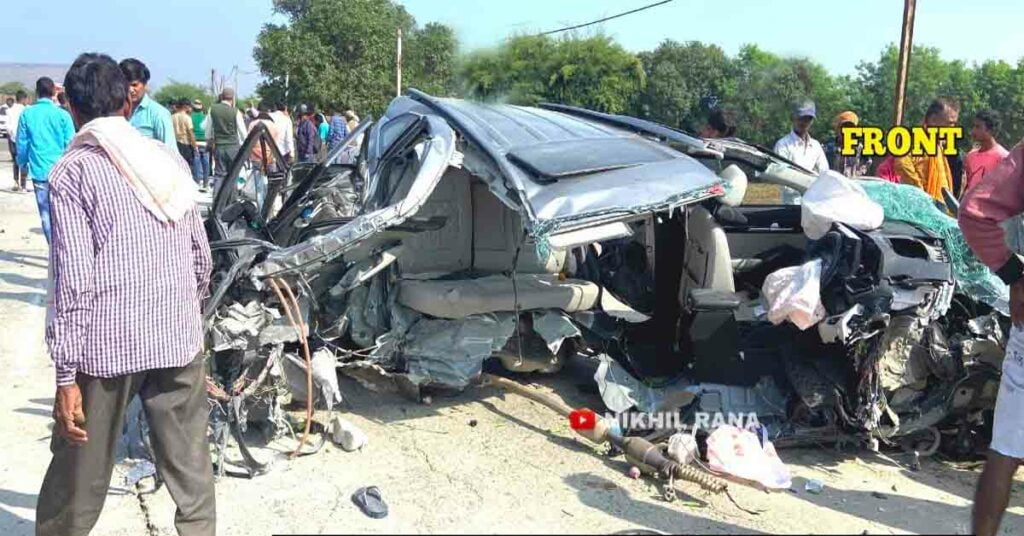 Narration Set Without Facts
Interestingly, there's been enough chatter on social media on the Kia Seltos being an unsafe vehicle. Mostly, these judgements come from people with little knowledge about automotive technology. It must be noted that the Seltos has scored a mediocre 3-star rating in G-NCAP test. However, unlike the commentator of the above video, NCAP hasn't opined that the Seltos is unsafe. Moreover, unlike in an NCAP test, where crashes happen in a controlled environment, there are simply too many variables involved in a road mishap. Yet, there are several internet users who jump into passing a judgement against a brand without even a basic fact-check.
Of course, we would want all vehicles to be as safe as possible. Even the Kia Seltos involved in this crash could have performed better with the more robust international-spec monocoque. However, what we're totally sad about is the narration that is set to defame a car/brand without a proper fact check. For now, all we can do is to request our readers to take anything such social media influencers say with a fistful of salt.
You may also like: Kerala Politician Meets with Huge Accident in His Jeep Compass, Suffers Injuries
Disclaimer- The embedded videos/ external content is/are being used as a convenience and for informational purposes only; they do not constitute an endorsement or approval by Car Blog India of any of the products, services, and /or opinions of the corporation or organization or individual. Car Blog India bears no responsibility for the accuracy, legality, and/or content of the external site or for that of subsequent external videos/ external content. Contact the external publisher for answers to questions regarding its content.
Join our official telegram channel for free latest updates and follow us on Google News here.