In a shocking incident, a huge King Cobra was found living inside a parked Maruti WagonR. It has been rescued by forest officers.
Quite often animals hide under parked cars. Some reptiles like snakes have also been found inside the cars. Quite often such owners are unaware of the presence of snakes in the car they are driving. In a shocking new incident, a WagonR owner discovered a massive King Cobra in his car. He got in touch with the concerned authorities to rescue it. After a small struggle, forest officers safely removed the snake from the car. The video of the rescue has surfaced online.
You May Also Like: Actor Sidharth Malhotra Seen Using Humble Maruti WagonR
You May Also Like: YouTuber Drops a Tractor on a Maruti WagonR in a Bizarre Test [VIDEO]
As you can see in the YouTube video by Mathrubhumi News, the King Cobra in the WagonR is huge. Apparently, it has been living inside a car for two days before it was rescued by Forest Department officers. Mr. Kunjumon has revealed that he had not used the car for a few days. Hence, it was parked outside his house. Upon hearing a strange noise from his parked car, Mr. Kunjumon did a quick inspection and found a large snake inside. He immediately informed the Forest Department about the snake.
The above-mentioned incident took place in Kerala's Palakkad district. The snake was approximately 10 years old and weighed around 30 kg. King Cobras are extremely dangerous. Fortunately, it did not harm anyone in this incident. Initially, Mr. Kunjumon left the car doors open to see if the snake would come out on its own. When the snake did not come out, he contacted the concerned authorities to rescue it. The Forest Officers came with their team and managed to safely rescue the snake from the car.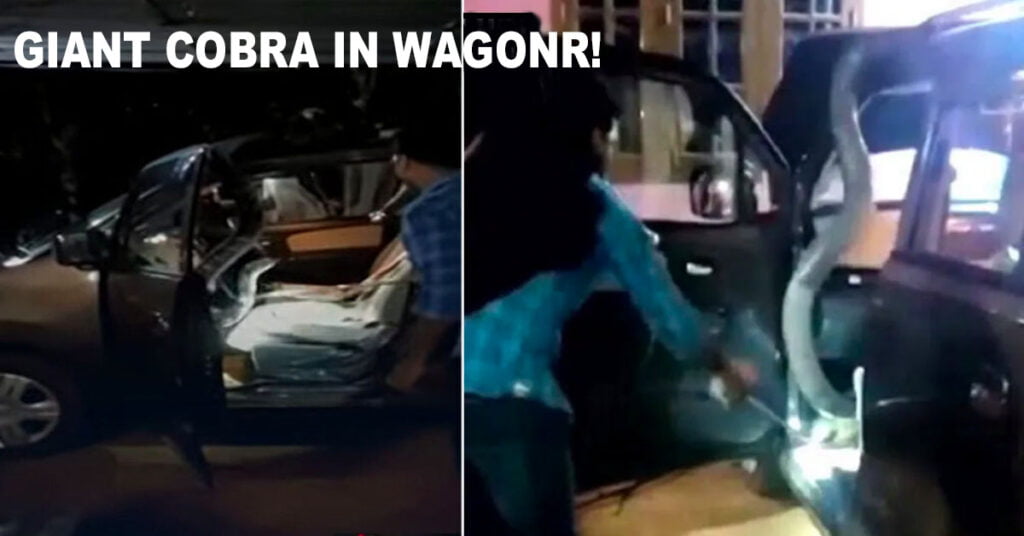 You May Also Like: Kia Seltos Seen Split Into Two in Viral Video – Real or Fake?
Snakes are known for crawling into the engine bay or even the cabin of a car. Since reptiles are cold-blooded animals, they often search for heat to maintain their body temperature. When the car is driven, the engine of the car heats up. This offers a comfortable temperature for snakes when the environment gets cold. Since the engine space is a dry and warm place, snakes only come out when it gets extremely hot. In such a situation, it is advisable to immediately contact the experts. Please do not try to get the snake out on your own.
It's not every day that one comes across a situation like this. This incident serves as a reminder of the importance of being aware of our surroundings, especially in areas where wild animals may be present. The forest department urges the citizens to be cautious and inform them immediately if they come across such incidents. It is also important to respect the wild animals that share our planet with us. Harmful outcomes can be avoided if we take the necessary precautions and act responsibly.
Join our official telegram channel for free latest updates and follow us on Google News here.