The latest Jeep Compass case (Read: Jeep Compass Purchased to Surprise Pregnant Wife Leaves Buyer HARASSED Instead) has opened up a huge can of worms. There have been quite a few aggrieved customers of the Compass that are facing several issues with their SUVs. Almost all of them have the complaint that Jeep service officials are not competent enough to understand some of the issues, let alone fix them. There are some issues that are general and recurring and then there are some case-specific. The Jeep Compass owners have been vocal about these issues on Facebook and demand a solution. Meanwhile, another user has shared that he is willing to sue Jeep by gathering other Compass owners who are facing similar issues. Here are the details of this entire saga in brief.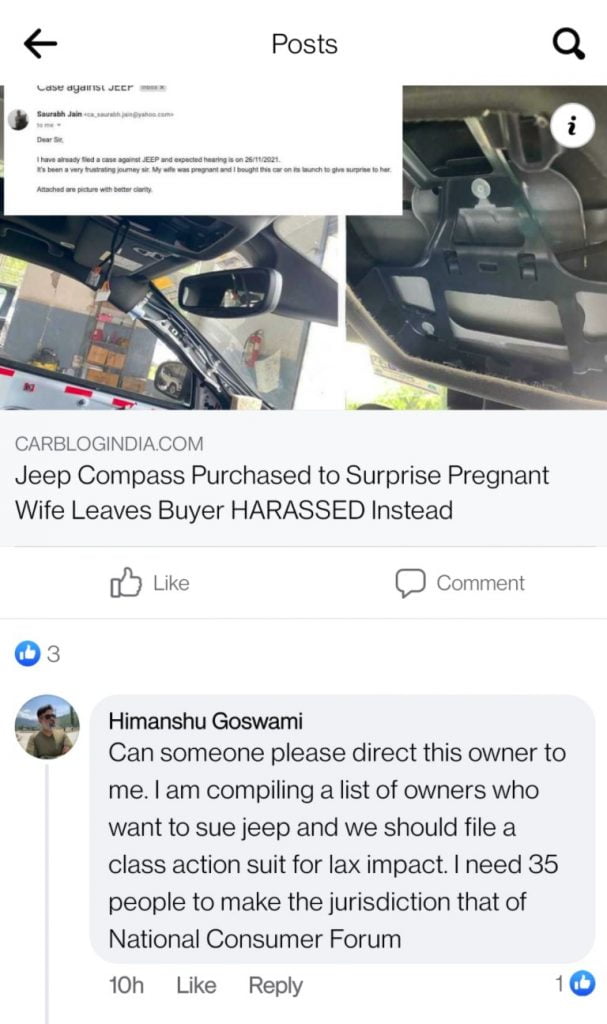 Latest Jeep Compass Case
After the first few owners started expressing their concerns on Facebook, other with similar problems also opened up about their ownership experience of the premium SUV. This opened up Pandora's Box and people are rallying in to launch a formal complaint against the American carmaker. The Compass owners are willing to support this Mr Himanshu Goswami by signing a petition. Mr Goswami is compiling the list of problems faced by Compass owners to prepare a lawsuit to sue Jeep. He is himself pursuing his ordeal with Jeep where he is demanding a full refund or replacement of the vehicle. Another Compass owner reveals his horrifying experience of the SUV breaking down 5 times already having just been driven 18,000 km. Some of these could have had fatal consequences.
Also read: Lawyer Owner Contemplates Legal Action as Dealer FAILS to Fix Jeep Compass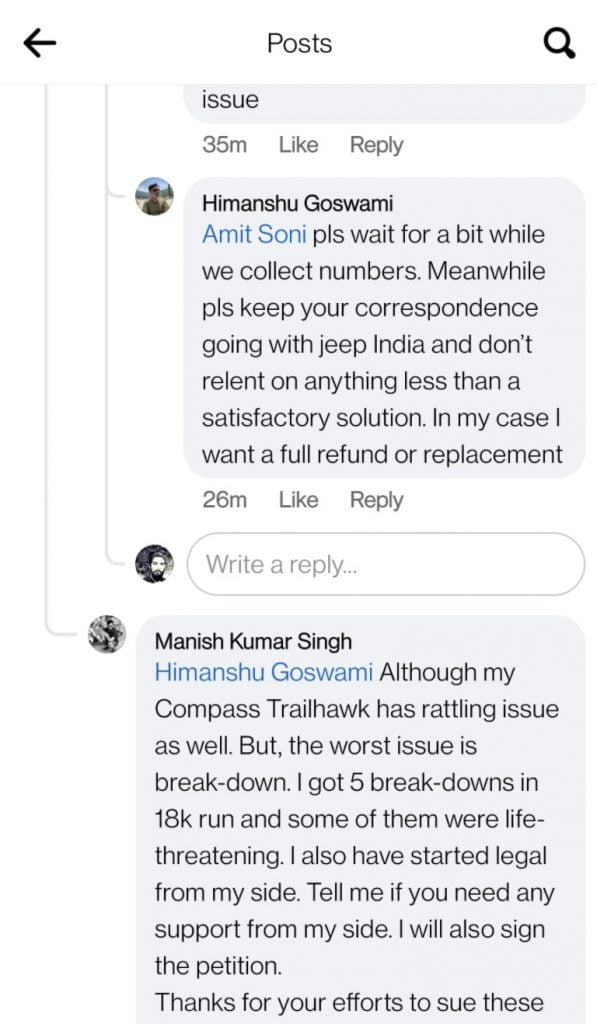 Many other owners are constantly complaining about the rattling noise inside the cabin of the Jeep Compass. One Nitesh E Narayanan tells that he has already experienced Clutch Failure, Fuel Pump Failure, Fog Lamp Failure, Suspension Failure and Battery issues. Himanshu has told the fellow Compass owners that he will collect the details of all the people who are facing the rattling issue and something similar. Because, if these issues are consistent across multiple SUVs, then this would be regarded as a manufacturing defect and there might be a full refund or replacement. This might attract a long judicial battle but the Compass owners are heartily extending their support which might result in a quick resolution. Such high pressure from the customers could prove to be too powerful.
Also read: 2021 Jeep Compass Owner Frustrated With His Brand New SUV!