Converting cars to suit your needs has become quite mainstream now. In this case, Mahindra Bolero has been transformed into a Caravan.
Mahindra Bolero is a 7 seater SUV with BS6 Technology. It also comes in an extra-long 2 seater Pickup Truck version. Car enthusiasts and automobile designers are always coming up with new iterations of popular cars. Car owners are also up for passion projects that stand out in the crowd. Hence, the car modification industry is experiencing a boom lately. This conversion of Mahindra Bolero Pik-Up Extra Long is yet another example of a great conversion job. Let's take a look at the new compact caravan!
You May Also Like: India's First Tata Nexon Kraz to Dark Edition Conversion Detailed – Video
You May Also Like: Here's a Ford Endeavour to Raptor Conversion Worth Rs 25 Lakh – VIDEO
As you can see in the YouTube video by Motorhome Adventures, the new Pickup conversion is based on Mahindra & Mahindra's Bolero. The caravan can house 4 adults and comes with all home-like amenities. The chocolate colo motor home features a poppy design pattern. All tires have been upgraded to broader all-terrain 275/75/ 16R tires that can withhold up to 1,180Kg. The whole shell is made from industrial-grade aluminum. Additionally, air balloons have been installed to manage weight. The compact caravan is 6 x 6 x 6 feet in dimensions.
The shell has been attached to the base of the pickup truck. It can be detached easily and fits any flatbed truck. Inside the shell, you will get heat insulation, digital solar control, batter-operated lights, a music system, a 1-ton AC, and more. For sleeping, 6-feet wide beds have been added. The seating area can also be converted into a sleeping bed. There is a small kitchen with a hot-water sink, two top burners, a 38-liter fridge, a five-liter blast roof, etc. You can easily fill water from the side and drain the kitchen/ bathroom water.
You May Also Like: Mahindra Scorpio 2008 to 2021 Conversion Detailed on Tape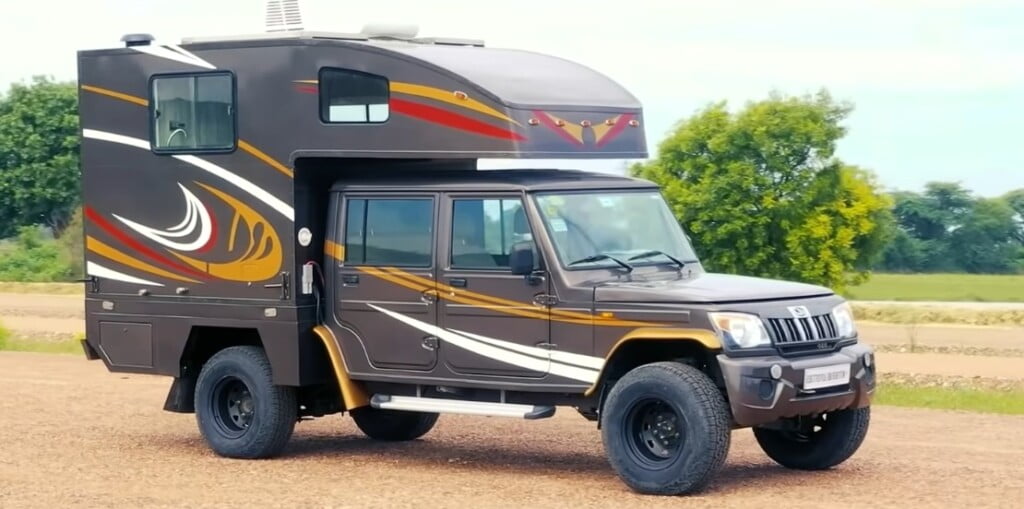 Additional features of the caravan include a 21 liters portable toilet, a hands spray, and a cold shower. Batteries have been added for your daily requirements. A spare tire and solar panel on top are also onboard. Overall, the Mahindra Bolero Pik-Up Extra Long Caravan looks pretty classy and comfy. The caravans or motor homes are a convenient way to travel long distances with family and friends. However, we recommend that you plan such trips properly and follow safer routes.
Tell us what you think of the new conversion.
Mahindra Bolero Pik-Up Extra Long
The Mahindra Bolero Pick Up Extra Long is a popular light commercial vehicle in India. It is designed and developed for all sizes of shipments. The flatbed truck comes in several variants – Bolero Pik up Extralong 1.25T, Bolero Pik up Extralong 1.7T, Bolero Pik up Extra strong 1.3T, Bolero Pik up Extra strong 1.5T. All models are powered by m2DiCR 4 cylinder, 2.5L TB, DI, Turbocharged, 2,523cc engine. The Mahindra Bolero Pick Up Extra Long is priced at Rs. 8.64 – 9.04 Lakh. The highlights of the truck include the ability to carry high big payloads, the longest cargo body, strong suspensions, and a modern cabin with high ergonomics.
Join our official telegram channel for free latest updates and follow us on Google News here.