In an astonishing turn of events, a truck driver was caught dragging a Mahindra Bolero pickup on a highway.
A truck driver decided to take matters into his own hands and dragged a Mahindra Bolero pickup after its occupants attempted to loot the truck. This incident is reported from Bhilwara in Rajasthan. Indian roads are packed with constant events almost every single day. However, this is not just a bizarre event, but a dangerous one with malicious intention. It reveals the perils of lonely highways in far-flung areas of the country. Read the details of this bizarre incident here.
You may also like: Kushaq Rams Into Fortuner, MLA's Innova Acts As Ambulance
You may also like: Do You Make Reels When Driving? Here's a Must-Watch Video!
Mahindra Bolero Pickup Dragged By A Truck
This news was published on YouTuber by Transport TV. The visuals show a highway where a truck is seen dragging a Mahindra Bolero pickup. The Bolero is being dragged by its sides which makes it quite bizarre and dangerous. The reason for this was not clear. However, the other truck drivers later revealed that the occupants of the Bolero were trying to loot the truck driver on the highway. They must have done this with others as well. For this purpose, they have purchased a brand new Mahindra pickup and there is no number plate on it. The driver reacted in self-defence and drove his truck into the Bolero. He kept dragging the pickup truck for quite some distance before coming to a halt.
You may also like: WATCH A Parked VW Polo Going Up In Flames in Delhi
What is even more interesting is the fact that as soon as the truck stopped, two guys came out of the Bolero to attack the driver. However, the driver started the truck and the Bolero is seen hitting the side railing. The guys escaped the scene and finally, the truck driver was safe from these local goons. The damage on the pickup is shown later on. The side doors and tail section were severely damaged by the truck. In fact, there could have been injuries to the occupants but the speed of the truck was under control. He might have just wanted to teach the miscreants a lesson.
You may also like: WATCH Cute Kid 'Review' His Dad's Skoda Kushaq Style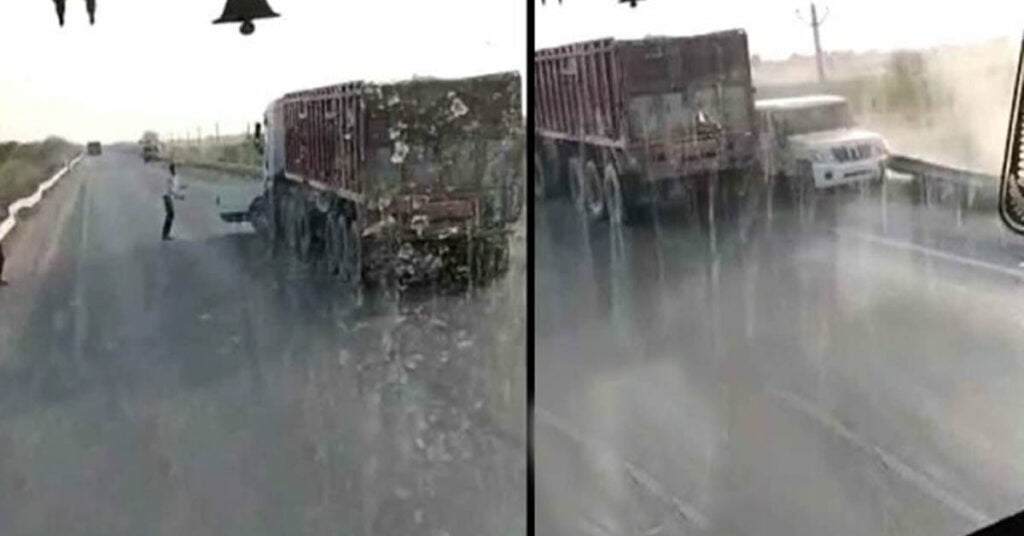 This is a great example of what could happen on the roads and why you always need to be careful, especially while driving alone on highways in remote areas. We are not painting a sad image of the highways, but it is better to be cautious when driving in far-flung areas in any case.
Join our official telegram channel for free latest updates and follow us on Google News here.