It is not all that common for large SUVs to be involved in drag race competitions but we can make an exception this time around.
This is a special video where the Mahindra Scorpio N and Toyota Fortuner go up against each other in a drag race event. Now, before we witness what happens, make sure to not perform such stunts on your own. These are not safe practices and must be done under professional supervision. Coming back to the drag race, the Scorpio N is being considered by many as a more affordable alternative to the crazy-expensive Toyota Fortuner for off-roading lovers. Let us see how well these two perform against each other on the tarmac road.
You may also like: Audi Q3 Luxury SUV vs Volkswagen Virtus GT Drag Race
You may also like: Mahindra Scorpio N VS Thar Drag Race Shows Shocking Results
Mahindra Scorpio N vs Toyota Fortuner Drag Race
The results of this drag race came out to be quite shocking compared to what most people might have thought. In the first attempt, the Fortuner took a brief lead at the beginning but the Scorpio N quickly overtook it never to be caught again. For this race, the Scorpio N has an automatic transmission while the Fortuner is a manual. A similar fate awaits the Fortuner in the second round where after the initial lead, Scorpio N came from behind to take away the trophy. The performance of the Scorpio N during the course of these races is a testament to the engine developed by Mahindra.
You may also like: Skoda Slavia 1.0 Gives Hyundai Creta 1.4 A Run for Its Money in Drag Race
Specs Comparison
The new Scorpio N comes with a 2.0-litre mStallion direct-injection turbo petrol engine that produces 200 PS and 380 Nm, a 2.2-litre mHawk diesel engine that produces 132 PS / 300 Nm in lower variant, and a massive 175 PS / 400 Nm of peak power and torque on higher variants. There are manual and automatic transmission options to choose from along with the 4×4 drivetrain. The prices range between Rs 11.99 lakh and Rs 23.90 lakh, ex-showroom.
You may also like: Hyundai Creta 1.4 Smokes VW Taigun 1.0 in Drag Race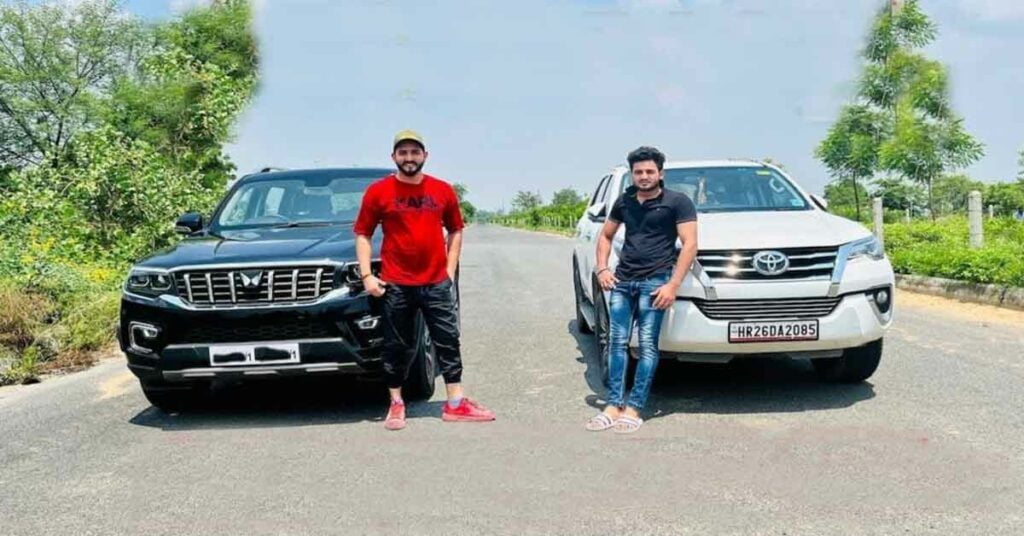 On the other hand, the Fortuner comes powered by a 2.7-litre petrol unit (164 bhp / 245 Nm) and a 2.8-litre turbo-diesel engine (201 bhp / 420 Nm). It is paired with a 6-speed manual and automatic transmission options. With the automatic transmission, the torque produced is a massive 500 Nm with the diesel mill. The prices of the Fortuner range from Rs 32.40 lakh to Rs 49.57 lakh, ex-showroom. Let us know about your feelings regarding this drag race between the Mahindra Scorpio N and Toyota Fortuner.
Disclaimer- The embedded videos/ external content is/are being used as a convenience and for informational purposes only; they do not constitute an endorsement or approval by Car Blog India of any of the products, services, and /or opinions of the corporation or organization or individual. Car Blog India bears no responsibility for the accuracy, legality, and/or content of the external site or for that of subsequent external videos/ external content. Contact the external publisher for answers to questions regarding its content.
Join our official telegram channel for free latest updates and follow us on Google News here.