This, here, is a video clip that highlights the perils of overspeeding where a Mahindra Scorpio meets with an accident. We can't stress enough how many lives are lost on the Indian roads every year just because of over-speeding. That was also the argument raised by Madras High Court recently, where it strikes down centre's proposal to raise the speed limit of vehicles on highways to 120 kmph. We understand that the engines have become much better, the safety features are enhanced and the infrastructure of the roads has also been improved vastly compared to just a decade ago, but overspeeding remains one of the chief causes for all the lives lost in road accidents. It is not advisable to cross the speed limits under any circumstance. This video should be a reminder of that.
Also read: Brand New Mahindra Scorpio N Loses Front Tire and Axle In a Major Accident
Also read: 2022 Mahindra Scorpio Caught Testing With Heavy Camo – VIDEO
Overspeeding Mahindra Scorpio Accident
The short video clip was uploaded on YouTube. The video is being recorded by the driver himself/herself, it seems. The speedometer is clearly showing a speed of over 150 kmph which exceeds all limits anywhere in the country. Also, such high speed with a tall SUV like the Scorpio is not appropriate in any case. It is so easy for such tall vehicles to roll over even if carry high speeds around the corners. In this case, that is exactly what happens. The video shows an animal suddenly appearing on the road and the driver losing control of the vehicle completely. The next visuals are just horrifying where the SUV is seen completely crumpled due to the impact. Also, this happened during the night when the visibility is anyway not the best.
Also read: Mahindra Scorpio STRUGGLES Uphill Even As Tata Tiago Flies Thru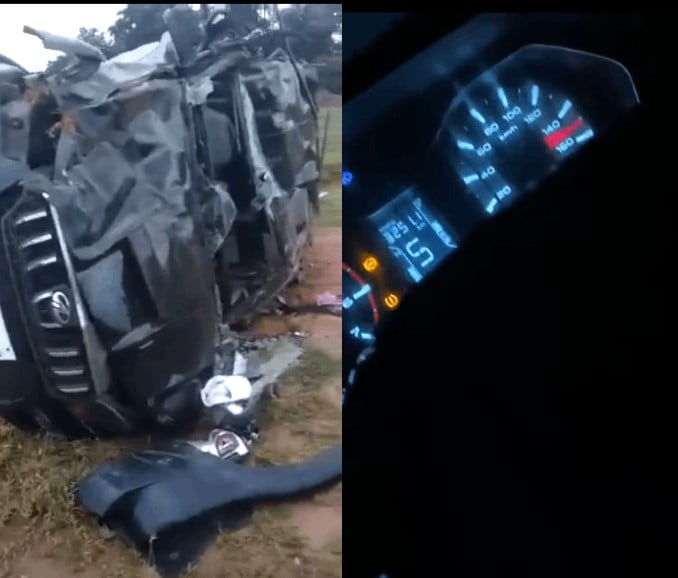 We would like to take this opportunity to remind you that vehicles should be treated as means to transport from one place to another. But if you get involved in such dangerous situations intentionally, they can turn into killing machines in a matter of seconds. It is always best if you take care of these things and invest in safer cars in general. The cars must have a rugged build quality and safety features but it is still in your hands to drive in a civilized manner to deal with unfortunate situations. Stay safe, wear seatbelts and follow traffic rules. They are there for a reason. We hope that this clip of the accident of an overspeeding Mahindra Scorpio will make you aware of the peril involved with reckless driving.
Also read: Mahindra Scorpio 2008 to 2021 Conversion Detailed on Tape
Join us for FREE NEWS Updates on our Whatsapp Community or our official telegram channel.