Here is a video of an off-roading challenge between Mahindra Scorpio and Tata Tiago. We know, this might not seem to be a fair competition, to begin with, but wait till you see the results. The video has been posted on YouTube by a traveller visiting the north-eastern part of India. He takes his personal Tata Tiago for the adventure. Now, Tiago has been known to be tough and rugged which has found it a ton of customers, especially in semi-urban and rural areas of the country. The same is the case with Mahindra Scorpio. It has fulfilled the requirements of the rural and semi-urban population by being a true utilitarian vehicle that is used to carry passengers and luggage even through the harshest of terrains across India. Here are the details of this off-roading battle between Scorpio and Tiago.
Also read: 2022 Mahindra Scorpio Continues Testing With Full Camo
Scorpio vs Tiago – Off-Roading Challenge
The video starts with the YouTuber showing the steep slope and the harsh terrain. There are large potholes in the dirt track and the steep slope makes it difficult to maintain low speed and traction at the same time. One needs momentum to carry the vehicle through the slope but the track doesn't allow high speed. So, the Tiago builds a strong momentum from a long stretch and doesn't brake. The slow and steady speed ensures a smooth travel over the rough surface. However, when the Scorpio comes it experiences wheel spin by losing traction. This prevents the SUV from moving forward. The drive reverses the SUV to build momentum but gets stuck at the same spot.
Also read: Mahindra Scorpio 2008 to 2021 Conversion Detailed on Tape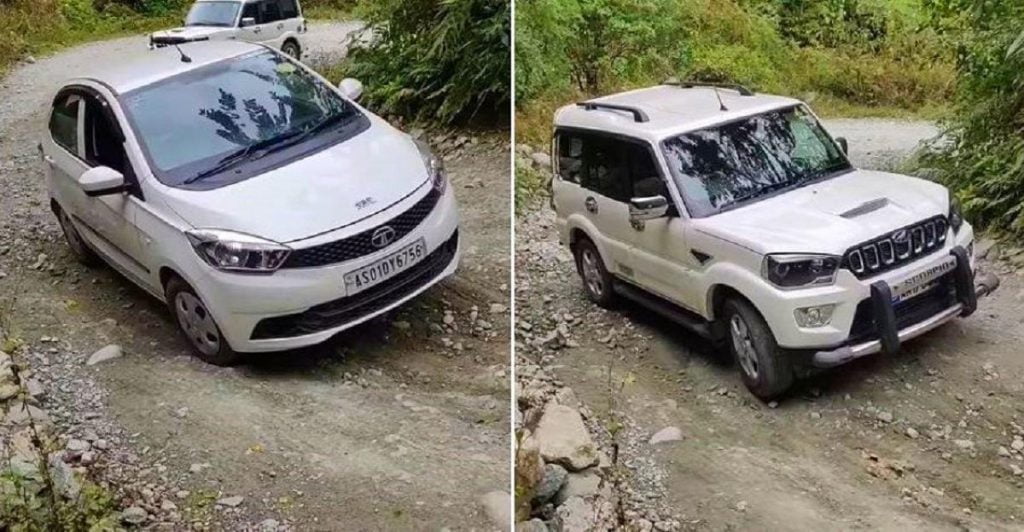 The problem might have been caused because the driver decided to take the SUV through the depression in the road and not around it. The high ground clearance of the Scorpio generally allows it to glide past an uneven surface with ease. However, in this case, the front tyre gets into the depression and the rear tyre gets lifted in the air losing traction. Now, Scorpio being a rear-wheel-driven SUV struggles to put down torque due to no traction and hence, the SUV couldn't come out of the depression. In the subsequent attempts, the driver takes the Scorpio all the way back and comes with increased speed and the momentum finally takes the SUV out of the pothole.
Also read: Tata Tiago (4-star NCAP) Crashes from Wheel Wobbling, Keeps ALL SAFE
Join our official telegram channel for free latest updates and follow us on Google News here.