Thar owners often resort to aftermarket alloys in a bid to make their SUVs stand apart from the crowd. This modified Thar is also a result of that mindset.
This has to be India's first-ever Mahindra Thar with colossal 38-inch alloys. Yes, you heard that right! Aftermarket car modification houses have access to spare parts from around the globe which ensures that you are able to achieve anything with a car. Thar is the most popular lifestyle off-roader in our market. A long waiting period on some models even after almost a year of the launch is a testament to the success it had enjoyed here. Let us check out some crazy modifications on this Thar.
You may also like: WATCH India's Only Mahindra Thar with Triple Sunroof Setup!
You may also like: Mahindra Thar Test Driven in Riverbed
Mahindra Thar with 38-inch Alloys
The video shows that the Thar is raised 8-inches from the ground. This has been made possible partly due to the 38-inch alloys that have been imported from Canada and partly due to the custom suspension kit. The alloys belong to a Jeep Wrangler Rubicon model which is why they look stunning. The suspension rods are installed in such a way that it doesn't affect the stock components of the SUV too much. Nevertheless, the owner of the modification house suggests that the 35-inch is the most one should opt for if he/she needs to do off-roading in the Thar.
You may also like: Man Rides on Mahindra Thar's Bonnet for Social Media Attention
The total cost of the tyres and alloys alone is Rs 4 lakh. The YouTuber captures the video of this monster Thar being driven on the roads. When seen alongside regular cars, the height increase is pretty evident. Also, when the YouTuber tries to get out of the Thar, he shows how far up from the ground one is seated due to the raised suspension. The total cost for this entire modification is around Rs 10 lakh.
You may also like: Mahindra Thar Conquers Flooded Bangalore Bridge Like a BOSS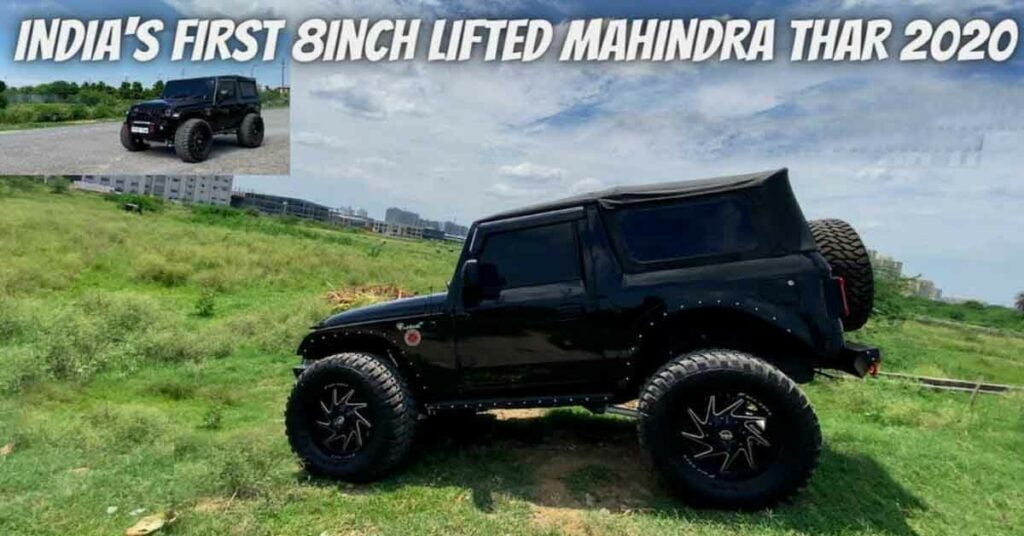 Other Modifications on Thar
Radiator protecting kit
Heavy duty 4-inch Suspension kit with camber adjust
Heavy duty tie-rod ends
Modified Fender with HS studs
Optional bolt-on fenders
Modified rear suspension with heavy-duty joints
Jeep Wrangler original bumper imported from the USA
Off-roader bumper with towing hooks
DPF tank armour box for protection
Disclaimer- The embedded videos/ external content is/are being used as a convenience and for informational purposes only; they do not constitute an endorsement or approval by Car Blog India of any of the products, services, and /or opinions of the corporation or organization or individual. Car Blog India bears no responsibility for the accuracy, legality, and/or content of the external site or for that of subsequent external videos/ external content. Contact the external publisher for answers to questions regarding its content.
Join our official telegram channel for free latest updates and follow us on Google News here.