Mahindra and Mahindra has increased the priced of Mahindra XUV500 in January 2012, the bookings were not open at that time. The reason for price increase were two – rising input costs and introductory pricing prior to the price increase. Mahindra opened the booking for just 10 days for next round of bookings between 25th January 2012 to 3rd Feb 2012 in 19 cities of India and voila – there is another 25000 + bookings received in just 10 days ! Isn't that a huge number. In first phase of booking after its launch in Sep 2011 end, the bookings received from the 5 states in 10 days was over 8000.
M&M can deliver about 7200 units in next 2 to 3 months of time so there will be a lucky draw for confirming which customers get the delivery in this phase. The odds of getting a delivery in next 3 months for overall bookings is slightly less than 1 in3 as the bookings received are over 3 times the planned production capacity of XUV500. This will also ensure a reasonable waiting period for the customers selected in the XUV500 draw. The draw process will be validated by the professional services firm, Deloitte Touche Tohmatsu India Pvt. Ltd (DTTIPL)* as per mutually agreed scope & terms between M&M and DTTIPL. Details of the draw process have been announced on XUV500 official website.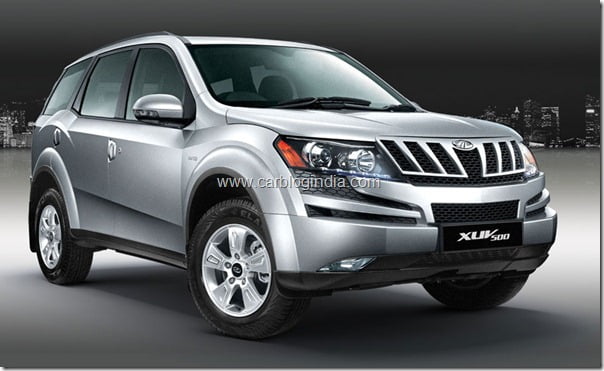 image – Mahindra XUV500
A new campaign for the XUV500 has also been launched from end January 2012 to showcase its global appeal through a clutter-breaking TV commercial.  The ad is shot like a mini movie based on the consumer insight that people are seeking new and interesting experiences in their lives and these experiences are the real wealth in today's world. The ad is unconventional, cool and trendy as the XUV5OO itself. The ad has had excellent viral impact with over 4.0 lacs+ views on YouTube within a few days of the launch of the campaign.
video – XUV5OO New TV Commercial
The XUV5OO has received a tremendous response from customers and reviewers alike. It has received 20 awards so far. The main reason for this overwhelming response is the tremendous value for money that XUV500 offers in its segment. In fact it competes with SUVs in a segment above it will good points in its favour. You can check out more details about the XUV5OO and its comparison with some popular SUVs and crossovers at the link below.
More Related News