The mileage of any vehicle continues to be a major reason to buy a car in India. Tank-to-tank is by far the most effective way to get accurate results.
This video represents the mileage test of the diesel automatic variant of the Mahindra XUV700. The XUV700 is the most popular mid-size SUV in the country at the moment. The number of bookings within the first month of launch has crossed the 70,000 mark which is impressive. However, the turbo petrol variants are receiving some concerns from the customers for being too fuel-thirsty. But what about the diesel automatic? This video will test the mileage of the SUV in Zip, Zap and Zoom drive modes. So, let us get into this test.
Also read: CNG Kit Dealer Confirms Mahindra XUV700 Petrol AT's Compatibility with CNG
XUV700 Diesel Automatic Mileage
The owner of the SUV gets the SUV filled with fuel up to the brim. Thereafter, he completes the first segment of the drive of about 94 km in Zap mode. He got a mileage of around 14.2 km/l during this highway run. There are 3 other passengers in the SUV. They went to the petrol pump and refuelled for the next phase. This time, they select the Zip mode and drove for 68 km and got a mileage of 13.9 km/l. For the last phase, the driver sets the Zoom mode which is also the most sporty. He drove 84 km in this mode and got a mileage of 11.36 km/l. This is expected since this is the sportiest setting which concentrates on performance and not on fuel economy. During all these trips, he drove around 80-100 km/h speed. These are not great mileage figures. For all those who are looking to buy the diesel XUV700, you must keep this in mind.
Also read: This Mahindra XUV700 AX5's Interior is Plusher than AX7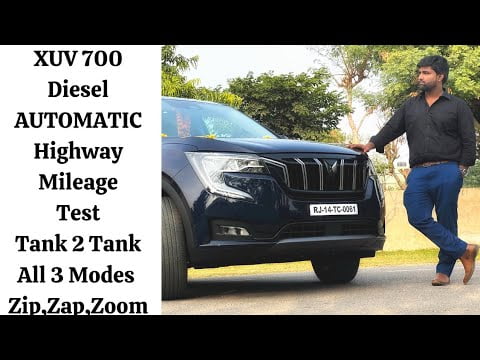 Specs
The Mahindra XUV700 comes with a 2.0-litre turbocharged petrol unit that churns out a maximum power of 200 PS and a peak torque of 380 Nm. Meanwhile, the Diesel engine is available in multiple states of tune. The lower versions get 155 PS and 360 Nm, while the higher positioned models benefit from 185 PS and 420 Nm (450 Nm in automatic variant). Both the petrol and diesel engine variants will be available with 6-speed manual and automatic transmission choices. The prices range between Rs 12.49 lakh and Rs 22.99 lakh, ex-showroom. The direct rivals include the likes of Tata Safari, MG Hector Plus and Hyundai Alcazar in the 7-seat configurations.
Also read: Watch Pakistanis React to Mahindra XUV700 vs Tata Safari Drag Race
Join our official telegram channel for free latest updates and follow us on Google News here.