We see people doing crazy manoeuvres with their cars on a daily basis as seen in this latest case.
In this latest post, a man is seen dancing on the roof of a Toyota Fortuner. It looks like a setting of a wedding ceremony or an event of some sort. Fortuner is the most popular 7-seat SUV in the country. It has been selling well since its inception but the departure of its arch-rival, the Ford Endeavour has boosted its sales even further. However, people also consider it to be a sign of dominance and often use it as an excuse to perform mindless acts. This is an appropriate example of that.
You may also like: Using Hyundai Verna to Plough Field While Sitting on Roof is All Sorts of Stupid
You may also like: Little Kid Driving The Huge MG Gloster on Public Road is as Stupid as it is Scary
Man Dancing on the Roof of Toyota Fortuner
This post has been shared on Instagram by akashxpanchal. The visuals show a setting which looks like either a wedding venue or a grand event of some sort. Astonishingly, a white Toyota Fortuner is seen being driven down the stairs. What is even more bizarre and stupid is the fact that there is a person on the roof of the SUV. He is trying to balance himself on the roof of the moving SUV. However, moments later, he slips and lands on the windshield of the Fortuner.
You may also like: Road-Roller vs Honda Activa Strength Test is All Kinds of Stupidity
Why people decide to publicly perform such idiotic acts is beyond us. In the final phase of the video, the same Fortuner is being driven up the stairs and onto the stage. We can only advise our readers to NEVER perform such stupid acts. These can not only cause damage to you or your car but also to the people around you. This is especially true for scenarios such as this public event. People are mindlessly jeopardizing the safety of the guests at the venue as well. What are your thoughts on the matter?
You may also like: Driving Maruti Swift Thru Knee-Deep Water is More Stupid Than Brave
Specs
The Fortuner in its current avatar comes powered by a 2.7-litre petrol unit (164 bhp / 245 Nm) and a 2.8-litre turbo-diesel engine (201 bhp / 420 Nm). It is paired with 6-speed manual and automatic transmission options. With the automatic transmission, the torque produced is a massive 500 Nm with the diesel mill. There is plenty of off-roading equipment on offer to make it immensely capable in terrains without tarmac roads. The prices of the SUV range from Rs 32.40 lakh to Rs 49.57 lakh, ex-showroom.
You may also like: MC Square of Hustle 2.0 Fame Owns a Last-Gen Toyota Fortuner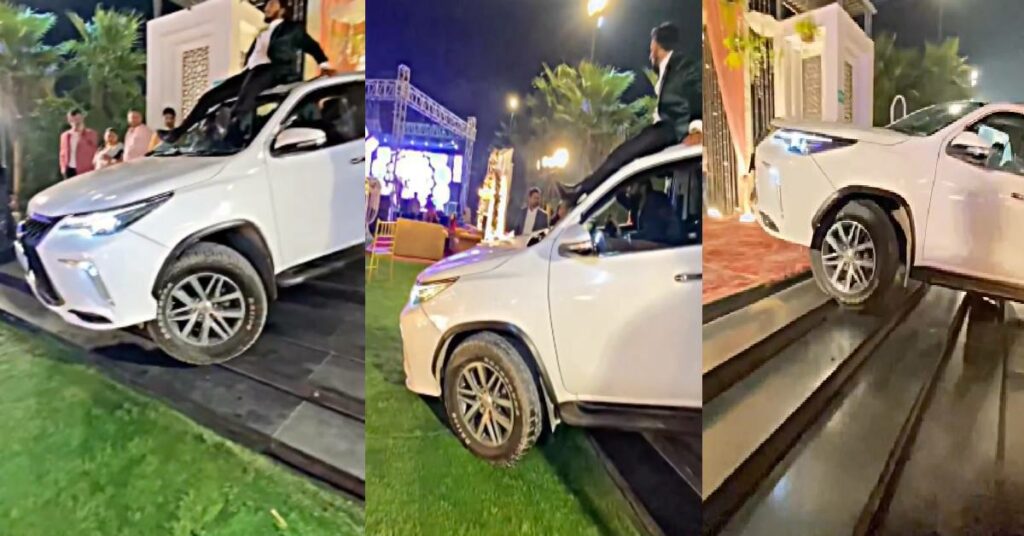 Disclaimer- The embedded videos/ external content is/are being used as a convenience and for informational purposes only; they do not constitute an endorsement or approval by Car Blog India of any of the products, services, and /or opinions of the corporation or organization or individual. Car Blog India bears no responsibility for the accuracy, legality, and/or content of the external site or for that of subsequent external videos/ external content. Contact the external publisher for answers to questions regarding its content.
Join our official telegram channel for free latest updates and follow us on Google News here.