The social media era is causing people to do crazy things and this man making reels on top of his Ford EcoSport on a busy highway reflects just that.
In a bizarre, yet increasingly common trend, a man was nabbed by the police after he was making Reels on the roof of his Ford EcoSport in the middle of the road. In a bid to become social media influencers, people are going to extreme lengths. What is surprising is the fact that they are willing to risk their lives, as well as the lives of others for the digital appreciation in the form of some views and likes. This latest video clip highlights the perils of this culture.
You may also like: Owner Shares Heartwarming Story of Ford EcoSport's Build Quality
You may also like: Ford EcoSport Tests Build Quality of 5-Star Mahindra XUV700
Man Makes Reels Atop His Ford EcoSport
The video has been recorded by someone on the road when he/she witnessed this weird act. It looks like the person shooting the video is standing on the other side of the road. The man captured on the video looks like he is a social media influencer or at least, wants to be one. For his post, he is posing for the Reels or TikTok. He is trying to walk on the roof of his EcoSport SUV while another man is filming him. Generally, people try such stunts after watching heroes in Bollywood movies and add music to post them as Reels on Instagram, YouTube Shorts or TikTok posts. According to the report, he was taken into custody by the Police.
You may also like: Mahindra XUV300 & Ford EcoSport Drag Race- Shocking Results
We must mention here that such random stupid acts could prove to be perilous not only for the people doing them but also for the others on the road, especially if they are doing it on busy roads. Road safety is anyway a huge issue in India and people are scared of driving here. It is partially because of such wannabe influences/vloggers who are risking their and others' lives just for a few views on social media platforms. People are seeking validation on the internet by trying to produce unique content but this can only be termed as dangerous and idiotic.
You may also like: Ford EcoSport Lightning Looks Like a Great Tata Nexon EV Alternative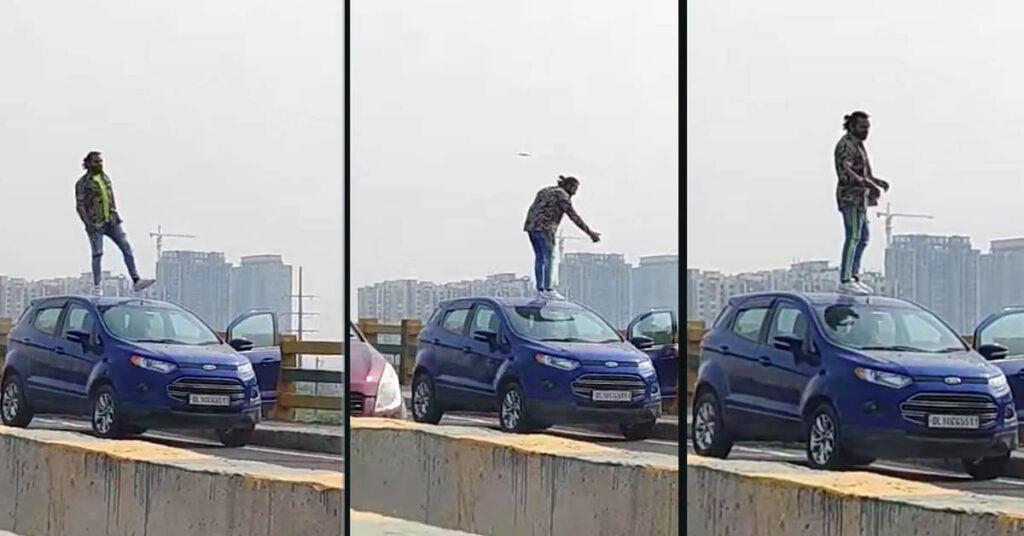 The EcoSport that he is standing on top of boasts of a rugged and strong build quality. That is also the reason why the roof of the compact SUV is showing no signs of pressure or deformation. The guy in the video looks quite tall and well-built but the roof is holding him off quite impressively. Most of the cars don't have such a strong roof. In fact, in many hill stations, monkeys often jump on them and they get a dent easily. However, the production of Ford cars in India has stopped after September 2021.
Join our official telegram channel for free latest updates and follow us on Google News here.