People are going to extreme lengths to post bizarre content to boost their social media following even if it means compromising on safety.
In a bizarre turn of events, a man in Noida is seen standing on two moving Toyota Fortuner SUVs to post on social media. He has been recognised as Rajeev Yadav who has done such stunts in the past for social media content. In a bid to become influencers on social media and gain new followers, some people perform stupid stunts risking their own lives, as well as the lives of others. This latest incident involving this Noida guy and the Fortuners was criticised by netizens and Ranjeev was even reported to the police.
You may also like: Now Toyota Fortuner Owner Tests Safety by Hitting and Banging Doors
You may also like: Guess Who Wins Toyota Fortuner vs Mahindra Bolero 4×4 Tug of War
Man Standing On Moving Toyota Fortuner SUVs Reported
Rajeev Yadav performs such stunts in Noida and has become quite famous in the neighbourhood. On a previous occasion, he was seen performing a wheelie on his Splendor in the middle of the road with moderate traffic without a helmet. This, as one would imagine, is not safe at all. In fact, it risks not only his life but that of the other car and bike riders on the road too. This time, he flexes his muscles while standing on the doors of two moving Toyota Fortuners. He was trying to replicate the stunt performed by Ajay Devgn in his famous movie, Golmaal 3.
You may also like: Viral Video Shows 6 Boys Riding 1 Honda Activa!
However, it must be understood that the Bollywood actors perform such stunts in a curated environment with a team of stuntmen and professional choreographers. The professionals have been doing such stunts for years. Even if something were to go wrong, there is a team of medical professionals to deal with the situation. In real life, with no experience, you can't just do something crazy like this, that too on a public road. People on Twitter have been vocal about it and posted this video clip and tagged the local Police.
You may also like: Drunk Range Rover Driver Kills Man; Shows No Remorse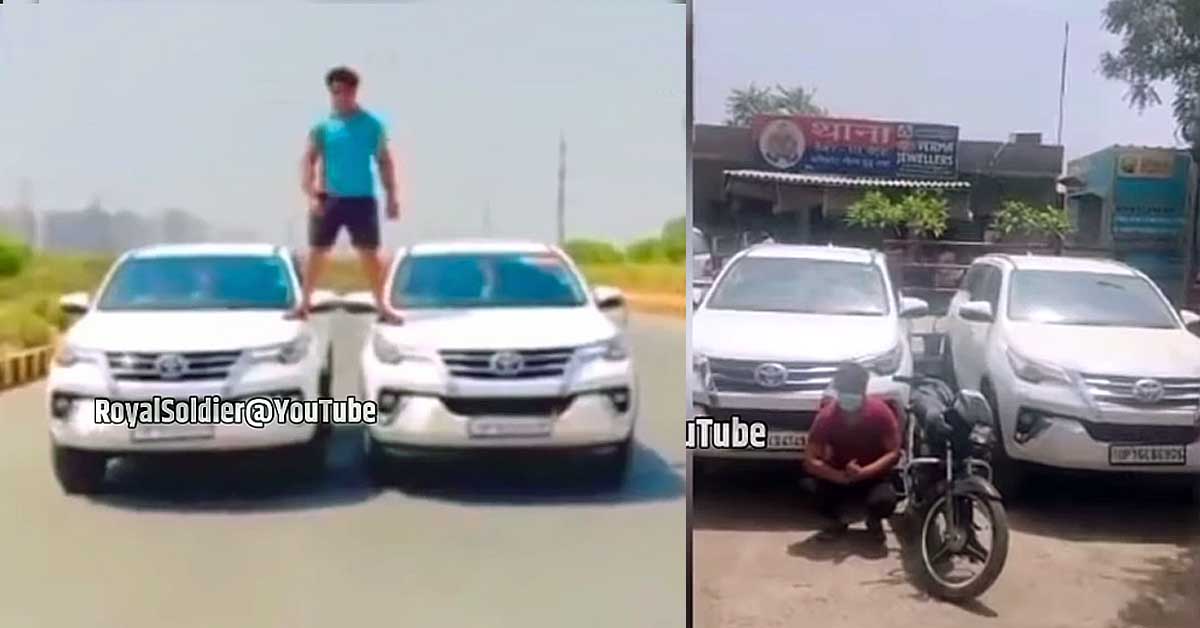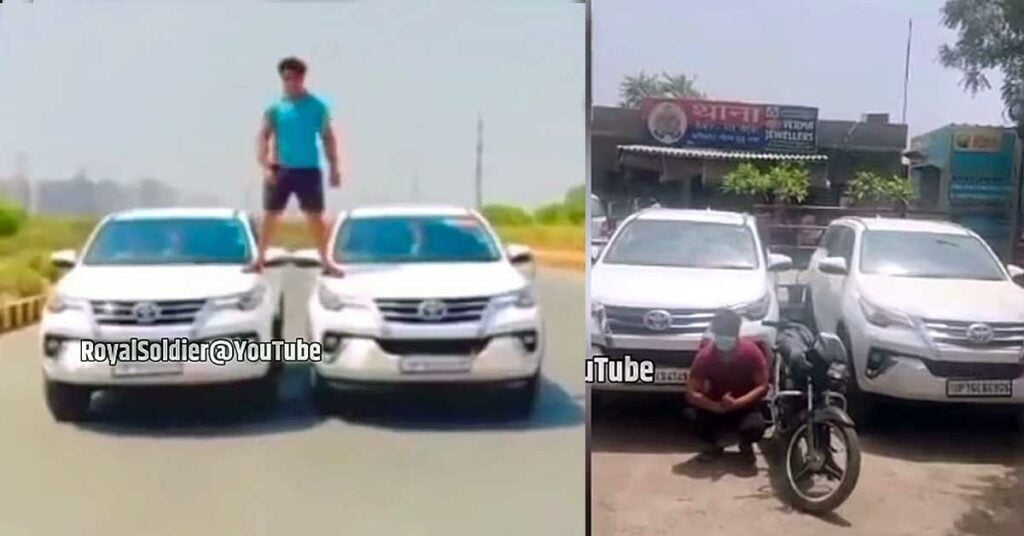 Police identified the person and assured the netizens that appropriate action will be taken against Rajeev Yadav. What that action will be, remains to be seen. Until then, we can only urge our readers not to perform such idiotic acts and report people who are doing it at the cost of safety.
Join us for FREE NEWS Updates on our Whatsapp Community or our official telegram channel.