There are tons of new drivers learning to drive on the road every day. However, at times, things could be a bit more difficult in the beginning and patience is the key.
This video of a Maruti Alto stuck in a gutter should serve as a great reminder to all the newbies learning driving on the busy roads. Young people are a bit excited to become pros watching movies or other people in their lives. However, it must be understood that getting proper control of your driving is not a miracle that could happen in a month. There are various scenarios that play out on roads every day that could only be understood after years of being in those situations. Hence, one must be patient to learn and practice. Here is a video showing what could happen if you panic.
You may also like: Next-Generation Maruti Suzuki Alto 800 Coming In 2022 – DETAILS
You may also like: Here is The Craziest Wide Body Modified Maruti Alto You'll Ever See
Maruti Alto In A Gutter While Learning Driving
The video has been uploaded by a YouTuber who keeps sharing such incidents with the aim of making Indian car buyers aware of buying safer cars. Alto is an entry-level small hatchback that is not widely known for its safety equipment. However, it is one of the most popular cars in the cars, especially for first-time buyers. This accident took place in Odisha. Reportedly, the driver was learning to drive with two of his co-passengers. Probably, one of them was teaching him. It just so happened that at one point he pressed the accelerator instead of the brakes and the car sped up in a corner and lost control.
Resultantly, the car fell into a gutter nearby. The visuals show the car toppled on one side. No one got seriously injured. All three passengers faced minor scratches and bruises and escaped unscathed. However, this should be great advice for all novice learners to be extra attentive during the initial days. Only after years of practice and experience would your reflexes get shaper and you would be able to deal with such sudden events appropriately.
You may also like: ONLY Maruti Alto In India With Electric Sunroof – VIDEO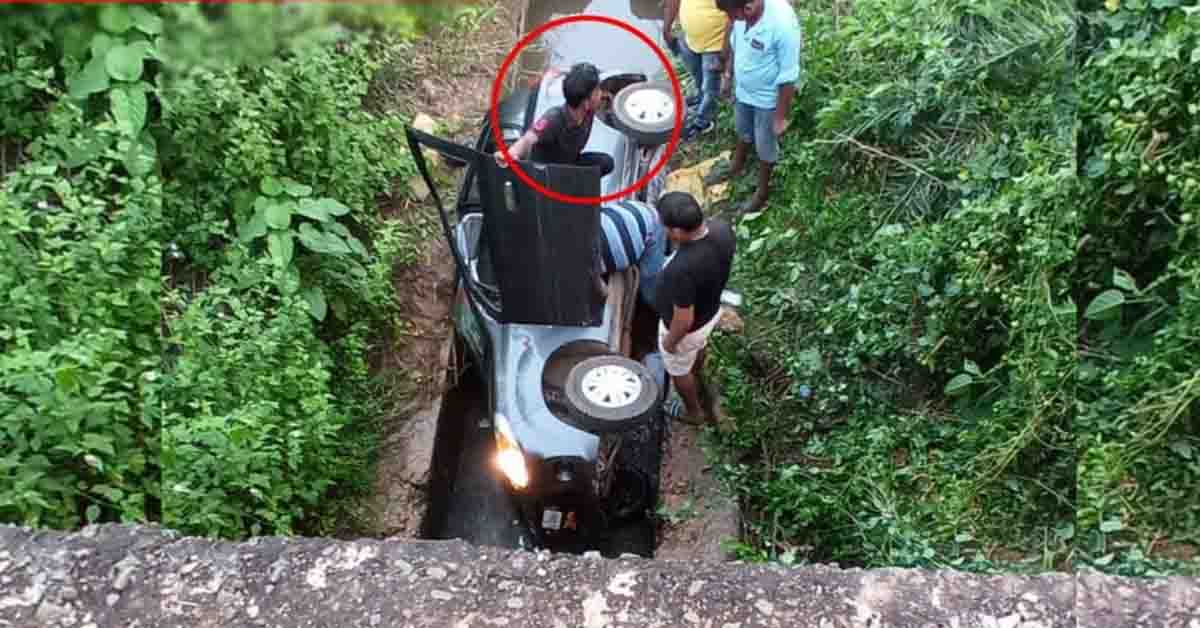 The new drivers should take lessons from this incident of a Maruti Alto that is lying in the gutter due to careless driving. The damages to the car are not visible in these visuals but there must be some damage to that side of the body.
Join us for FREE NEWS Updates on our Whatsapp Community or our official telegram channel.