Indian roads throw up interesting visuals every day and this is a perfect example of that.
In this video, a Maruti Baleno is seen carrying a heavy load on its roof. We all know that a Baleno is not meant for such applications. It is a premium hatchback designed for the comfort of the passengers in the hatchback segment. Nevertheless, people end up using it for their day-to-day activities. That could involve such careless attempts that risk not only the safety of the driver and the car but also of other people on the road.
You may also like: New Maruti Baleno Owner Shares User Experience After 5 Months of Ownership
You may also like: Can 190 kg Royal Enfield Bullet 350 Tow a 950 kg Maruti Baleno
Maruti Baleno Carries Heavy Load on Roof
The post has been uploaded by suratlike on Instagram. In it, a Maruti Baleno is seen carrying two heavy packages on its roof. Being a hatchback, it doesn't have roof rails or a luggage carrier. The driver has simply tied these huge packages on the roof using a rope. The sheer size of these is making them extend out of the body of the vehicle. That in itself is an issue. Secondly, the car is being driven amidst busy traffic on the road. It is not that this stunt is being carried out on some society street.
You may also like: Maruti Baleno Looks Swanky with Pearlescent Wrap
We can't stress enough why you must NEVER do this. There is no way to be sure that the package is secured tightly enough for it to not fall on the road creating a ruckus. While one might argue that it is adequately tied up, the absence of dedicated roof rails or a goods carrier means that Baleno is not made for carrying out such operations, to begin with. If it falls on the road, it is bound to cause an accident as people can't react quickly enough. Hence, you must avoid this at all costs.
You may also like: Maruti Baleno Owner Installs Samsung LCD TV in His Car
We urge our readers to always follow traffic rules and not undertake such careless actions. These are precisely the reasons why Indian roads are considered so unsafe. We lose thousands of lives each year because of these mindless acts. It is high time we start taking the road and personal safety seriously. What are your thoughts on the matter?
You may also like: 2023 Maruti Baleno Cross Spied Again, Auto Expo 2023 Debut?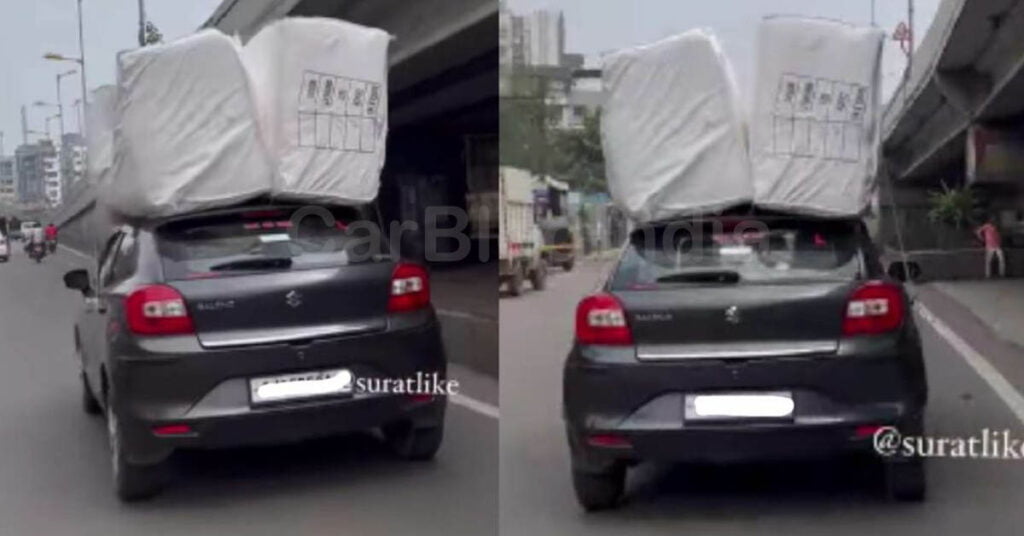 Disclaimer- The embedded videos/ external content is/are being used as a convenience and for informational purposes only; they do not constitute an endorsement or approval by Car Blog India of any of the products, services, and /or opinions of the corporation or organization or individual. Car Blog India bears no responsibility for the accuracy, legality, and/or content of the external site or for that of subsequent external videos/ external content. Contact the external publisher for answers to questions regarding its content.
Join our official telegram channel for free latest updates and follow us on Google News here.