NCAP tests have become the yardstick to ascertain the crash-worthiness of a car but some people have resorted to these bizarre tests to test build quality of Maruti Dzire and Baleno
NCAP (New Car Assessment Program) ratings have suddenly become an important parameter for most new car buyers. In line with this, cars like the last-gen Maruti Baleno have received flak for fairing poorly in these crash tests. However, it looks like the popularity of NCAP has made some car owners conduct their own crash tests. The reason for this could be anything from 'checking' the build quality to gaining some traction on social media. Regardless of that, the bizarre techniques to test build quality of Maruti Dzire and Baleno seen below is simply stupid.
You may also like: Rare Fiat Punto Abarth Tests Build Quality of Maruti Baleno
You may also like: Impatient Royal Enfield Rider Cuts Through Traffic, Gets Stuck Between Truck and Autorickshaw
Testing Build Quality Of Maruti Dzire and Baleno
The above video comes from the Youtube channel of Prateek Singh. He's regular with posting such videos in the name of raising awareness on the importance of safety. In this video, he shows some pictures of a guy kicking a Maruti Dzire and another pushing a Maruti Baleno to test the sheetmetal's strength. It must be noted here that the fender of any car is far from being the strongest panel. So, in both the cases, the fender of the Baleno and the Dzire was very quick to get deformed. While all these activities are plain illogical, the YouTuber goes on to judge the 'build quality' of these cars on the basis of deformation of the sheetmetal.
You may also like: Heartbroken Hyundai Creta Owner Drives Into Truck at 140 km/h
It is important to note here that all cars come with crumple zones. Engineers also test the torsional rigidity and install strong side pillars for optimised stress and load transfers. Safety features like airbags further enhance the safety quotient. On the other hand, NCAP provides a very detailed report of the crash test performance of vehicles. It also conducts tests in a scientifically planned way and in under controlled conditions. People kicking and pressing fenders and bumpers to 'check' build quality is completely illogical. What's worse is others promoting such activities through their Youtube videos. It's important to note here that kicking the car will not reflect the build quality of it irrespective of whether or not it bends.
You may also like: Tata Nexon Tests Build Quality of Road Divider – VIDEO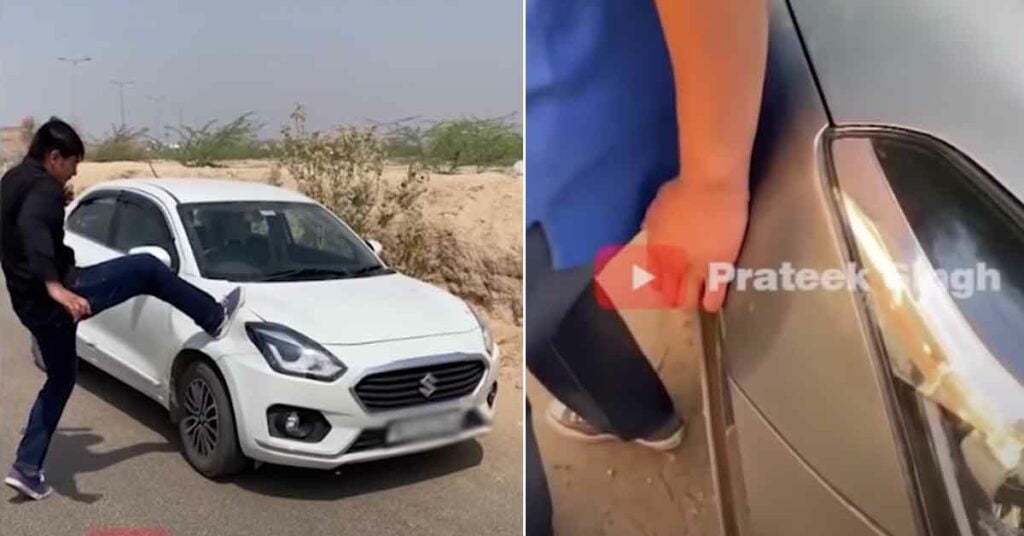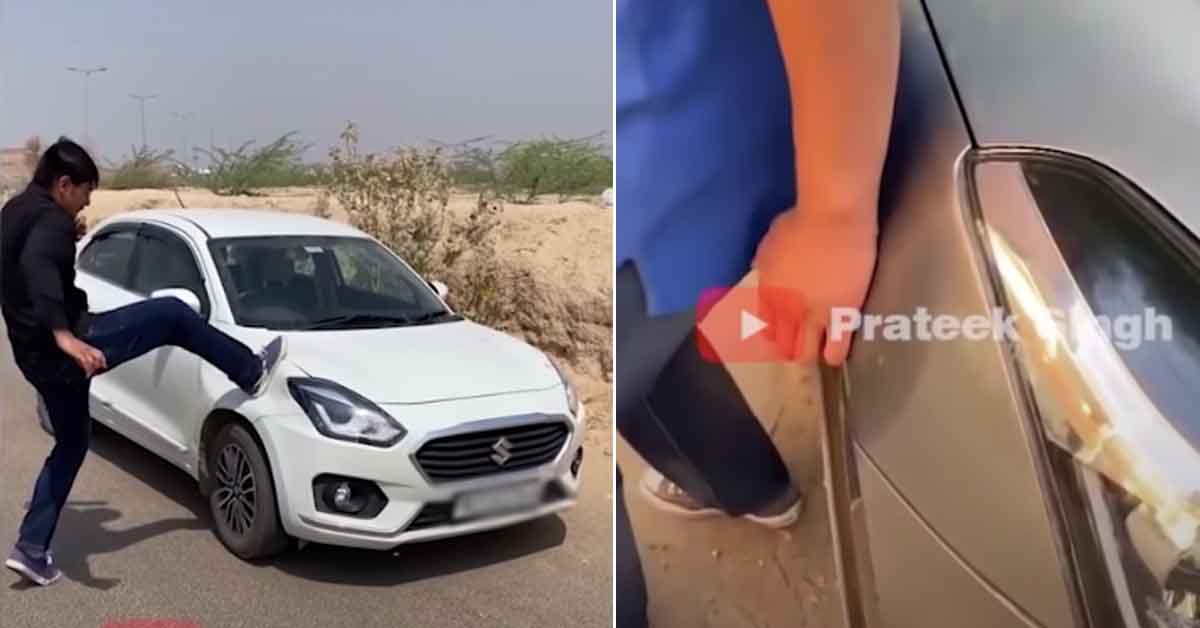 You may also like: Tata Tiago Justifies Its 4-Star GNCAP Score
NCAP Ratings Sufficient to Judge Safety Quotient of Any Car
We strongly advise everyone to stay clear of such activities to judge the build quality of any car. It's also important to not take such videos seriously. One should understand that a few misinformed people are simply spreading misinformation. The best way to know the safety quotient of any car is read the full NCAP report. It's also important to obey all traffic rules to keep yourself and other road users safe.
Disclaimer- The embedded videos/ external content is/are being used as a convenience and for informational purposes only; they do not constitute an endorsement or approval by Car Blog India of any of the products, services, and /or opinions of the corporation or organization or individual. Car Blog India bears no responsibility for the accuracy, legality, and/or content of the external site or for that of subsequent external videos/ external content. Contact the external publisher for answers to questions regarding its content.
Join our official telegram channel for free latest updates and follow us on Google News here.