Fiat Punto Abarth is a rare premium hatchback that one will find only at a petrolhead's garage. Maruti Baleno is the highest-selling car in the segment.
This video captures a rare Fiat Punto Abarth testing the build quality of a Maruti Baleno. The Abarth is a strong and rugged hot hatch that was extremely popular among the driving enthusiasts in the country back in the day. It is one of those few products in our market that truly own the tag of a performance car. On the other hand, the Maruti Baleno is the people's car that also had a hot RS version a couple of years ago. However, Maruti products are not known for scoring high on the safety ratings. So, let us find out if things are any different now.
You may also like: 2022 Maruti Baleno Spotted With Redesigned Rear Bumper
You may also like: Buy Maruti Baleno Now or Wait For New Model? 
Fiat Punto Abarth Accident With Maruti Baleno
The video has been uploaded on the YouTube channel of Prateek Singh who keeps bringing in such videos to raise awareness regarding purchasing safer cars in India. This video clip has been shared from Mudgaon, Goa. Allegedly, the driver of the Baleno, who was driving ahead of the Punto, hit the brakes suddenly. The reason for this is still unknown, but there might have been something on the road. As a result, the driver of the Punto was not able to react quickly enough and he hit the Baleno from the back with quite some force. The results are visible in the video. The tail-end of the Baleno is severely damaged and the impact has reached the inside as well. The bumper, tailgate, rear windshield, have been deformed but there were no serious injuries to the occupants because there was no one at the back.
The Punto also seems to be quite damaged from the front with dents visible of the bonnet, bumper, radiator grille, headlights, etc. No one got injured here either. However, in comparison, the damage on the Baleno is much higher than on the Punto. This is due to the better build quality of the Fiat Punto.
You may also like: Suzuki-Toyota to Launch Maruti Baleno-Based SUV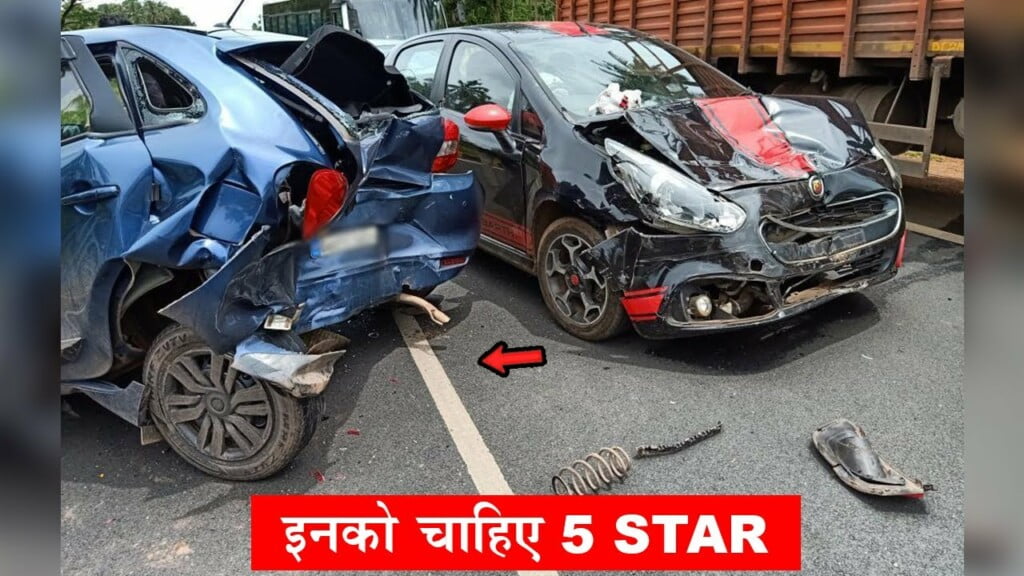 With the upcoming new Baleno, we might finally see a significant improvement in terms of the safety rating of the premium hatch. Maruti recognises that people take into consideration the safety ratings of cars before making a decision these days.
Join us for FREE NEWS Updates on our Whatsapp Community or our official telegram channel.