Updated On 15th June 2013
Maruti Ertiga CNG Price And Variants In India
Maruti Suzuki India has finally raised the curtains off the Maruti Ertiga CNG and it has been launched in two variants, the LXi and VXi. The Maruti Ertiga CNG price starts at Rs. 6.52 Lakhs for the LXi Ertiga "Green" variant and the Ertiga Green VXi is priced at Rs. 7.30 Lakhs ex-showroom Delhi. The Ertiga CNG mileage is 22.80 Km per Kg of CNG which makes it very economical to run on the cleaner natural gas fuel.
The Kit used on the Ertiga Factory fitted CNG green version is rge i-GPI or intelligent-Gas Port Injection kit which enables optimum engine performance along with good mileage by accurate fuel metering via this microprocessor controlled CNG kit.
Ertiga CNG VS Ertiga Diesel VS Ertiga Petrol
"Should I Buy Ertiga CNG or Ertiga Diesel or Ertiga Petrol?" if this question is bother you, then we have some calculations here which help you decide.
With addition of Ertiga CNG to the portfolio, Maruti Suzuki has given customer a choice to opt for better running cost without paying the fortune for the diesel model of Ertiga. The Ertiga LXi petrol is priced at Rs. 5.98 Lakhs, LXi CNG around 6.52 Lakhs while the LDi Diesel is priced around Rs. 7.30 Lakhs. Considering the huge price difference between the LXi petrol and LDi diesel of Rs. 1.3 Lakhs, it makes sense if you drive around 1000 Km or more per month. If not, then it makes sense to for for petrol or CNG. In case of CNG, the running cost comes out to be very close to that of diesel, but since the CNG fuel is available only in few cities, it may not be an options for everyone.
But if you live in a city with good CNG supply, it makes more sense to buy LXi or VXi CNG and save around Rs. 80,000 up-front compared to the LDi / VDi diesel variant which maybe slightly cheaper to run but may not make much financial sense. Rest is up to your preference among petrol, CNG and diesel. Another point to keep in mind when buying a CNG car is that you will loose out on some of the boot space which is occupied by the CNG cylinder in the car.
Updated On 29th March 2013
Ertiga CNG Launch By June 2013
As per a new report by Autocar India, the Maruti Ertiga CNG model will be launched by June 2013 in India. The information has been revealed to ACI by some sources close to Maruti Suzuki India. A CNG version of Ertiga will help Maruti to improve on the sales of the petrol version of Ertiga as more buyers are opting for diesel models instead of petrol cars these days.
Updated On 1st September 2012
Car Blog India Exclusive: Ertiga With Factory Fitted CNG To Launch By Mid 2013
In past few weeks, we have read a lot of media reports and speculations from various experts about the possibility of Maruti Alto K10 to launch with a factory fitted CNG kit. Maruti Suzuki has not officially said anything regarding the same, so to confirm the reports, we tried finding out more from our sources close to Maruti Suzuki. What we got to know from a reliable source was not only informative, but very interesting. As per our sources, Maruti Alto K10 CNG is not on the cards anytime soon, also interestingly enough, Maruti Ertiga with Factory Fitted CNG is under consideration which maybe launched in 2013.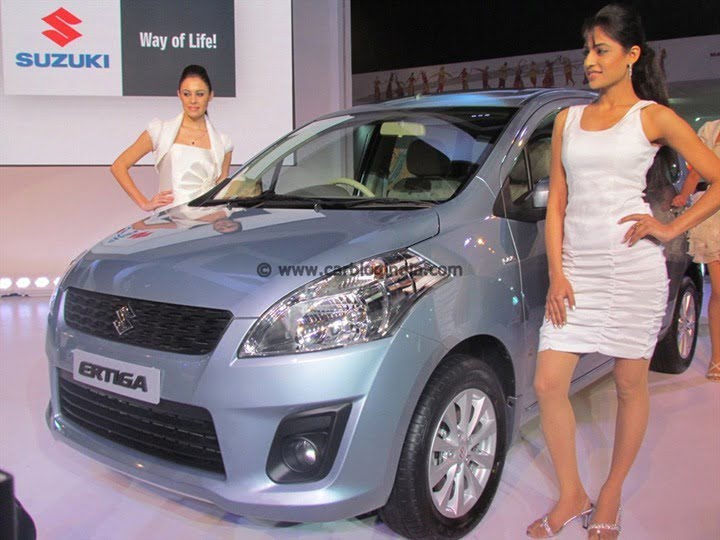 Since Maruti Ertiga has become a high volume product from Maruti Suzuki and has been selling large number of Diesel engine units compared to petrol units because of the lower running cost of diesel cars. Petrol cars across segments are facing the heat of high petrol prices thus giving the undue advantage to Diesel cars which are selling in larger numbers besides higher initial cost and fewer offers and discounts. Another reason which we expect behind the CNG variant is that on every diesel car, Maruti has to pay royalty to Fiat for the multi-jet diesel engine used in the car. Having a Maruti Ertiga CNG variant will not only provide lower initial cost compared to diesel variants, but will also deliver lower running cost and will also save Maruti the royalty to be paid for diesel models.
Also Read: Maruti Ertiga Automatic Launch Expected in 2013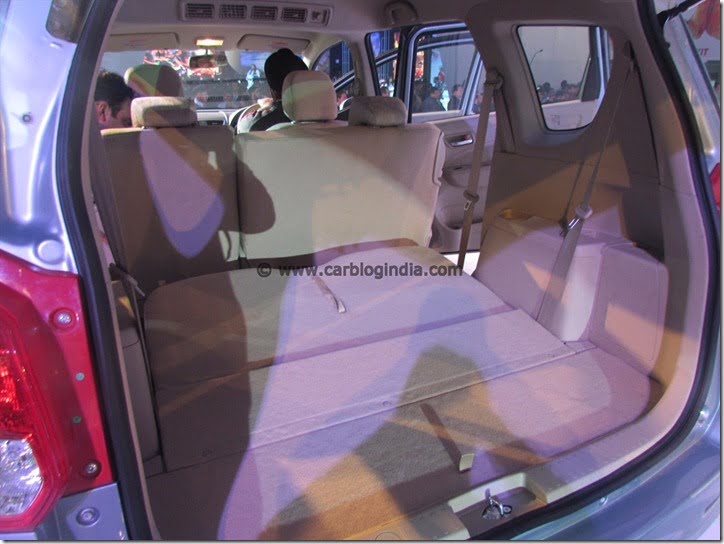 Maruti Ertiga Petrol is powered by a K14 Petrol engine from Suzuki which delivers a peak power of 94 BHP @ 6000 RPM and and peak torque of 130 Nm @ 4000 RPM. With the CNG kit installed, Maruti Ertiga CNG  power is expected to go down by approximately 10% which will make the peak power close 85 BHP and torque around 115 BHP. Besides the drop in power, the pulling power of the car will be sufficient with intelligent automatic switching between petrol and CNG on the need basis controlled by ECU systems as implemented with the Wagon R CNG. At present, the Maruti Ertiga CNG is in very initial stages of planning and we expect the same to come on road by 2013. Also talking of the future lineup of Maruti Suzuki, it will come up with more small diesel cars, a refreshed Maruti SX4 new model and compact SUV based on Maruti XA-Alpha concept. We will keep you posted on the latest developments, stay tuned to Car Blog India for more updates.