The hardcore off-roading community is fearless when it comes to treacherous terrains and incredible feats with cars and this would prove it beyond a shred of doubt.
In this unique video, a Maruti Gypsy tows a JCB Backhoe Loader. The Gypsy has been an iconic product in our industry for years. The lightweight SUV has achieved some incredible feats when it comes to off-roading and adventure sports. Because of being so easy to modify, it is used in many Himalayan Rally Competition including the prestigious Raid De Himalaya race that takes place in Himachal Pradesh and attracts rally drivers from across the nation. We had previously reported a Mahindra Thar pulling the JCB as well.
You may also like: Can Mahindra Thar Tow a 7,500 kg JCB Backhoe Loader?
You may also like: John Abraham Reveals He Bought Maruti Gypsy to Fulfil Dad's Dream
Maruti Gypsy Tows JCB
The video is full of the Gypsy owner performing some incredulous stunts in mad terrains. This YouTuber is from Manipur which is why such harsh terrains are available for him to showcase his skills at off-roading and the capabilities of the Gypsy. He is seen crossing rivers, climbing up sides of hills and towing a JCB and a cement mixer among other activities. The number of modifications he made to his Gypsy is also impressive. The most prominent are the excessively massive tyres that are welded into the axle and differential by himself.
You may also like: This Modified Maruti Suzuki Gypsy Will Truly Conquer Every Terrain!
This is what, in essence, enables the Gypsy to climb just about anywhere. Gypsy is a lightweight SUV and these tyres provide more than adequate ground clearance to take it anywhere. In addition to that, the off-roading tyre treads allow the vehicle to have enough traction at all times irrespective of the kind of surface there is. There are other adventure components installed on the SUV like a water snorkel to have water wading capacity, tow rope and hook at the front to pull other vehicles, auxiliary lights for those camping excursions and body graphics to make it look apart.
You may also like: Check Out This Unique Modified Maruti Suzuki Gypsy Like No Other!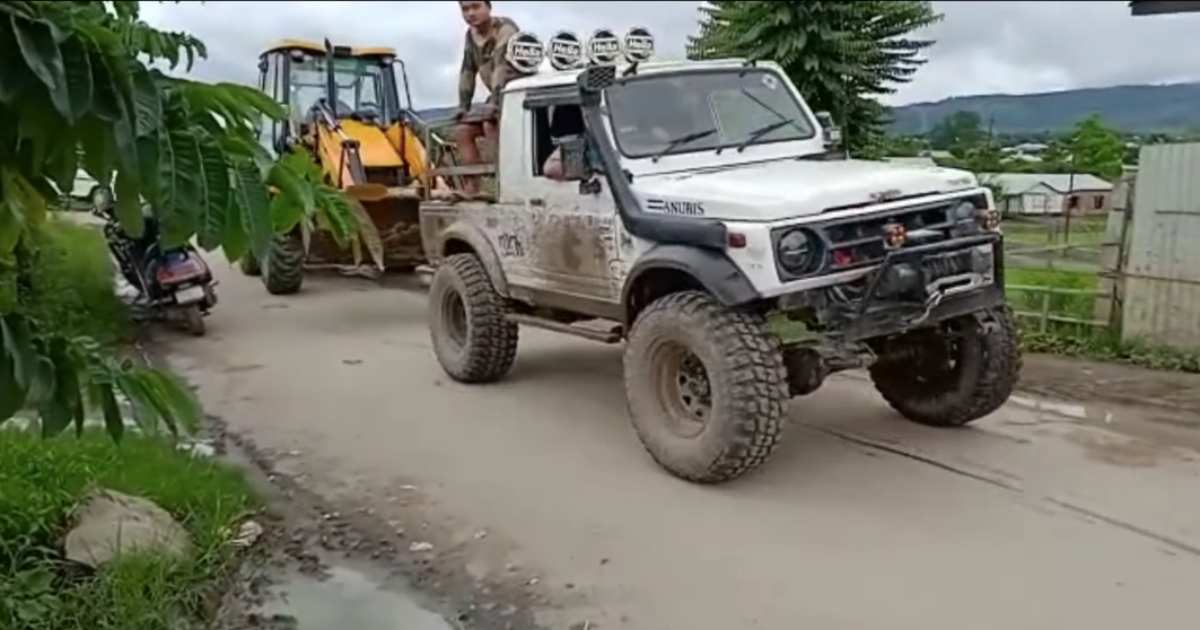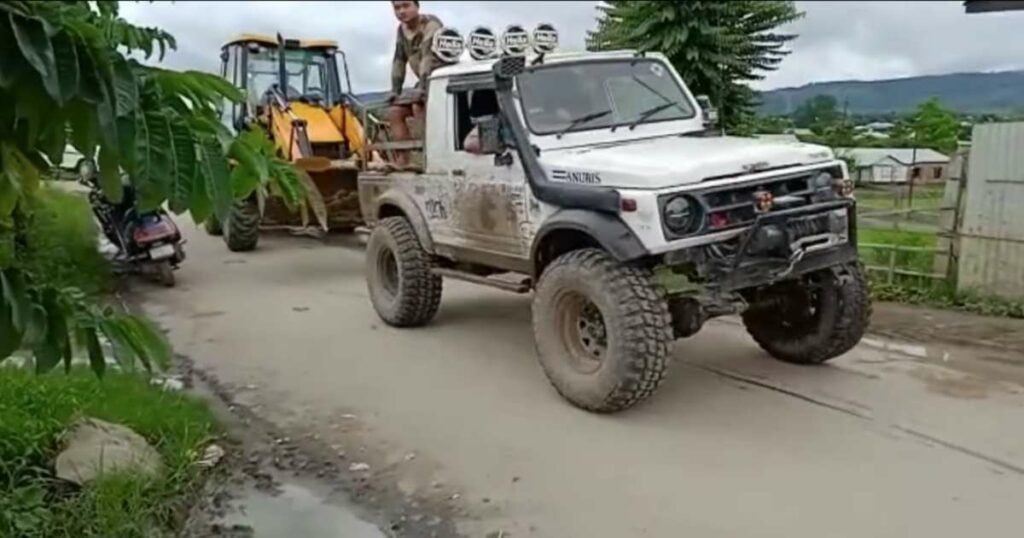 The Gypsy is taking the JCB up a slope without breaking a sweat. Sure, the engine seems to be a bit noisy but that is expected when you are pulling such a ginormous machine up a hill. However, we would like to advise our readers to not perform such tasks yourself. These are extremely dangerous and the YouTuber looks like a professional who has been doing this for a long time.