Maruti unveiled the 5-door Jimny for the Indian market at the recently concluded Auto Expo 2023.
This video shows it going up against the mighty Hummer H2 in an off-roading circuit.
The results are bound to shock you.
Here is an interesting off-roading challenge involving a Suzuki Jimny and a Hummer H2. Jimny is a world-famous lightweight off-roading SUV that is popular in many international markets for a long time now. On the other hand, the Hummer H2 was a go-to choice for a whole bunch of celebrities a couple of decades ago. It used to come powered by a massive engine with 4×4 capabilities. While this video is a few months old, it's still relevant for Indian viewers as the 5-door version of the Jimny recently made its India debut. Let us see what happens when these two go head-to-head with each other in an off-roading environment.
You may also like: Maruti Fronx vs Baleno Comparison – Specs, Dimensions, Features & More
You may also like: Next-Gen Maruti Brezza EV Imagined Based on eVX Concept
You may also like: Maruti Jimny 5-Door Unveiled at Auto Expo 2023
You may also like: Video Shows Rear Legroom in 5-Door Maruti Jimny SUV
Jimny vs Hummer Off-Roading Challenge
The video has been created by Carwow on YouTube. It is one of the biggest and most popular automobile media houses in the world. For this video, the team has lined up a Jimny and a Hummer to conduct a thorough off-roading challenge. For the first round, the two SUVs must race their way up a sharp incline. Due to the weight advantage, Jimny is able to win this round quite comfortably. To check the manoeuvrability of the two SUVs, the second round involves them to go around a track making a sharp U-turn in the least time.
You may also like: Hummer H2 is The Real Big Daddy of SUVs – Towers Over Mahindra XUV700
Due to the large turning radius of the Hummer, it came second in this round too. Then, there were activities devised to test the wheel articulation and ground clearance of both SUVs. Here, the Hummer faired slightly better than the Jimny as the latter bottomed out on a couple of occasions. Thereafter, another challenge was thrown at the SUVs to test their hill descent control where the drivers lifted their feet off the brake pedal and the slowest to reach the bottom would win. In this round, Jimny simply decimated the H2.
You may also like: Mahindra Major Rescues Imported Hummer H2 Stuck in Water
Shocking Results!
Finally, the last round included the SUVs travelling up a steep slope covered with loose rocks lying on the track. For this round, both SUVs struggled for traction. After 3-4 attempts, both of them were able to reach the top although it included taking a run-up to gain some momentum first. All in all, Jimny scored 10 points, while the H2 managed to get only 8. The video unequivocally confirms that the Jimny is the better off-roader and also costs less than half of what the H2 does.
You may also like: WATCH 21ft Tall World's Biggest Hummer in Walkaround Video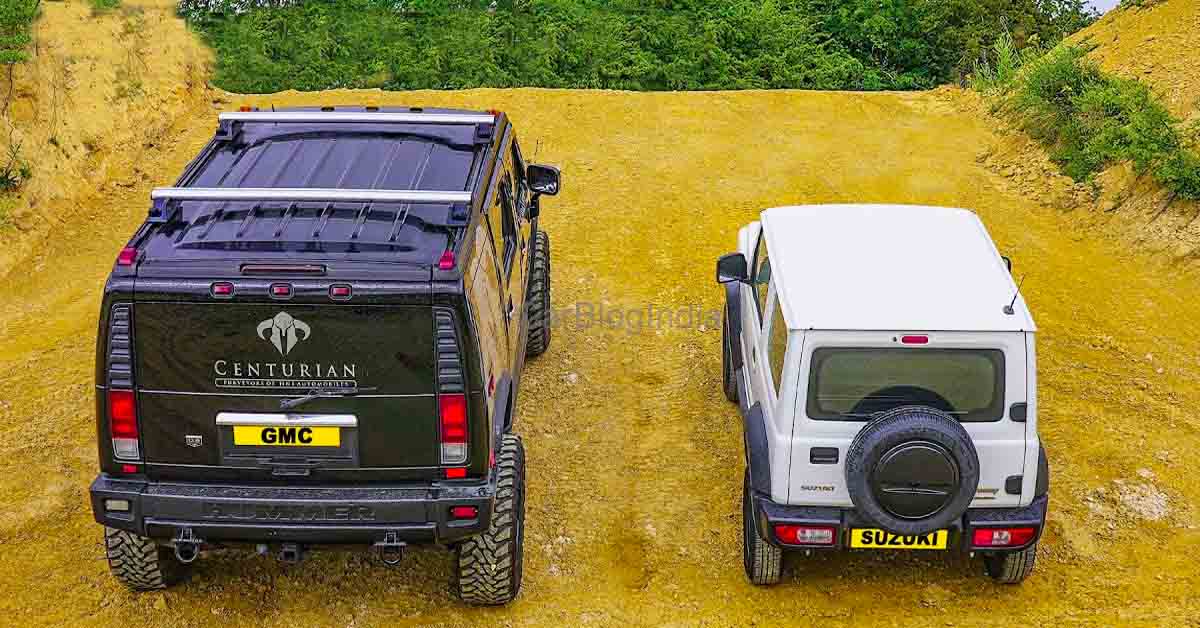 You may also like: Mahindra Thar vs Mercedes G-Wagon Hardcore Off-Road Challenge
Disclaimer- The embedded videos/ external content is/are being used as a convenience and for informational purposes only; they do not constitute an endorsement or approval by Car Blog India of any of the products, services, and /or opinions of the corporation or organization or individual. Car Blog India bears no responsibility for the accuracy, legality, and/or content of the external site or for that of subsequent external videos/ external content. Contact the external publisher for answers to questions regarding its content.