A video uploaded by a popular YouTuber claims that the Maruti Suzuki dealer was caught stealing the parts from a brand new car. With people recording more and more of their daily lives these days, things like these have started surfacing. This is one such occasion where a dealership is found involved in malpractice which he might have been doing for a long time. The YouTuber himself mentions that he has been visiting this dealership for quite some time now and who knows for how long has he been doing such fraudulent activities. Let us get into the details of what happened.
Also read: Next-Gen Maruti Vitara Brezza LEAKED Pre-maturely?
Maruti Dealer Stealing Parts
The YouTuber had given up his Vitara Brezza to the service centre after a fatal crash. Thanks to the safety equipment of the compact SUV, no one got seriously injured. But there were quite a few parts that were damaged. He had to give up the car to get it completely fixed. However, when he received his car back there were quite a few issues with it still. The paint on the doors was not proper at all as there were bubbles left on the surface of the vehicle. Then, the fenders of the car came off easily as they had not been properly fitted. There were some scratch marks at various places on the car too. When the owner asked the service centre personnel to change the indicator on the ORVM, they took off the entire ORVM of a brand new car and installed it in his compact SUV. This made the YouTuber suspicious and he decided to film and report this.
Also read: Maruti Brezza (4-star NCAP) Gets Hit By Truck, Keeps All Safe – VIDEO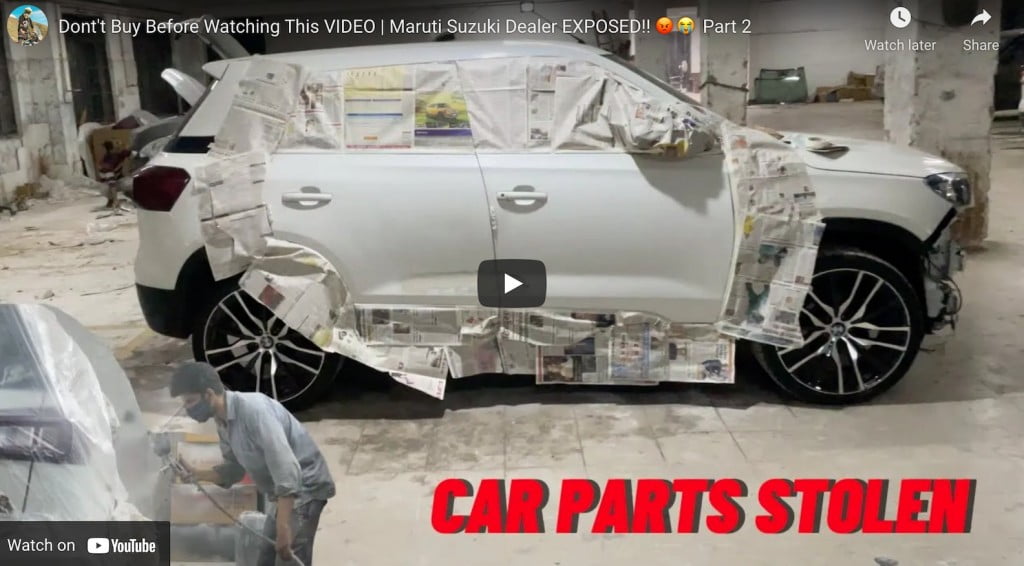 You can watch the video to know the details of the entire incident. But it becomes our responsibility to take care of these things and be aware of such scams and frauds. This could happen to anyone if you are not careful. We urge you to stay present at the workshop during the service of your car and keep asking questions if you find anything out of the ordinary. If something fishy strikes you, make sure to raise your voice and bring these incidents to light. If we keep exposing such events, the carmakers will take notice and are more likely to penalise the dealerships.
Also read: Wide Body Maruti Vitara Brezza is the Sportiest B-SUV Ever!