Maruti Suzuki India Limited, the largest passenger car maker of India is going through a tough phase in terms of sales numbers. Recently Maruti came out of the trouble caused by disruption of work for months because of labour unrest at the plant. The sales are gradually recovering. One of the reasons for a relatively lower sales in November 2011 is that car sales are usually higher in India in the month of Diwali festivals which fell in November in the year 2010 and October in year 2011. So the base sales data for the November 2010 is comparatively higher than usual because of Diwali while the month of November 2011 did not have the festival sales period. Besides the festival season, there has been huge hikes in petrol prices in past one year and this has impacted the petrol car sales in the country. Since most of the cars sold by Maruti Suzuki are small petrol cars, the drop is quite predictable. Adding to it are higher interest rates and inflation adding to troubles of both car makers and car buyers. Maruti has been offering lucrative discounts in the month of November 2011 but this did not help too much to bump up the sales too high.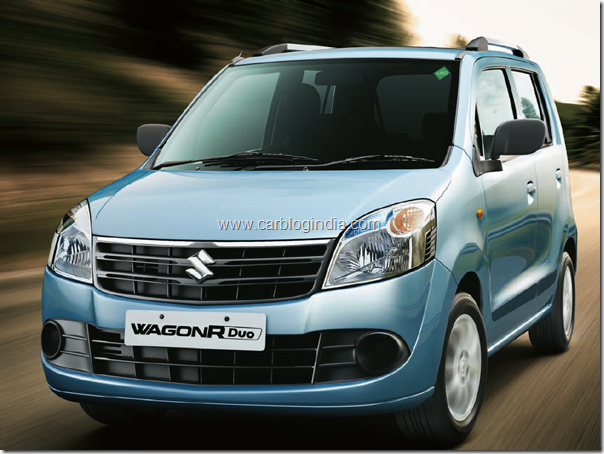 image – Maruti Wagon R Small Car
Maruti Suzuki India sold a total of 91,772 vehicles in November 2011 compared to 112554 units sold in November 2010. There us a sharp drop of 27 % in the sales of Mini Cars segment consisting of Maruti 800, Maruti Alto, Maruti A-star and Maruti Wagon R. One of the major reasons for drop in this segment is launch of number of small cars which fall in this segment and offer better features or lower running costs or better overall performance. Hyundai Eon, Chevrolet Beat Diesel, Honda Brio are a few names which have been selling well creating a stiff competition for Maruti Mini cars in India.
There was a very slight drop of 3.7% in the compact segment consisting of Maruti Swift, Maruti Ritz and Maruti Zen Estilo because there has been tremendous demand of these cars specially for the diesel variants of Maruti Swift 2011 and Maruti Ritz. In the Super Compact segment consisting of Maruti Swift Dzire, there is a positive growth of 6%, in the Mid-size Maruti SX4 Segment, there has been a 9.8% increase as there is a Diesel model which was introduced by Maruti few months back, which helped improve the sales.
As the labour problems have been resolved at Maruti's Manesar plant and the production is expected to go full swing by January 2011, we expect to see stronger sales numbers in coming year by Maruti Suzuki. With new MPV Maruti Ertiga lined up for launch, we expect the sales will get back on track again.
check out more-