Call it budget fear or a gradual recovery or financial year closing effect or whatever you may like to call it, but Maruti Suzuki India, the largest passenger car maker of India has posted its highest ever monthly car sales number of selling 1,25,952 car units in march 2012 which is 3.3% higher than the previous highest sales record of March 2011 when Maruti Sold 1,21,952 units. Also the domestic car sales in the month of March 2012, which stood at 1,12,724 cars in the month of March 2012 compare to 1,10,424 cars sold in March 2011, which means a is a growth of about 2.1% in domestic car sales. The exports rose to 13228 car units in March 2012 which is higher by 14.7% compared to March 2011 export number of 11528. The overall growth rate for March 2012 is a minor 3.3% but this is still a good sales report since the market is quite sluggish and the monthly sales of March 2012 has created a new record which is a considerable achievement in itself.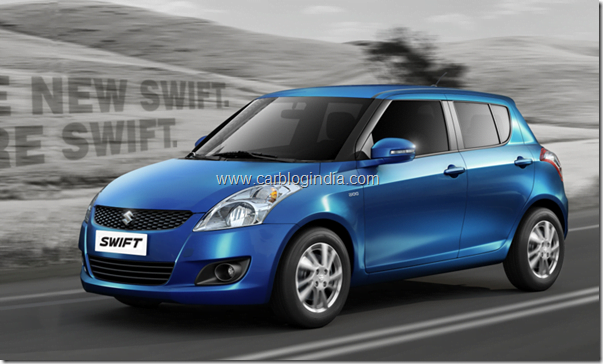 If we look closely at the sales as per the segment, Maruti 800, Maruti Alto, Maruti Alto K10 and Maruti Wagon R show a decline in combined sales of about 10% which not such an encouraging trend as Maruti has been a leader in this segment for long long time. Since all these cars come in Petrol or LPG / CNG variants and do not have a diesel option, this might be one of the possible reasons for the decline in sales as the sales of diesel vehicles is on a rise. There are speculations about the launch of a small engine Maruti Wagon R Diesel in India in coming years.
The sales of Maruti Swift, Maruti Zen Estilo and Maruti Ritz are on a rise by about 24% which is because of deliveries of pending bookings of Maruti Swift, also Swift and Ritz come in diesel variant which is one of the reasons why these cars are in high demand.
The newly launched Maruti Swift Dzire compact sedan has shown a phenomenal rise of sales of about 60% compared to the previous month in the same year. Whereas the elder sibling Maruti SX4 remains to be slow on sales because of increasing competition and more modern cars in this segment which have entered Indian market in past two years including popular cars like Skoda Rapid, Volkswagen Vento, Hyundai Verna Fluidic, new Honda City 2012 etc. Also the sales of Maruti Kizashi sports sedan remain to be low at just 48 units.
The sales of utility vehicles like Gypsy, Grand Vitara and pre-launch dispatch of yet-to-be-lunched Maruti Ertiga MPV show a rise of over 147% which is probably because of large number of Maruti Ertiga MPVs in March 2012. The Ertiga is likely to be launched on 11th or 12th of April 2012  in New Delhi India. Surprisingly, the sales of Vans, which includes Maruti EECO and Maruti Omni show a decline of 13.7%.
So in totality, Maruti Swift 2011, Maruti Swift Dzire compact sedan and Maruti Ritz remain the front runners by Maruti Suzuki in March 2012.
Check out more-