India is home to incredibly bizarre practices and occurrences and this stunt certainly qualifies as BIZARRE.
A Maruti Swift revolving mid-air in a circus event is definitely something you won't see all that often. Swift is the most popular hatchback in the country after entry-level products. Also, circus events are a large part of Indian culture and have been for the longest time. While they may be not so common in big cities, they are crucial and prominent still, in the smaller towns. And in such events, we experience some extraordinary stunts and activities to entertain people. This is one such activity.
You may also like: Here's India's First Maruti Swift with Remote-Controlled Massage Seats
You may also like: Instagrammer Almost Falls Off Roof of Maruti Swift While Trying to Create Viral Content
Maruti Swift in a Circus
This post has been shared by msk_villian_ on Instagram. In the video clip, a Swift is seen suspended in the air using cables from all sides. There is a weird motor strapped to the bonnet of the hatchback. Shockingly, it has been made to revolve in mid-air acting like some kind of local swing. People are sitting inside the car while it spins sideways. We have no idea how this 'jugaad' has been designed. But it seems to be working quite well. The silver-colour Swift is not too far away from the ground and there are safety mats in case something goes wrong.
You may also like: Maruti Swift and Ciaz Taken Off Road, Stuck Royally
More details about the construction of this unique swing are not available. The people are wearing seatbelts inside the car and holding on to the grab handles firmly in order to make sure that they don't get tossed around due to the movement of the vehicle. This is, again, a prime example of the creativity of people. However, we hope that the construction is strong and the safety of anyone is not compromised while constructing this local swing.
You may also like: India's Only Maruti Swift with 22-inch Alloys Pays Homage to Sidhu Moosewala
It must be understood that these stunts could prove to be dangerous if not executed properly. You are just relying on the expertise of some local people who have put together this arrangement. We would advise our readers to ensure that these are rugged and could sustain the motion and only go on such swings if you feel safe. What are your thoughts on the matter?
You may also like: A Maruti Swift Inspired By Legends Like Nissan GT-R and Shelby 500GT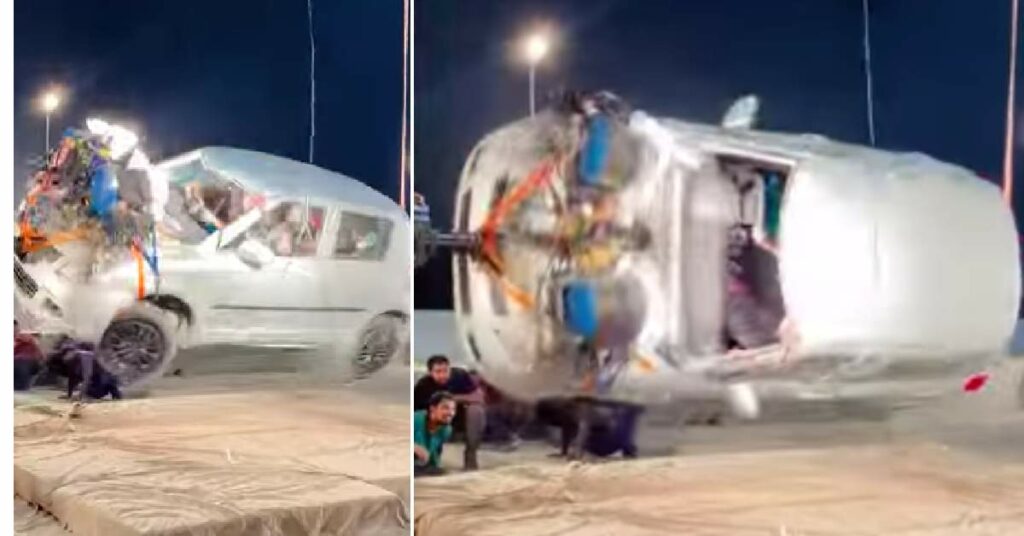 Disclaimer- The embedded videos/ external content is/are being used as a convenience and for informational purposes only; they do not constitute an endorsement or approval by Car Blog India of any of the products, services, and /or opinions of the corporation or organization or individual. Car Blog India bears no responsibility for the accuracy, legality, and/or content of the external site or for that of subsequent external videos/ external content. Contact the external publisher for answers to questions regarding its content.
Join our official telegram channel for free latest updates and follow us on Google News here.