Body wraps for automobiles are gaining traction in India as people look to make their cars unique.
This is the first Swift in India to feature this rusty wrap.
It has been patented and possesses hydrophobic and self-healing properties.
Here's India's only Maruti Swift that has a rusty wrap. Rusty wraps are quite popular in the international markets. However, the trend has not gone viral in our country just yet. But that might be about to change now. Swift is arguably the most popular product among the masses in India for almost 2 decades now. Therefore, to make their Swift hatchbacks look unique, a few owners attempt such modifications. This Swift with a rare wrap is a consequence of one such attempt.
You may also like: 2023 Maruti Swift – Everything We As of November 2022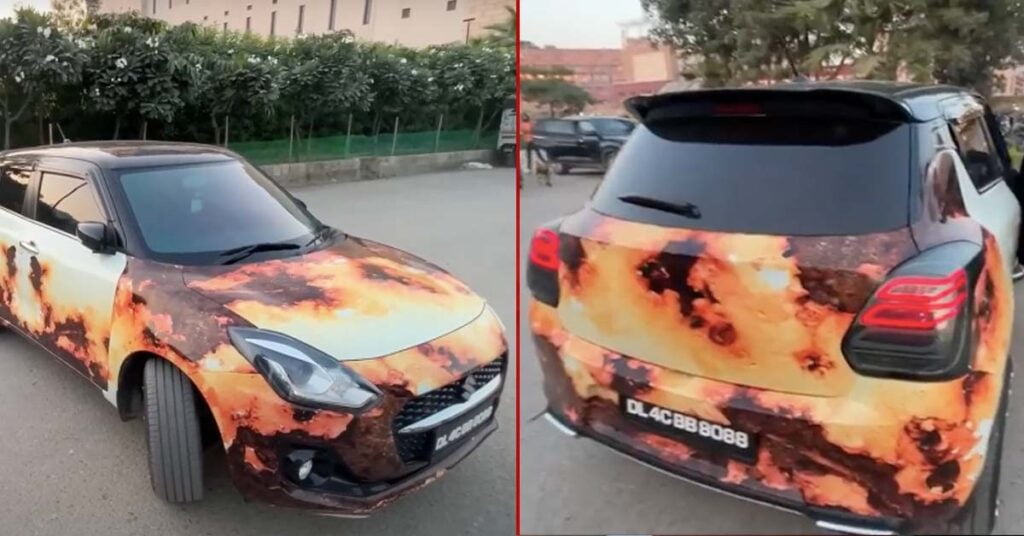 You may also like: Watch the Humble Swift Hatchback Easily Drive on Snow!
Maruti Swift with Rusty Wrap
The video has been created by Mihir Galat. He interviews the man who created this unique Swift. According to him, this is the only Swift in India with the rusty wrap. This wrap has been patented by the car modification house. It gives the illusion of the body of the car being eaten up by rust. The dark brown spots on the body are well-designed to propagate this illusion. In terms of practicality, this wrap is hydrophobic which doesn't allow water to stay on the body. The creator got inspiration from a Maserati he saw somewhere.
You may also like: India's Only Maruti Swift with Massage and Ventilated Seats
Additionally, it comes with self-healing properties just like PPF coatings. When kept in sunlight, the minor scratches are healed. This protects the body of the car for years as most damage is absorbed by the film itself. As they shoot the video, onlookers are attracted to this unique-looking hatchback. They interact with the YouTuber and express their interest in the vehicle. Apart from that, there are also rear diffusers and matrix LED taillamps installed on this Swift.
You may also like: Speeding Maruti Swift on Waterlogged Road Shows How Risky Aquaplaning Can Be
Cost
Talking about the prices of this particular wrap, the car shop owner gives a rough estimate of around Rs 55,000 for this hatchback. This is the gloss shade and there are other patterns to choose from as well. Each pattern will have a different price. The costs also depend on the body type. For instance, an SUV with a larger surface area will have a costlier wrap. The price of the custom LED setup is around Rs 18,000 and the vinyl number plate costs Rs 1,200. Let us know how you like this unique Swift with the rusty wrap.
You may also like: Maruti Swift vs 1,00,000 Diwali Crackers – Will It Survive?
Disclaimer- The embedded videos/ external content is/are being used as a convenience and for informational purposes only; they do not constitute an endorsement or approval by Car Blog India of any of the products, services, and /or opinions of the corporation or organization or individual. Car Blog India bears no responsibility for the accuracy, legality, and/or content of the external site or for that of subsequent external videos/ external content. Contact the external publisher for answers to questions regarding its content.
Join our official telegram channel for free latest updates and follow us on Google News here.