Driving in rainy conditions could be challenging which is why it is advised to drive under the speed limit if the road surface is wet.
This latest Maruti Swift incident showcases the perils involved with driving on a waterlogged road. It is common that water gets accumulated on our roads in most places of our country. We can blame it on excessive rains and poor and unplanned construction. In any case, pools of water on roads are not an uncommon sight on our roads. However, in such scenarios, we must be prepared to change our driving mannerisms a little to ensure safety. Failing to do so could result in something like this.
You may also like: Maruti Swift Gives Mahindra Scorpio N A Run For its Money in Drag Race
You may also like: 2023 Maruti Swift in Life Like Illustration
Maruti Swift on a Waterlogged Road
This post has been shared by tntimesdrive on Instagram. As per the caption of this post, the Swift was travelling on the Chhindwara-Nagpur Highway in Madhya Pradesh. The footage shows that the hatchback is being driven at a high speed as a result of which it swerves once it comes in contact with water on the road and ends up losing traction completely. It skids off the road and lands in the field nearby. Reportedly, no one was injured but the car was severely damaged. It was later removed by a crane.
You may also like: Maruti Swift vs 1,00,000 Diwali Crackers – Will It Survive?
Aquaplaning
Aquaplaning refers to the phenomenon where a layer of water is developed between the tyre and the road creating pressure against the tyre causing it to lose traction. The layer of water lifts the tyre above the road and the traction is lost completely. The treads of the tyres are designed in such a way as to prevent this situation. Nevertheless, there are times when people drive too recklessly or with worn-out tyres which leads to accidents like these.
You may also like: 5-door Maruti Swift Modified to 3-Door, Looks Like a Mistake!
We can only advise our readers to follow traffic rules and prevent overspeeding in any case, especially if the road conditions are like this. It takes seconds to go from driving normally to landing up on the side of the road upside down. Let us pledge to become responsible drivers to make our roads safe. Do share your thoughts about it as well.
You may also like: This Maruti Swift Circus Ride is Nothing You've Ever Seen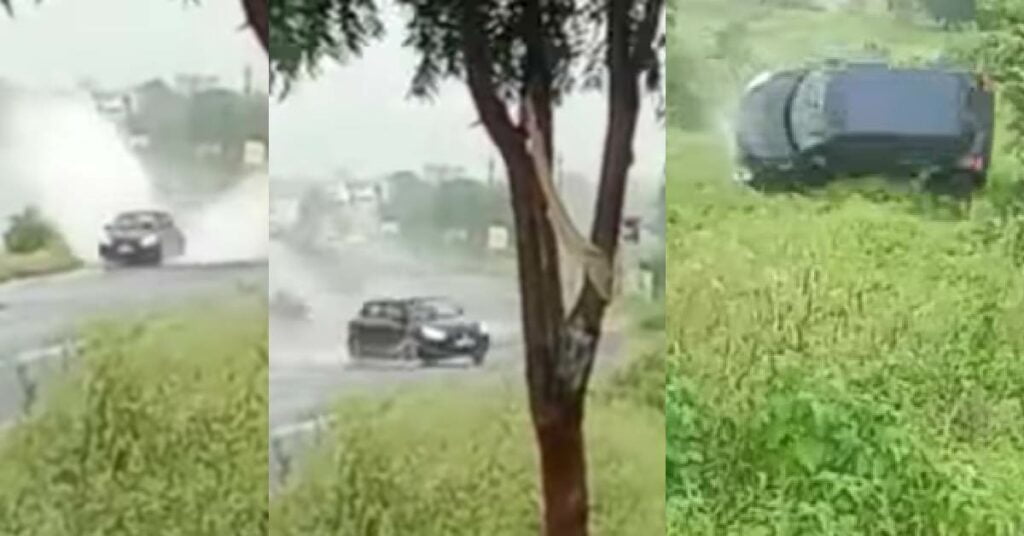 Disclaimer- The embedded videos/ external content is/are being used as a convenience and for informational purposes only; they do not constitute an endorsement or approval by Car Blog India of any of the products, services, and /or opinions of the corporation or organization or individual. Car Blog India bears no responsibility for the accuracy, legality, and/or content of the external site or for that of subsequent external videos/ external content. Contact the external publisher for answers to questions regarding its content.
Join our official telegram channel for free latest updates and follow us on Google News here.