Maruti is continuing its product-offensive strategy as it plans to introduce the YTB crossover based on the Baleno premium hatchback.
Recognising the growing trend of SUVs and crossovers, Maruti is planning to launch the YTB (Baleno Cross) which will be based on the already popular Baleno. Maruti has pulled the plug on S-Cross owing to low sales. With the YTB, it aims to reclaim that market share by offering an alternative to SUVs. We have seen it doing test runs multiple times now but this time around, the interior is partially visible. Here are all the details.
You may also like: Maruti to Unveil 2 New SUVs at Auto Expo 2023 – Full Info
You may also like: Maruti Baleno Looks Swanky with Pearlescent Wrap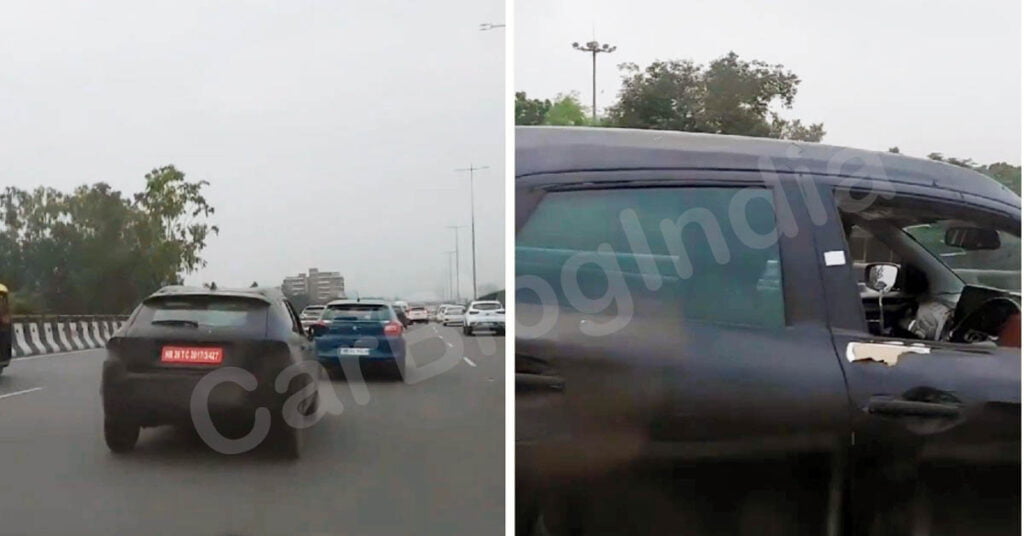 You may also like: Maruti Baleno Owner Installs Samsung LCD TV in His Car
Maruti YTB Baleno Cross
The spied video clip has been posted on Instagram by powerdrift. In it, the heavily camouflaged vehicle is seen plying on the road. Maruti is putting it through extensive testing as it will be a completely new product in the market. At the front, we might see a sort of similar fascia as the Baleno but there will be changes in the overall silhouette to represent the crossover demeanour. This is even visible in the video clip which shows the YTB to have that higher roof and a slightly more imposing stance.
You may also like: Maruti Baleno SUV (YTB) Looks Butch in New Illustration
The dashboard is barely visible in this image. But we can be assured that the YTB will feature all the modern equipment that we find on the Baleno and then some. Being a crossover replacing the S-Cross, there will be premium features and modern amenities inside the cabin. The connectivity functions will be taken care of by the connected car tech app from Maruti in addition to Apple CarPlay and Android Auto smartphone connectivity. We shall wait a bit longer to get the official details from MSIL.
You may also like: Famous Vlogger Feels New Maruti Baleno is Worth 10-Star Score
Specs
The upcoming Maruti Baleno Cross will feature the 1.0-litre BoosterJet turbo petrol engine that was last seen on the now-discontinued Baleno RS. This could produce 102 hp and 150 Nm of peak power and torque. There could be options of choosing between a 5-speed MT or a 6-speed AT. In addition to that, we might also see the 1.5-litre petrol engine will mild hybrid tech like on the Grand Vitara. The exact specifications will be revealed closer to the launch. How do you like this crossover iteration of the popular Baleno?
Join our official telegram channel for free latest updates and follow us on Google News here.