Mercedes Benz is working on the GLA Class which is  compact SUV range based on the upcoming Mercedes A Class hatchback. The compact luxury crossover segment is undisputedly aced by BMW X1 which sells in high numbers giving a tough time competitors. Audi is going to launch its competitor Audi Q3 compact SUV soon in India to challenge the leadership of the X1 which is the highest selling BMW in India.
Mercedes Benz is also working on its own product which will be called the Mercedes GLA Class which is based on Mercedes A Class Platform. The GLA will be Mercedes entry level crossover or compact SUV which will rival BMW X1 and Audi Q3 globally across multiple global markets. The Mercedes A Class hatchback is very close to its launch which is expected in early 2013 in India at a price tag of under Rs. 20 Lakhs. The production version of Mercedes A Class has been revealed at the Geneva Motor Show and all the engine options have also been revealed for the same.
image – Mercedes Benz GLA Class SUV
The GLA is under development and will debut by second half of 2013 internationally after which it will be launched in India. The GLA Class is expected to get similar interior trims as the Mercedes A class hatch with certain sporty touched to  bring out distinct personality of the GLA class as an SUV. The pricing of the GLA class is expected to start under Rs. 25 Lakhs price tag for an attractive placement against the rivals Audi Q3 and BMW X1. Additionally, the GLA class will also rival Honda CR-V, Toyota Fortuner, Chevrolet Captiva etc. which are also some other popular SUVs in the price band.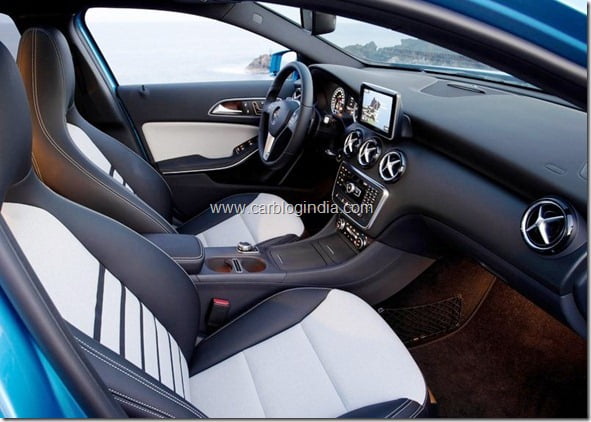 image – Mercedes Benz A Class Interiors
GLA Class will provide a luxurious package with Mercedes quality and many engine options and trims to choose from. It will be an alternative for ambitious buyers who are looking for affordable luxury SUV with a premium brand image. The engine lineup of A class includes 3 turbocharged CRDI Diesel engines and 3 GDI Petrol Engines, we expect the GLA class to get its engines from the same lineup (engine details here). We will keep an eye on the developments of Mercedes GLA Class and keep you posted on the same. Stay tuned to us for more updates.
via – Car Magazine , Image Credit – YouTube