Mini, the iconic small car brand owned by BMW made its debut in India in Auto Expo 2012. We brought to you some exclusive pictures and detailed coverage of the launch of Mini brand of cars in India from the Auto Expo. At the time of the Auto Expo, BMW announced that they will soon open first ever exclusive Mini cars showroom in India very soon. The time has come and on 5th of April 2012, India is the 100th country that MINI will now make its home. The first Mini Exclusive showroom has been launched in Mumbai India at the Linking Road at Infinity Cars. MINI is now available in India as a Completely Built-up Unit (CBU) in MINI Cooper Hatch, MINI Convertible and MINI Countryman range in powerful and efficient petrol variants with six-speed automatic transmission. The customers will now get an opportunity to experience MINI in the new showroom which will display upto five cars. MINI India will establish two more exclusive outlets in Delhi (National Capital Region) in 2012.
Mini is a globally recognized iconic small car brand which is know for its cute rounded looks and agile performance along with it agility. It is a very sporty car with amazing handling and premium quality. The modern MINI combines an agile "Go-kart" like handling as its most natural characteristic with cutting-edge efficiency and uncompromising premium quality. MINI has established itself around the world as a symbol of urban driving fun and an indispensable element in its driver's mobile lifestyle.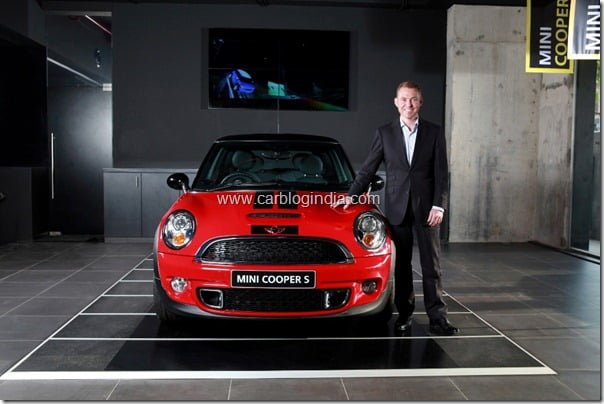 image – Dr. Andreas Schaaf, President, BMW Group India with the MINI
The MINI Convertible blends the brand's hallmark attributes with the refreshing feeling of open-air motoring with greater intensity than ever before. Again, the brand's soft-top representative is unmistakably a MINI. Its proportions, short front and rear overhangs, large wheel cut-outs, the height of the waistline and numerous design features typical of the brand clearly show that this is a full-fledged member of the MINI family.'
The MINI Countryman takes the hallmark MINI driving fun to a new dimension and marks the arrival on the scene of a MINI with four doors, a large tailgate and a variable-use interior capable of accommodating up to five people. The MINI Countryman is also the brand"s first model with a body over four meters in length. Its advanced chassis technology and the extremely precise and efficient Electric Power Steering ensure that the typical MINI "Go-kart" driving experience is preserved.
On the launch of first ever Mini showroom in India, Dr. Andreas Schaaf, President, BMW Group India quoted:
"With the launch of MINI, we have brought the world"s most exciting premium small car brand to India. MINI is more than just a car – it is a personality on wheels – a fashion statement – and a way of life. MINI expresses a whole generation"s approach to life – it is extrovert, open and full of zest in life. No other brand exhibits the attributes and essence of a modern urban lifestyle like MINI and there is no doubt that it is one of the world's most emotional auto brands. By launching the new MINI ten years ago, we created the world's first premium small car brand in the world. With MINI our approach was: 'From the Original to the Original'. Since then, we have sold over 2 million MINIs and converted the MINI brand from a single-model offer to a family of six models. Three of them, namely the MINI Hatch, the MINI Convertible and the MINI Countryman are now available in India. Our main focus this year will be to concentrate on successfully establishing the MINI brand in India"
Ms. Pooja Choudury, Managing Director, Infinity Cars said:
"We are proud to launch the first MINI showroom in Mumbai; a city known for its blend of Indian and international flavour; just like the MINI drivers who have an individualistic yet global attitude. MINI will open up a whole new world of inventiveness and style in Mumbai and we are very thrilled to have the opportunity to be part of this excitement."
Mini Cars Price In India
The Ex-Showroom Mumbai price of Mini Cars in India is as follows:
MINI Cooper : INR 25,50,000
MINI Cooper S : INR 28,60,000
MINI Cooper Convertible : INR 30,70,000
MINI Cooper S Countryman : INR 32,80,000
MINI Cooper S Countryman High : INR 35,90,000
check out more-
Join us for FREE NEWS Updates on our Whatsapp Community or our official telegram channel.