These modified Maruti Suzuki Swifts with just fancy wheels and few tweaks look absolutely stunning. Even without an over the top body kit, they look like hot wheels collectibles.
The Maruti Suzuki Swift has been one of the best selling hatchbacks in the country even since the first generation car was introduced in 2005. It has always been known to be a fun to drive hatchback and in our opinion, the Swift deserves an RS badge more than the Baleno. Interestingly, the Swift has always been a very popular car in the after market modification scene as well, right from its first generation. Here we have a pair of Swift twins that have been very tastefully modified to almost look like hot wheels collectibles.
The video above, posted by Youtube channel 'Nitro Street', shows a pair of attractively modified Swift 'Twins', built by Profangelz Motor Club. As you can see, not much has been done on either Swifts but even with the little modification job, the hatchbacks look stunning. Maruti Suzuki has anyway done a great job with the styling of the second-generation Swift and a slight nip and tuck there and you are good to go.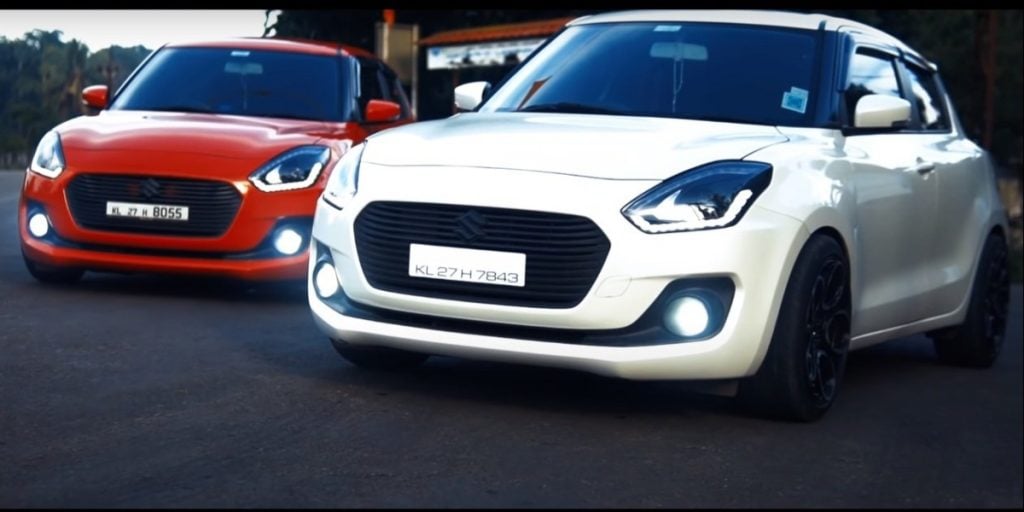 The most evident change on both these Swifts are their wheels. The red Swift get a 10-spoke golden-coloured alloys on all four corners while the white one gets dual-tone five ring spokes for its alloys. Both cars are shot with low profile tires and the front brake callipers have been painted red for an even sportier look. The rear brakes are however still drum type, just like the stock car.
Also Read : This Rendering Gives You The Best Look at the Upcoming Toyota Fortuner Facelift
You can also see that these modified Swifts now ride on lowered suspension and the hunkered down look helps the stance of the car even more. At the rear, you will also notice that the LED tail lamps have been completely changed for a more jazzy unit with sequential LED turn indicators. At the front, although the headlamp unit looks identical to the stock car, there are new inserts inside along with sequential LED turn indicators. Even without a over the top body-kit, these Swift twins look perfectly modified.
Also Read : First-Gen Land Rover Defender vs Toyota Fortuner – Tug o' War [Video]
There seems to be no performance modifications on these Swifts and they seem to be running the stock engine. Maruti Suzuki offers a 1.2L, naturally aspirated K-Series petrol engine on the Swift that produces 83 bhp and 115 Nm of peak torque. The engine comes mated to either a 5-speed manual or 5-speed AMT gearbox. Even though both these Swifts have a similar set of modifications, the color and the individual wheels give both the cars their distinct identity.