We have seen Mahi excel at finishing games and wicket-keeping for decades.
But this rare instance of him struggling to start his bike makes him a human, just like the rest of us.

Here are the visuals showing MS Dhoni struggling to start his classic motorcycle.
It is super-rare to see MS Dhoni struggling with anything in life but we have found footage where he finds it difficult to start his Yamaha RD350. MS Dhoni famously owns a ton of bikes. He is an avid bike collector and enthusiast. That is the reason why he has been spotted with unique bikes and cars multiple times. We recently reported that he restored a classic Yamaha RD350 and was spotted riding it by the fans. However, in this video, he was seen struggling to start it. Here are the details.
You may also like: Rahul Gandhi Prefers Yamaha RD350 Over Royal Enfield
You may also like: MS Dhoni Adds Another Yamaha RD350 to Collection, Spotted by Fans
MS Dhoni Struggling to Start his Yamaha RD350
The short video clip has been uploaded by @iamhvr on YouTube. The maker of the video is seen crossing in front of Mahi's house with the hope of spotting him. Now, it is a relatively common phenomenon where fans wait outside the superstar's house to get a glimpse and possibly a selfie opportunity with him. But the duo found no luck. Then they spotted Sakshi, Dhoni's wife. She was travelling out in her Mercedes SUV. The duo followed her to catch a glimpse of her but she went into a restaurant and took a lot of time to come out.
You may also like: Chennai Superkings Team Check Out Rs 65 Lakh Kia EV6 of MS Dhoni – VIDEO
That is when the YouTubers decide to go back to Dhoni's house where they found him inside the gate. They tried to make a video of him from outside the gate where, obviously, the guard stopped them. Nevertheless, they got some footage showing Mahi struggling to kick-start his bike. He is dragging the bike for some distance. He again tries to kick-start it multiple times and finally, the motorcycle starts. The video shows him riding the bike after managing to start it.
You may also like: MS Dhoni vs Virat Kohli Car Collection
Specs
This iconic motorbike used to come with a 347-cc 2-cylinder engine that produced an impressive 30.5 hp @ 6,750 RPM and 32.3 Nm @ 6,500 RPM. The bike had a kerb weight of 155 kg and a fuel tank capacity of 16 litres. Its production ended in our market in 1990. It was one of the first sporting motorcycles in the country. The restored model of Dhoni looks quite attractive in this flesh. What are your thoughts on this?
You may also like: Indian Cricketer Shikhar Dhawan Seen in his Rs 2.23 Crore BMW M8 Coupe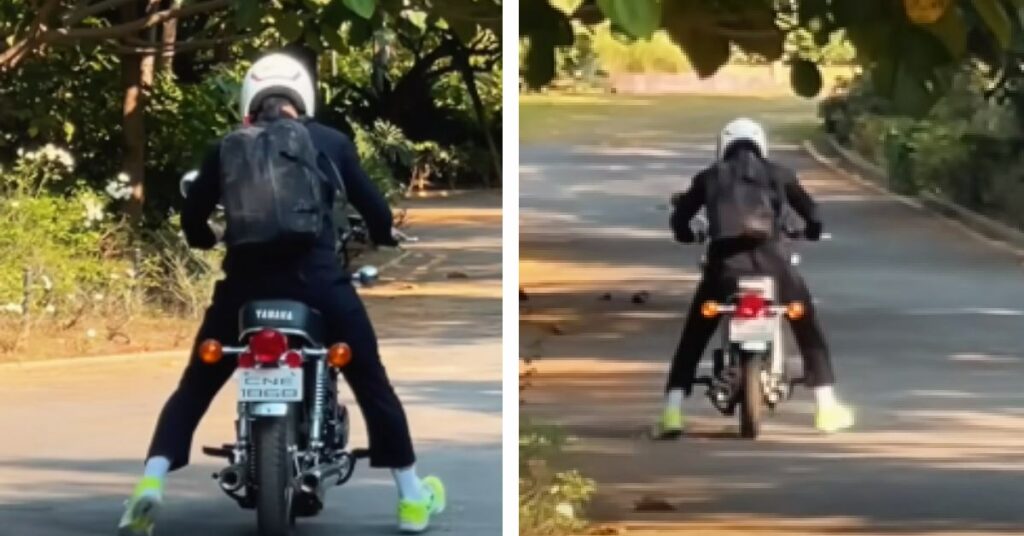 Disclaimer- The embedded videos/ external content is/are being used as a convenience and for informational purposes only; they do not constitute an endorsement or approval by Car Blog India of any of the products, services, and /or opinions of the corporation or organization or individual. Car Blog India bears no responsibility for the accuracy, legality, and/or content of the external site or for that of subsequent external videos/ external content. Contact the external publisher for answers to questions regarding its content.
Join our official telegram channel for free latest updates and follow us on Google News here.