We have seen how creative the netizens could get in terms of trolling and spitting out hilarious responses and this latest post highlights just that.
Ola CEO, Bhavish Aggarwal became troll material recently when he put out the question asking people what accessories would people want with their EVs. Bhavish has been instrumental in generating a lot of online buzz about the electric scooters produced by Ola. The Ola S1 Pro has been selling decently in the past few months owing to its impressive performance and great range. But there have been issues regarding safety not just with Ola, but throughout the industry. That aspect was brought into this conversation by people.
You may also like: Royal Enfield Bullet 350 vs Ola Electric S1 Pro Drag Race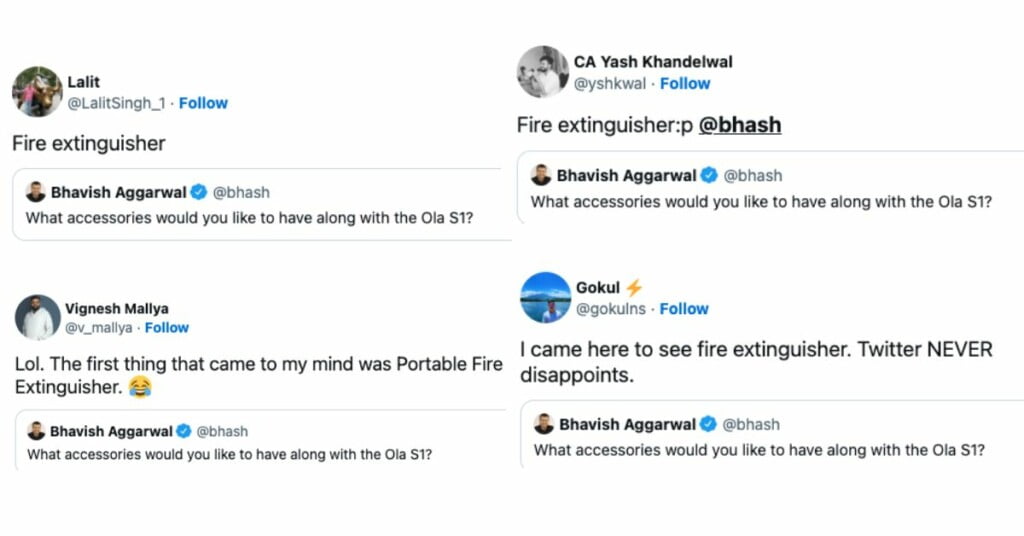 You may also like: Ola S1 Pro Undergoes Water Crossing Test- Will It Survive?
Netizens Troll Ola CEO For Asking About Accessories
With the intention of improving customer experience, Bhavish Aggarwal decided to put out this question to potential customers. He asked what accessories would people want with their Ola electric scooters. But after the recent fire incidents with the electric scooters, people instantly replied 'Fire Extinguishers'. Twitter was flooded with this answer as most people are worried about the safety aspect of EVs. On multiple occasions, people have lost their lives due to fires in electric scooters not just from Ola, but also from its peers.
You may also like: Owner of 2 Ola S1 Pro Scooters Shares Pros & Cons
It looks like an industry-wide phenomenon where the temperature-dependent Lithium-Ion batteries were exploding, mostly while charging. Since the beginning of this year, many instances have been reported that have taken the lives of people in such accidents. In fact, Ola recalled 1,441 EVs in April this year to check for any potential issues with the powertrain or battery. Also, it claimed that it had hired world-class agencies to diagnose issues with the components of its electric scooters.
You may also like: Ola's Bhavish Aggarwal Claims Tesla Wants Special Treatment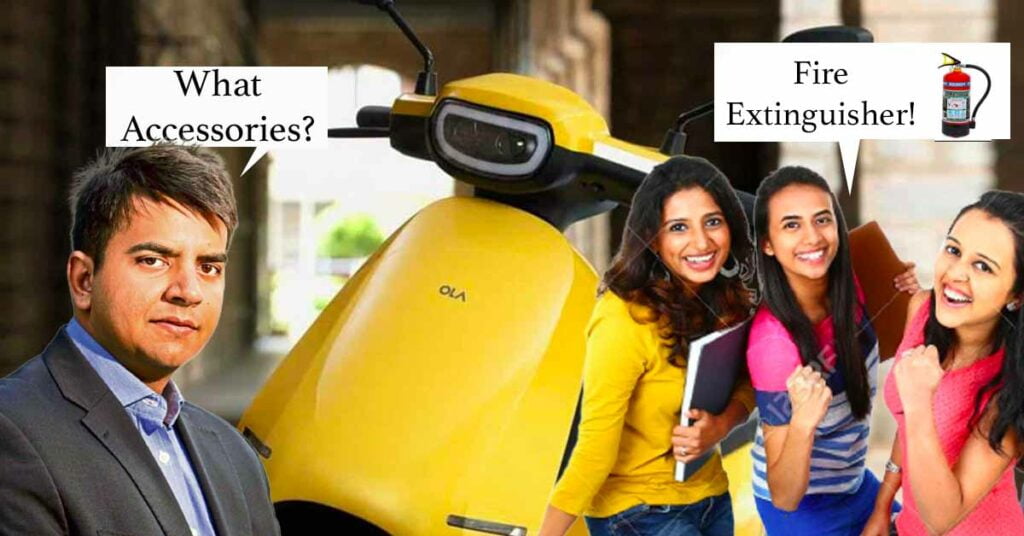 Needless to mention, the EV age has arrived but we are still far from mass adoption of electric cars and bikes. Initially, the main reasons were range anxiety, a lack of charging infrastructure and significantly high initial prices of the products. However, in the meanwhile, safety concerns have grown a lot and the image of EVs is taking a hit. There have been many incidents of battery explosions and that is definitely putting doubts in the minds of potential EV buyers. What are your thoughts on the matter?
Join our official telegram channel for free latest updates and follow us on Google News here.