Honda is working on a facelift of the popular yet not-so-successful in India hatchback Honda Jazz, but unfortunately no automotive has any strong evidence to prove it. But a car magazine and recently Autointrends.com, an automotive blog, has come up with the latest rendering of the New Honda Jazz 2013 facelift model of the ongoing Honda Jazz.
The latest rendering is said to be the most realistic looking New Honda Jazz 2013 and could be extremely close to the same. No doubt earlier there have been one or two renderings but the latest one is the best one. As being reported in the Japanese media the car may not feature any drastic changes but the overall styling could be slick and more aerodynamic.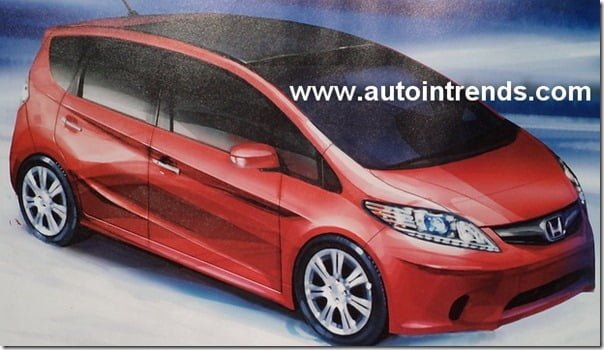 image – New Honda Jazz 2013 Rendering
The body lines, as presented in the rendering of New Honda Jazz 2013 are sharper and the front chrome grille seen here is similar to what you see in the Honda Brio small car. Another interesting thing emerging from the images is that the new Jazz could feature LED strips in the headlamp assembly.
Bumpers project a masculine character and in fact, if believing in the rendering, the whole car looks quite contemporary and masculine. One recent example of a similar type of facelift is the 2011 Maruti Swift over its predecessor.
Coming to the engine now, it is already known that Honda is working on a 1.2 litre 4-cylinder CRDI diesel engine and we can expect the same in the New Honda Jazz 2013 and probably in the Brio too, later. The car already offers much when it comes to engine refinement but we could still expect improved performance. Space is another area where the car beats other contenders, not only in India but the rest of the world too.
So now if it is the New Honda Jazz 2013 model in real, and considering that a diesel power plant is under works, I bet the new Jazz will definitely prove lethal to the Hyundai i20 and 2011 Swift's sales. As of now one of the major reasons why Jazz has not seen the deserved sales is because of the production constrains at the Honda SIEL plant. In March 2010, the production of Jazz was supposed to get to normal levels and the backlog which has accumulated in past 3 to 4 months was to be cleared. We hope that Honda Jazz will get its deserved share of the sales pie, lets wee how it progresses in coming months in India.
Source – Autointrends