Toyota India has launched new facelifted version of Toyota Innova at the Auto Expo 2012 In India at New Delhi on 5th January 2012. The new Innova starts from Rs. 8.87 Lakhs and goes up to Rs. 13.20 Lakhs Ex-showroom Delhi. The engine and drivetrain of the Innova does not get any upgrades, but in crux what has changed is the exterior styling of the new Innova and new Interiors and luxury features added to the Toyota Innova 2012 new model in India.
image – Toyota Innova 2012 New Model In India
Toyota Innova 2012 New Model Detailed Specifications In India
The Toyota Innova 2012 new model is powered by two different engines – a 2.5 litre turbocharged CRDI diesel engine with a peak power of 102 PS and peak torque of 200 Nm. The petrol engine is powered by a 2.0 litre MPFI Petrol engine with 132 PS of power and 181 Nm of peak torque.
Both petrol and diesel engine variants are mated to a 5 speed manual transmission. There is double wishbone independent suspensions at the front and four link suspensions at rear with lateral rod.
There are disk brakes at front and drum brakes at rear wheels of the new Toyota Innova 2012. The dimensions of the new Innova are:
Length = 4585 mm
Width = 1760 mm
Height = 1760 mm
Wheelbase = 2750 mm
Tread = 1510 mm
Minimum ground clearance = 176 mm
Minimum turning radius = 5.4 m
Fuel tank capacity = 55 litres
Kerb Weight = 1575 Kg to 1680 Kg
Toyota Innova 2012 New Model Interiors and Exteriors Pictures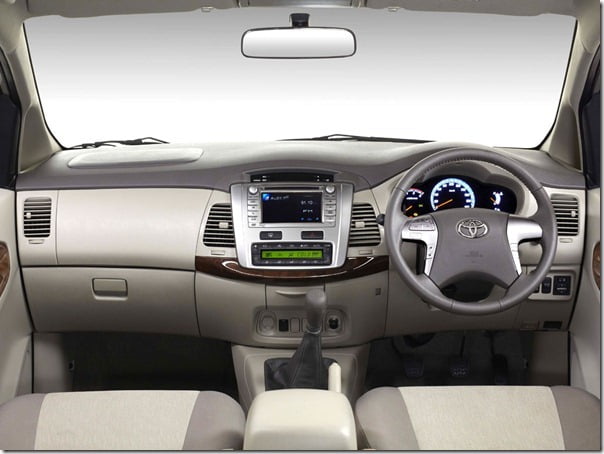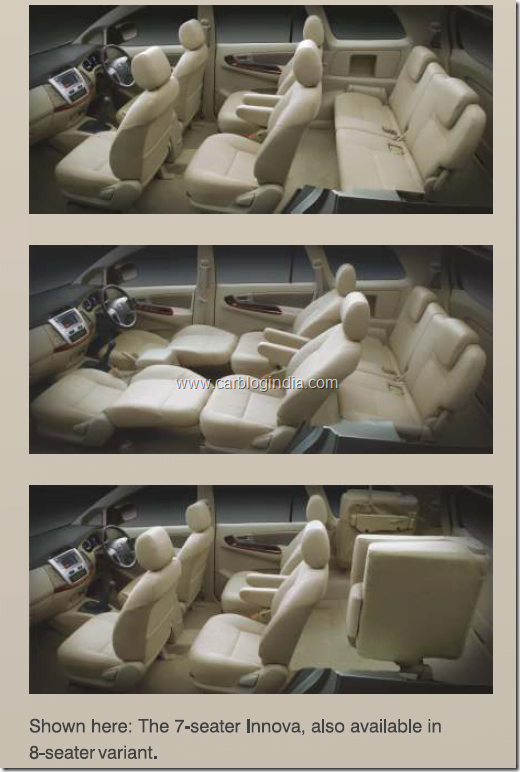 Toyota Innova 2012 New Model Detailed Features List In India
Detailed features list of Toyota Innova 2012 includes:
Wiper Front
Wiper Rear
Rear Defogger
Front Fog Lamps
Outside Rear View Mirrors (Colour / Control)
Rocker & Door Lower Moulding
Clock
MID (Multi Information Display)
Optitron Combimeter With Illumination Control
Tachometer
Tripmeter
Door Ajar Warning
Seat Belt Warning
Front Map Lamp (With Overhead Storage Console)
Cigarette Lighter
Power Outlet (DC) 12V
Glove Box
Sunvisor (Driver)
Sunvisor (Passenger)
Shift Lever Knob
Wooden Panel (Wood-like Finish)
Driver Seat Height Adjustment
Air Conditioner
Heater
Rear Air Conditioner Ceiling Vents (For 2nd & 3rd Rows)
Tilt Steering Column
Power Steering
Power Windows (With Driver side Auto Down)
Power Door Lock
Audio System
Speakers
Microphone + Amplifier
Audio,Mid & Bluetooth Phone Control on Steering
Keyless Entry
Back Monitor Camera with Display
GOA Body
ABS
SRS Airbags
Immobilizer
Toyota Innova 2012 New Model Colour Options In India
The new Toyota Innova comes in following colour options:
White
Super White
Silver Mica Metallic
Silky Gold Mica Metallic
Dark Red Mica Metallic
Blue Metallic
Grey Mica Metallic
Toyota Innova 2012 New Model Variants and Price In India
The price of Toyota Innova different variants ex-showroom Delhi is as follows:
Toyota Innova 2012 2.5 EV (Diesel) MS8Seater is priced at Rs.8,87,400
Toyota Innova 2012 2.5 EV (Diesel) MS7Seater is priced at Rs.8,91,700
Toyota Innova 2012 2.5 EV (Diesel) PS8Seater is priced at Rs.9,40,200
Toyota Innova 2012 2.5 EV (Diesel) PS7Seater is priced at Rs.9,44,500
Toyota Innova 2012 2.0 G (Petrol)8Seater is priced at Rs.9,37,800
Toyota Innova 2012 2.0 G M(Petrol)8Seater is priced at Rs.9,43,000
Toyota Innova 2012 2.5 G (Diesel)8Seater is priced at Rs.9,95,700
Toyota Innova 2012 2.5 G M(Diesel)8Seater is priced at Rs.10,00,900
Toyota Innova 2012 2.5 G (Diesel)7Seater is priced at Rs.9,91,500
Toyota Innova 2012 2.5 G M(Diesel)7Seater is priced at Rs.9,96,700
Toyota Innova 2012 2.5 GX (Diesel)8Seater is priced at Rs.11,29,500
Toyota Innova 2012 2.5 GX M(Diesel)8Seater is priced at Rs.11,34,800
Toyota Innova 2012 2.5 GX (Diesel)7Seater is priced at Rs.11,25,200
Toyota Innova 2012 2.5 GX M(Diesel)7Seater is priced at Rs.11,30,400
Toyota Innova 2012 2.0 GX (Petrol)8Seater is priced at Rs.10,62,300
Toyota Innova 2012 2.0 GX M(Petrol)8Seater is priced at Rs.10,67,500
Toyota Innova 2012 2.0 VX (Petrol)8Seater is priced at Rs.12,54,000
Toyota Innova 2012 2.0 VX M(Petrol)8Seater is priced at Rs.12,59,200
Toyota Innova 2012 2.5 VX (Diesel)8Seater is priced at Rs.13,19,000
Toyota Innova 2012 2.5 VX M(Diesel)8Seater is priced at Rs.13,24,300
Toyota Innova 2012 2.5 VX (Diesel)7Seater is priced at Rs.13,14,800
Toyota Innova 2012 2.5 VX M(Diesel)7Seater is priced at Rs.13,20,000
check out more-