Nissan Evalia has been launched in India at a lucrative starting price of Rs. 8.54 Lakhs. Now since it is the new entry in very popular MPV segment in India, we find it relevant to compare it with one of the most popular MPVs , the Mahindra Xylo. We have already compared the Evalia with Innova here- Nissan Evalia VS Toyota Innova. In this article we bring you the battle of Evalia with another potent MPV, Nissan Evalia Vs Mahindra Xylo.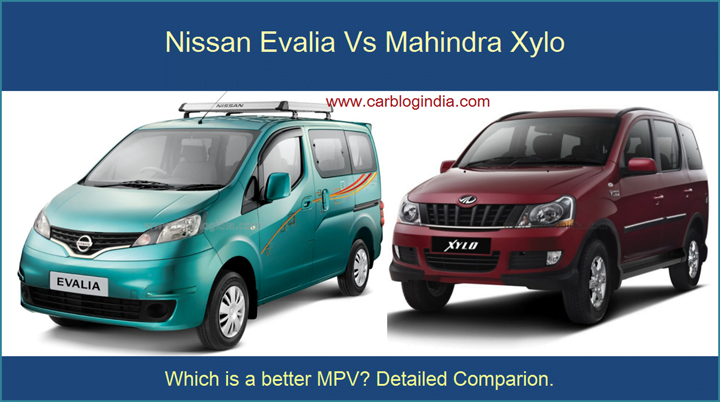 Exterior Comparison
Evalia and Xylo differ in terms of design by a bit. The Evalia is pretty elegant I would say and looks like a typical MPV with two hinged doors at the front while two sliding doors towards the rear on either sides. This configuration does distinguish it from all the other MPVs.
The Xylo is more like an SUV and is quite aggressive in terms of styling. A while back Mahindra did a complete makeover of the car and now it looks much better. The masculine character of the Xylo is reflected along its body and the road presence is great.
Nissan Evalia MPV Dimensions
Length – 4400 mm
Height – 1880 mm
Width – 1690 mm
Wheelbase – 2725mm (95mm longer than the Nissan X-TRAIL)
Mahindra Xylo 2012 Dimensions
Length : 4520 mm
Width : 1850 mm
Height : 1895 mm
Wheelbase : 2760 mm
If the length and height of Xylo is considered, you would see it is significantly more than that of Evalia. Even in terms of wheelbase and width, Xylo is significantly better.
Interiors Comparison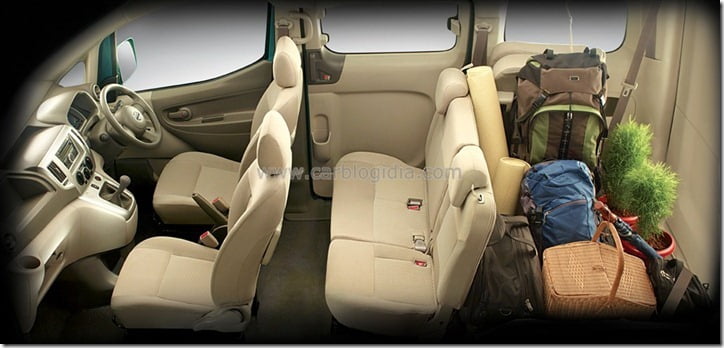 images- Nissan Evalia Interior
Evalia's interior design is better I would say solely because of the perfect utilization of space. The dashboard is styled differently from other Nissan products and despite being huge enough, it looks sleek and compact. Some of the highlighting features are cup holders on either side, a dashboard mounted gear stick, a simple centre console, Dual Airbags on front seats (except for base XE variant), Disk brakes at front and drum brakes at rear, ABS and EBD with Brake Assist, Engine Immobilizer, Rear AC Vents on XL and XV trims , Rear Monitor Camera on top end XV, 2 Din Integrated Audio system with AM/ FM/ CD support, Central Locking system and Keyless entry, Power Steering, Tilt adjust power steering, Tables at the back of front seats, Alloy wheels on XV trim and many more.
image – Mahindra Xylo 2012 New Model Interiors
The passenger cabin is no doubt very spacious, but the design isn't as appealing as it should be. Mahindra has tried to keep the feel of the cabin quite upmarket but be in terms of looks or practicality, Evalia does have an edge over Xylo. Highlighting features of the Xylo are Dual SRS Airbags for Safety, Cruise Control for convenience, Steering Mounted Audio Controls, Dual Zone Air Conditioning, Voice Recognition control for controlling head lamps, wipers, fuel lid, door locks etc. Other features include Italian leather seats trim, Dual tone dashboard styling, New Door trims, Wood Inserts in the central console, etc.
Engine Comparison
Nissan Evalia Engine Specifications
1.5 Litre turbocharged K9K Diesel Engine
Peak Power of 85 BHP @ 3750 RPM
Peak Torque of 200 Nm @1900 RPM
5 Speed Manual Transmission
Fuel Mileage of around 19.30 KMPL as per ARAI tests
Kerb Weight of 1426 Kg
Power to weight ratio 59.6 BHP per 1000 kg
Mahindra Xylo MPV Diesel Engine
2.5 Litre mDI CRDe Diesel
2.5 Litre mdi CRDe diesel engine
Peak power of 95 BHP @ 3600 RPM
Peak Torque of 220 Nm @ 1400 – 2600 RPM
5 speed manual transmission
ARAI Mileage of 13 KMPL
Kerb Weight of about 1750 Kg
Power to weight ratio of 54.3 BHP per 1000 kg
2.2 Litre mEagle Diesel Engine
2.5 Litre mEagle diesel engine
Peak power of 112 BHP @ 3800 RPM
Peak Torque of 260 Nm @ 1800 – 2200 RPM
5 speed manual transmission
ARAI Mileage of 13 KMPL
Kerb Weight of about 1750 Kg
Power to weight ratio of 64 BHP per 1000 kg
2.2 Litre mHawk Diesel Engine
2.5 Litre mdi CRDe diesel engine
Peak power of 120 BHP @ 3800 RPM
Peak Torque of 290 Nm
5 speed manual transmission
ARAI Mileage of 14.02 KMPL
Power to weight ratio of 68.5 BHP per 1000 kg
What I like about the Xylo is the number of engine options you have. There are three engine options  which offer plenty of torque and power, however the fuel efficiency of the all the engines is close to and below 14 KMPL. The Evalia on the other hand comes in with one engine only that puts out a healthy 85 BHP of power and 200 Nm of torque. Interestingly Evalia offers much better fuel efficiency of 19.3 KMPL. So clearly if you want power, Xylo has plenty of options, whereas if you want a good mileage, Evalia is there.
Performance & Handling
The Xylo has more power and torque but when it comes to driving dynamics, the Xylo is not a sharp handler and you can't really use the car to its limits. The suspension is satisfactory and even the handling isn't something to talk about. The Evalia contrastingly has a much better suspension, rides well, is comfortable and handles well too. Undoubtedly the Evalia is the winner here.
Price And Value For Money
Nissan Evalia Prices Ex-Showroom Delhi are as follows:
Nissan Evalia XE is priced at Rs.8.49 Lakhs
Nissan Evalia XE+ is priced at Rs. 8.92 Lakhs
Nissan Evalia XL is priced at Rs. 9.49 Lakhs
Nissan Evalia XV is priced at Rs. 9.99 Lakhs
Mahindra Xylo Prices Ex-Showroom Delhi
Mahindra Xylo D2 BS4: Rs.7.50 Lakhs
Mahindra Xylo D4 BS4: Rs.7.92 Lakhs
Mahindra Xylo E4 ABS BS4: Rs.8.53 Lakhs
Mahindra Xylo E4 BS4: Rs.8.29 Lakhs
Mahindra Xylo E8 ABS AIR BAG BS4: Rs.9.71 Lakhs
Mahindra Xylo E9 BS4: Rs.10.52 Lakhs
Mahindra Xylo E8 ABS BS4: Rs.9.33 Lakhs
As you can see the Evalia is priced between 8.49 lakhs and 9.99 lakhs while the Xylo prices start at Rs. 7.50 lakhs and end at 10.52 lakhs. If base variants are considered, there is an evident Rs.1 lakh difference between D2 Xylo and Evalia XE. Even the next respective variants of the Xylo and Evalia have a price difference of exactly Rs.1 lakh. If you move to the top of the line variants, the price difference becomes less (close to Rs.66,000). Feature wise both the cars are at par with no major differences, though some features are there that slightly distinguish the two. Like Xylo has Voice Command Technology, which is not there in Evalia. It also has HVAC, which is again not present in Evalia. Cruise control is also not there in Evalia. Contrastingly Evalia offers 3rd row air conditioner, electrically adjustable ORVMs and a couple of others which are not present in Xylo.
Car Blog India Verdict- Nissan Evalia Vs Mahindra Xylo
Mahindra has always kept the price of its products low and the Xylo is no exception. It is powerful, full of features and perfect on the pocket. The Evalia is certainly better in terms of quality, fuel efficiency, drivers better and space utilization. So if you are looking for a refined engine, better mileage and well packages MPV, Evalia seems to be a better choice whereas if you want more appealing looks, a feature packed MPV and don't bother much about handling and mileage, then Xylo will please you better.
You can check out the quick walk around review of the Xylo and Evalia below:
Evalia video coming soon.