Instances of electric vehicles catching fire have been increasing day by day which brings into question the safety aspect of EVs.
Ola CEO Bhavish Aggarwal is at it again as he mentions the latest Tata Nexon EV fire incident to the Autocar Editor, Hormazd Sorabjee via a tweet. In a recent incident in Mumbai, a Tata Nexon EV is seen enveloped in flames. Nexon EV is the most successful electric car in our country by a huge margin. It has grabbed the market share for itself because of the price advantage it carries over the rivals MG ZS EV and Hyundai Kona Electric. In a rather quick response to the incident, Tata Motors has committed to investigating the cause of the first-of-its-kind incident in its electric car. Interestingly, though, OLA CEO Bhavish Aggarwal has also reacted on the incident and even pointed it out to Hormazd Sorabjee from Autocar India.
You may also like: How Tata Nexon EV was Born as an Outcome of 'Jugaad'
You may also like: Kolkata Police Inducts 226 Tata Nexon EVs Into Its Fleet
Bhavish Aggarwal Tweets At Autocar Editor Over Nexon EV Fire
The video has been doing rounds on the internet in which a Nexon EV is seen parked on the side of the road in Mumbai. The lower section of the vehicle is ablaze and the fire seems to be uncontrollable. There are officials including the police and fire department trying to put out the fire using water and a fire extinguisher. But the situation is getting out of control because of the very nature of battery fires. Since it is a chemical reaction, water and CO2 don't stop the fire the same way as in the case of regular fire. That is what the recent incidents have revealed.
You may also like: Tata's First EV Was Born 4 Yrs Before Nexon Electric- Did You Know?
Bhavish Aggarwal and Hormazd Sorabjee were involved in a bit of the mix-up on Twitter recently when the latter commented about the issue of safety in Ola Electric S1 Pro. This time around, Bhavish argues that the fire problem in the EVs is an industry-wide phenomenon and not Ola-specific. On top of that, he explains that fire in automobiles is a global occurrence but it is still less in the EVs compared to the IC engine-powered vehicles.
You may also like: Tata Safari Vs Tata Nexon EV Drag Race – Diesel Engine vs Electric Motor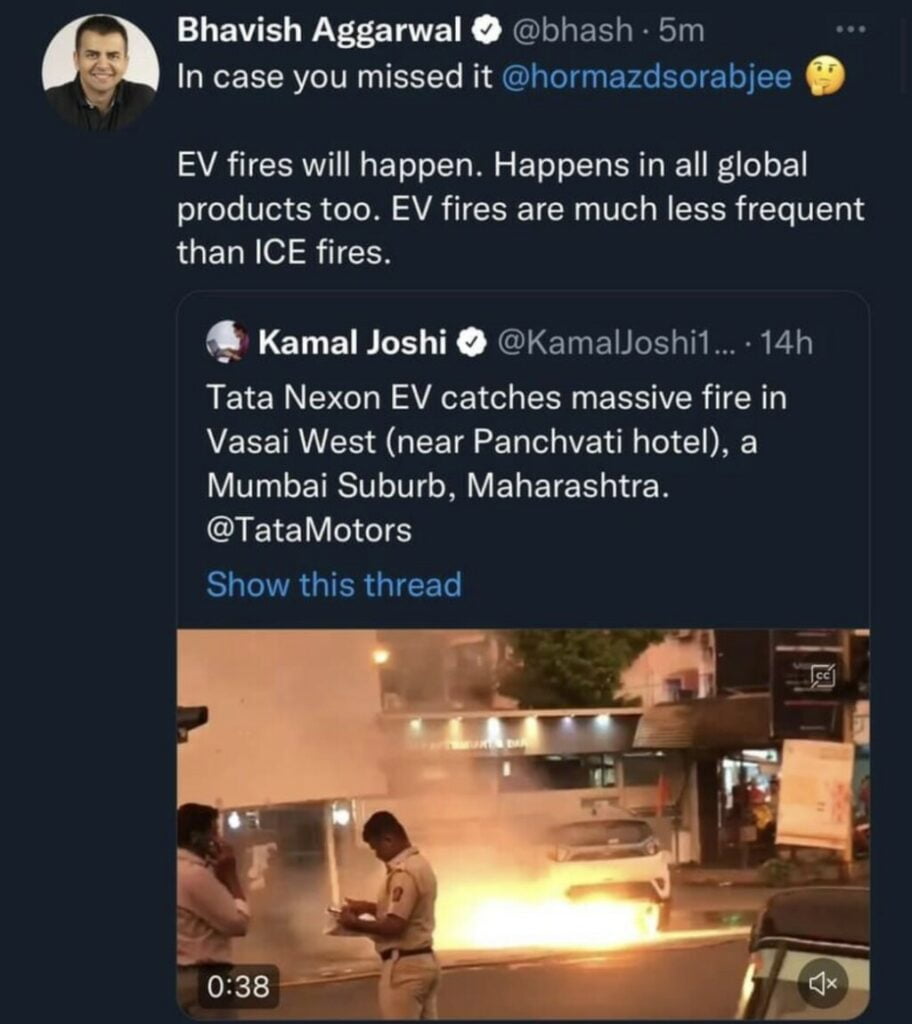 Tata Motors on Nexon EV Fire Incident
In response to the Nexon EV fire incident, Tata Motors said, "A detailed investigation is currently being conducted to ascertain the facts of the recent isolated thermal incident that is doing the rounds on social media. We will share a detailed response after our complete investigation. We remain committed to the safety of our vehicles and their users.  This is a first incident after more than 30,000 EVs have cumulatively covered over 100 million km across the country in nearly 4 years."
Join our official telegram channel for free latest updates and follow us on Google News here.